Belkin Corp. has introduced the Flip for Mac mini, a US$99.99 device that lets you share one VGA monitor, USB keyboard and mouse between Apple's Mac mini and a second computer (it can be a PC or Mac). The Flip for Mac mini will be released in early fall, 2005, according to the company.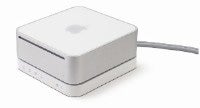 The Flip for Mac mini is designed to fit under the Mac mini. Touch-sensitive buttons let you switch computers, eject a CD and adjust volume. (You can plug speakers directly into the Flip using a headphone cable). The backplane of the Flip touts a a power connector, headphone/speaker jack, two USB connectors and an HD-15 VGA monitor port. No additional cables or connectors are required (though a VGA to DVI converter may be necessary if you've hooked up a DVI-based flat panel to your mini).
The Flip for Mac mini supports all Mac keyboards and function keys—for PC keyboard users, the CD eject button and volume controls will be a welcome addition, since those functions are found on Apple and Mac-compatible keyboards.