Belkin Corp. has introduced the TuneCommand, a peripheral that lets you control your iPod from to up to 150 feet away. The device uses radio frequency (RF) to communicate with a remote control. Set to ship in August, it will cost US$49.99.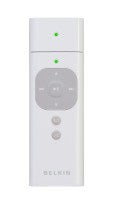 The TuneCommand works with any iPod equipped with a Dock Connector—that includes 3G, 4G, iPod photo and iPod mini products. It includes a multi-clip, surface mount hook and lanyard. Using the TuneCommand, you can play or pause songs, go to the next or previous track, set volume up and down, shuffle songs and repeat play. Using the iPod photo and other color screen-equipped models, you can scroll through slide shows and presentations as well.
The receiver included with the TuneCommand draws power off the iPod, and automatically is powered on and off with the iPod. It has low power requirements, according to Belkin, drawing 40mA and powering itself from the iPod itself. A Receiver Receptacle keeps the receiver safe when it's not being used. And a 3.5mm audio output lets you connect your iPod to your stereo system, portable speakers or headphones without having to disconnect the TuneCommand first.
TuneTalk
Another new iPod accessory recently announced by Belkin is the TuneTalk for iPod, a US$29.99 device that turns your iPod into a recordable dictation machine. The TuneTalk works with 3G, 4G and iPod photo models. It ships in late July.
The TuneTalk for iPod features an omnidirectional mic, recording indicator LED, foam microphone cover, iPod remote/headphone connector and flexible neck. The device uses the software already built in to the iPod to record audio.
For more on iPod accessories, please vist Playlist's iPod Accessories product guide.