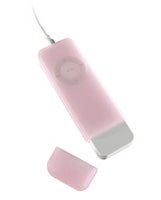 Griffin Technology Inc. has released SiliSkins. The silicone covers for Apple's iPod shuffle are packed in trios of "frosted" covers including clear, pink and blue, for US$19.99.
SiliSkins cover the iPod shuffle from head to toe in silicone, leaving space for you to connect your earbuds to the headphone jack. While they cover the surface of the iPod in silicone, the control pad is still accessible to allow users to play and pause songs, hear next and previous tracks and control volume.
For more on iPod cases, visit Playlist's iPod Cases product guide.