At a Glance
Expert's Rating
Pros
Native HDV and IMX support
Excellent multicamera editing
Capture and playback for as many as 24 audio channels
Our Verdict
The cornerstone of Final Cut Studio is Final Cut Pro 5. Apple's tagline for Final Cut Pro 5 is "Edit everything. Wait for nothing." It turns out this is not an idle boast—the sheer range of video formats and codecs that Final Cut Pro 5 can edit is mind-boggling. New formats for version 5 include native HDV—the consumer-level high-definition video format—and Sony's IMX video format.
Version 5 puts on display the future of tapeless video production with its support of Panasonic's P2 technology, which you can import directly into Final Cut Pro via the Import menu rather than through traditional video capture. This will become particularly interesting at the end of the year when Panasonic releases its AG-HVX200 DVCPRO HD camcorder, which can record high-definition video (HDV) directly to P2 cards.
Both iMovie HD and Final Cut Express HD supported HDV before Final Cut Pro did, but those programs use the Apple Intermediate Codec, which transcodes HDV's hard-to-edit long-GOP MPEG-2 format into an easier format to edit at the expense of some quality.
Final Cut Pro 5, by contrast, handles HDV natively—so it captures video in real time and doesn't degrade the quality. In fact, HDV is as easy to edit when it has as many real-time effects as normal DV.

Consumer Boon Final Cut Pro 5 supports editing in native HDV, which preserves the video's quality. (Click image to open full screenshot)
The only downside to editing HDV in Final Cut Pro 5 is the very time-consuming conform (or render) for final output. Even with high-end dual-G5 Power Macs, the rendering took a long time, and on a 1GHz PowerBook G4, rendering HDV was downright painful, taking 22 minutes to render a 30-second clip.
Multicam done right
Editors who use Final Cut Pro have been begging for multiple-camera editing—a feature that's been available for years on Avid editing systems. In Final Cut Pro 5, Apple got it right; the program has an even better implementation of multicamera editing than Avid. Final Cut Pro's method for editing multicamera projects is a huge time-saver and it makes the job an absolute pleasure—the ability to easily edit multicamera footage allowed me to finish an editing project two weeks earlier than I estimated.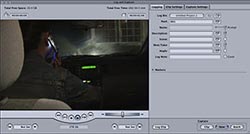 Bring It In The Log And Capture window has been updated to capture HDV. (Click image to open full screenshot)
At the center of multicamera editing is the multiclip— a collection of video angles that, once combined, behave as though they were one video clip. Creating multiclips is a snap. Simply group several video clips by selecting them and then choosing Make Multiclip from the Modify menu. Multiclips can be combined either by in-point, out-point, timecode, or auxiliary timecode. The software can combine as many as 128 video sources into one multiclip.
When you click on a multiclip in the Browser window, it displays in the Viewer window in one of three ways: as a 4-quadrant, 9-quadrant, or 16-quadrant video split. An editor needs only to click on one of the angles to highlight it and edit like usual. Once you edit a multiclip into a sequence, it remains linked with the other clips, so you can easily switch to an alternative video angle at any point.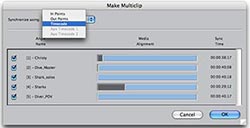 Line 'em Up Multiclips can be grouped via in-point, out-point, timecode, and aux timecode. (Click image to open full screenshot)
You can also rapidly cut together a rough sequence on-the-fly with multiclips. Using the Open sync function located between the Timeline and the Viewer windows, all you have to do is click on the desired camera angles during playback or click on one of the multicamera shortcut buttons, and Final Cut Pro builds a sequence with all the camera switches built in. This type of workflow is ideal for editing concert movies, music videos, and sitcoms.
Dynamic RT
Apple expanded real-time effects through Final Cut's RT Extreme feature to include uncompressed high-definition video. Now, Final Cut Pro has more than 150 real-time effects and filters and adds a Dynamic RT feature that adjusts video quality and frame rates to maximize real-time playback. Dynamic RT is useful when previewing effects, and, particularly, video that would otherwise need to be rendered.
Final Cut Pro's Digital Cinema Desktop Preview feature is also improved; it can now play uncompressed, HDV, and PhotoJPEG video to a computer monitor for full-screen playback.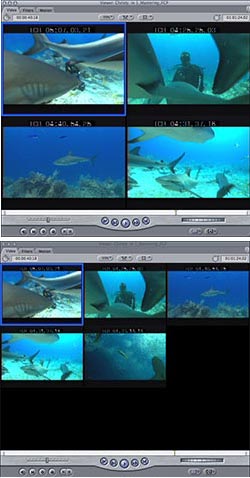 So Many Choices You can play back multiclips in either 4-quadrant, 9-quadrant, or 16-quadrant views. (Click image to open full screenshot)
Editing for film
While the updated Cinema Tools 3, Final Cut Pro's film information database, is still a separate application, it's now tightly integrated with Final Cut Pro 5. In fact, you can do most of the Cinema Tools workflow, such as importing telecine log files and performing inverse telecine, directly within Final Cut. You can also access and view film Keykode information in the Cinema Tools database from within Final Cut Pro to ensure editing accuracy.
Advanced audio
Final Cut Pro 5 doesn't have the two-channel audio-capture limit that hindered previous versions of the program. It can capture and output up to 24 channels of 24-bit audio (with added hardware support, such as video-capture cards), which will have many editors cheering—when working with high-definition formats such as D5 and HDCAM SR you must be able to deal with eight or more audio channels at once.
Apple has also added support for external control surfaces, so editors can use Mackie automated sound mixers to manipulate Final Cut Pro's software audio mixer.
Send To
Final Cut Studio is a bundle of integrated applications, so getting media from one program to another is easy. To access tools found in Motion 2, Soundtrack Pro, and Shake 4, all you have to do is highlight a clip or sequence and choose the proper application from the Send To menu.
In some cases, this is a one-way export—for example, when using Soundtrack Pro's Multitrack Project for creating a final mix. In other cases, it's a round trip—for example, when using Soundtrack Pro's Audio Project to automatically take changes made in Soundtrack Pro to an exported audio file and reimport them into a Final Cut Pro sequence (this is very useful for cleaning up dialogue).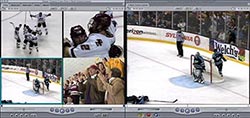 Moving Targets When editing multiclips in Open sync mode, all camera angles play back in sync with the timeline. (Click image to open full screenshot)
Final Cut Pro has also beefed up its XML export abilities. While projects created in version 5 won't open in Final Cut Pro 4, you can export an XML version of the project that will open in version 4.1 or Final Cut Pro HD (version 4.5).
Media management
If Final Cut Pro 5 has a weakness, it's in the Media Manager, and it especially shows when you try to consolidate your footage for a final, high-quality edit (or "online"). Effective media management is essential for professional work, and with Final Cut Pro 5, Apple may have taken a step backward.
In more than a month of editing with version 5, I was rarely able to create proper project files for onlining. The Media Manager was unable to handle reversed clips if the Delete Unused Media function was enabled in the preferences. Indeed, in this scenario, any reversed clip would get reduced to a single frame in length once the Media Manager was done with it. I saw other errors where the Media Manager would occasionally change the reel name and timecode values for clips.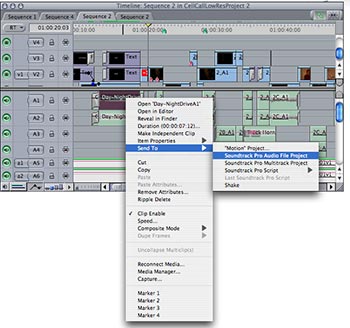 Make the Move You can easily send media from Final Cut Pro to Motion, Soundtrack Pro, and Shake via the Send To menu. (Click image to open full screenshot)
Like many things in Final Cut Pro, there are often many ways to do something, and there are ways to work around Media Manager altogether (for example, you can use XML exports and drag the clips of a sequence back into Final Cut's browser to make subclips). So version 5's Media Manager isn't an absolute deal breaker, but it is annoying.
Apple says that the Media Manager's problems will be fixed in a forthcoming update. At press time, Apple released the first update to Final Cut Pro 5, version 5.0.2, and it appears that the Media Manager bug with relation to reversed clips was not addressed.
Macworld's Buying Advice
Final Cut Pro 5 delivers serious performance enhancements that will make it an esssential upgrade for any professional video editor. The multicamera and HDV support, advanced audio capabilities, and integrated Cinema Tools data alone are worth the upgrade price. The Final Cut Studio application integration is the icing on the cake. Media Manager problems aside, version 5 is a great update.
[ Anton Linecker is a video technical adviser and filmmaker based in Los Angeles. ]