At a Glance
Expert's Rating
Pros
Deep audio effects
Ingenious interface
Extensive sound-effects and loops library
Rich audio-editing and -repair tools
Fully integrated with Final Cut Studio
Automator and AppleScript support
Integrated video track and viewer
Cons
Slightly different integration options in different Final Cut Studio applications
Only a few Automator actions included
No multitrack audio recording
Our Verdict
Basic audio editors are like vacuum cleaners: you need them, but you rarely enjoy using them. Soundtrack Pro 1.0.1 is a rare exception: it makes day-to-day audio editing, cleanup, and sound-design chores fast and enjoyable. Despite its beginner-friendly interface, this program packs some amazing power, and its automation tools should attract video and sound pros alike. Soundtrack Pro isn't just an upgrade to Soundtrack ( ; December 2003 )—it's an entirely new application with broader capabilities.
Loops and Sound Effects
Apple's GarageBand 2 ( ; April 2005 ) still overshadows Soundtrack Pro for music editing; Soundtrack lacks built-in instruments and the ability to edit scores. If you're just looking to build a temporary music track by dragging and dropping loops, though, Soundtrack Pro is perfect. It has a huge library of high-quality loops. With the Master Tempo Envelope, you can dynamically speed up or slow down a music track, so you can do basic "spotting"—mapping music to specific points in your video.
Soundtrack Pro's included sound library gets a new lease on life with the addition of sound effects developed by Sound Ideas. The variety and quality of the recordings is easily on a par with sound-effects libraries that cost as much as or more than Soundtrack Pro itself. For some people, this library alone will make the application worth investing in. The integrated Search Tab, nearly identical to the Loop Browser in GarageBand and Logic, makes sound effects as easy to find as music loops: select Sound Effects from the pop-up menu at the top of the Search Tab, and then drill down by category. I expect to hear lots of bad foley work by people abusing Soundtrack Pro's sound library; however, in the hands of pros, the library is sound-design heaven. Instead of just using it as is, a sound effect of thunder rumbling can become the basis of a new drum patch, or pitched down as a low rumble while a video title appears.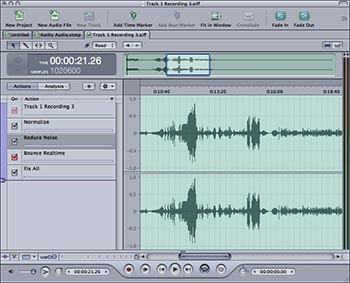 Look It in the Interface Soundtrack Pro sports a streamlined interface that's similar to Apple's other pro apps. The ingenious Actions pane at left lets you adjust, reorder, and A/B (compare the new sound with the unaltered original) each edit you make, nondestructively. (Click image to open full screenshot)
Audio Editing and Effects
Soundtrack Pro really shines as an audio editor. It functions as both a single-waveform editor, for fine-tuning adjustments to stereo audio files, and as a multitrack editor, for mixing files or creating surround-sound projects. But Soundtrack Pro can't do everything; it lacks the virtual instruments and MIDI capabilities found in music programs such as GarageBand and Logic, and there's no simultaneous multitrack recording, as there is in GarageBand and Final Cut Pro 5. However, it packs the vast majority of Logic Pro's effects power into an easy-to-use interface that lets you get your work done faster.
Soundtrack Pro's elegant, tabbed interface will be familiar if you use other Final Cut Studio applications, particularly Motion 2. Even if you're new to Final Cut Studio, the interface is a breath of fresh air. Whereas many waveform-editing programs for the Mac and Windows alike include jumbled collections of disorganized menus and archaic icons, you can find almost everything in Soundtrack Pro at a glance.
Like Apple's video programs, Soundtrack Pro emphasizes flexible, real-time work. Every change you make to a waveform or multitrack project is nondestructive, so you can easily change your mind and make adjustments later without having to rely on the Undo command. Whether you're fading sound in and out, correcting problems with noise reduction, or adding effects, Soundtrack Pro keeps track of what you're doing via the Actions list. (Effects normally function in real time, but the Process: Bounce Real-Time To Action command renders the effect to a nondestructive action.) Once an edit is an action, you can enable or disable it, change the order of actions, or even A/B (compare the new sound with the unaltered original) each change. For day-to-day audio work, this way of working saves you time and improves the accuracy of your edits. For experimenting with sound, there's nothing else like the Actions list.
Quick access to tools for solving problems and designing creative sounds is vital; unfortunately, that kind of versatility used to usually require a program like Logic Pro or Digidesign's Pro Tools—two great tools for some tasks but overkill for fixing a few audio problems in a video track. Soundtrack Pro solves this problem by providing support for Audio Unit effects and by including nearly all the effects from Logic Pro. You'll find not only equalizers, compressors, filters, and so on, but also off-the-wall effects like Logic Pro 7's Ringshifter (a specialized effect for ring modulation and pitch-shifting) and Tape Delay. Even the top-shelf Space Designer convolution reverb is included. As with any pro audio software, if you're not an audio expert, some of the terms and techniques required to use these effects may make you feel as though you've been dropped into the middle of an advanced audio-engineering class. Fortunately, Apple has exhaustively documented audio fundamentals in a very thorough and readable manual.
Quick Fixes The Analysis pane lets you automatically find and fix common sound problems. You can also add each edit to an Automator workflow.
Sound Cleanup
While specialized audio effects may not be for everyone, the need to fix recordings plagued with problems is universal, especially when working with sound for video. Soundtrack Pro includes a number of lifesavers for this task. Out of the box, it has nearly every tool you'll need for fixing clicks and pops, hum from power lines, clipped signals, and other problems. The Analysis pane automatically checks files for these problems and then lets you fix them individually or en masse; it also has a tool for momentarily zooming the waveform view on the offending segment. Sample-accurate editing (editing at the level of individual samples) means that you can fix even the tiniest problem.
Soundtrack Pro's best sound-cleanup tool is the Reduce Noise tool: it can easily and magically reduce hiss, with controls that help maintain the sound you want to keep. It works best if you first identify the noise, by selecting hiss or another noise in the waveform, and then use the Process: Set Noise Print command. This tool allowed me to salvage what I thought might be an unusable MiniDisc recording for a client; while third-party options can reduce noise for you, it's great to have the Reduce Noise feature included and integrated. (By contrast, another sound-cleanup option in Soundtrack Pro, Denoiser, is basically useless unless you want an underwater-like effect; stick with the Reduce Noise option.)
Recording and mixing in Soundtrack Pro are similarly easy and elegant. The mixing envelopes will be familiar to users of other Apple applications. Using them, you add envelopes for individual effects parameters by marking checkboxes next to the names of the parameters, so you could quickly add an envelope for reverb amount, for instance. This feature is more basic than automation in full-fledged multitrack programs such as Logic Pro. Envelopes can be cut, copied, and pasted together with audio clips using Timeslices (which let you select the contents of a track, or of multiple tracks for a section of time), but you can't simply drag audio clips in the Timeline and move associated envelopes.
If you're adding narration or recording dialogue, you'll especially appreciate the ability to loop and record, as well as select from multiple takes. Soundtrack Pro's lack of simultaneous multitrack audio recording is a little disappointing, especially since Apple's entry-level GarageBand 2 supports it. But most video customers likely won't miss it.
Automation and Final Cut Integration
Soundtrack Pro's automation features can shave hours off of a task-intensive project, but you'll still need AppleScript chops for more-extensive automation. Tiger's Automator is terrific if you're scripting-phobic; I easily created a workflow that instantly analyzed audio files in a folder, repaired them, and converted their sample rates and file formats. It took just seconds to drag the actions into place, and using them eliminates a lot of repetitive work. Soundtrack Pro's Automator actions are anemic, though, compared with the number of parameters you can control via AppleScript. If you haven't learned AppleScript, seeing Automator working with Soundtrack Pro may convince you to.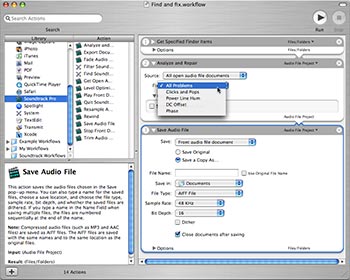 Automate, Save Time Using Tiger's Automator feature, you can create custom Soundtrack Pro workflows. This workflow automatically repairs and converts files dropped in a particular folder. For more control, though, you'll want to add AppleScripts to your workflows. (Click image to open full screenshot)
Soundtrack Pro is also tightly integrated with the rest of the Final Cut Studio suite. From DVD Studio Pro, Motion, and Final Cut Pro, you can send any audio clip to Soundtrack Pro and edit it there. There are three levels of integration: destructive edits to individual audio clips, nondestructive edits to individual audio clips, and nondestructive multitrack edits.
Destructive edits to individual audio clips work well for minor edits you want to be permanent, like removing pops or noise. Both Final Cut Pro and DVD Studio Pro let you make destructive edits: control-click on an audio clip, and choose Open in Editor from the contextual menu. Soundtrack Pro opens the audio automatically, and once you're done editing, Soundtrack Pro updates all saved changes in the other application without any importing or exporting. Even better, from Final Cut Pro you can automatically edit a file with AppleScript, via the Send To: Soundtrack Pro Script command.
Nondestructive edits save all your changes as a Soundtrack Pro project, so you can return to your audio whenever you want to make further adjustments. For individual clips, you can make nondestructive edits to clips sent to Soundtrack Pro from Motion and Final Cut Pro. (From Motion, select Edit: Send Audio to Soundtrack; from Final Cut Pro, control-click a bit of audio and choose Send To: Soundtrack Pro Audio File Project.) As with destructive edits, your changes are automatically updated in the other application. You can keep switching back and forth between Motion, Final Cut Pro, and Soundtrack Pro without ever importing or exporting, making this feature addictive for people who tweak their audio obessively.
For more sophisticated multitrack editing, Final Cut Pro can also export to a multitrack project. This does require that you reimport the saved Soundtrack Pro project back into Final Cut Pro once you're done, though that makes sense given that this feature is intended for extensive editing. By optionally embedding video and audio content in both Final Cut Pro and Soundtrack Pro, you can use this feature to send an audio project between the person doing the video editing and the person doing the sound editing, even if they're in different locations.
All these features work seamlessly in practice, though you'll want to make sure you're running the latest versions of the Final Cut Studio applications; a few bugs in the initial release have been corrected.
The number of different options and slight differences between each of the Final Cut Studio applications could easily confuse users, however. Apple could make their integration much friendlier by fully standardizing options and menu labels across all the applications and better explaining the workflow differences in the documentation.
Macworld's Buying Advice
Soundtrack Pro strikes a good balance between the needs of musicians, video editors, audio editors, and multimedia pros. There's no easier or quicker way to perform day-to-day audio-editing chores, repair sound problems, design sound, match audio to video, or automate sound-asset management, on either a Mac or a PC. It makes an ideal complement both to Final Cut Studio and to digital audio workstation tools such as Apple's Logic Pro and Digidesign's Pro Tools. While the number of integration options is initially a bit confusing, Soundtrack Pro's deep integration with other Final Cut Studio applications makes it a must-have for video production. Its streamlined audio features will make it desirable for music production, as well, especially in combination with a full-featured workstation. Any one of its key features—the sound-effects library, the extensive collection of effects and audio-repair and -editing tools, or looped video scoring—would justify the program's price, but Soundtrack Pro gives you all of them in one package.
[ Peter Kirn is a composer, video artist, and technology teacher and consultant based in New York. He's the author of the forthcoming book Real World Digital Audio (Peachpit Press, 2005). ]