For years, seemingly no thought was given to the aesthetic appeal of technology products. Computers were nondescript. Accessories came in beige plastic, while bags came in two color choices: black or charcoal. And of course, in an industry dominated by men, virtually no consideration was given to designing something for a woman.
Credit the iMac with ending the tyranny of beige. Yet even as manufacturers globbed blueberry-colored plastic onto anything that would hold some epoxy, more colorful did not always translate to more fashionable. And women, it seemed, were still largely an afterthought.
The iPod, however, has transcended the technology sector. It has become a modern lifestyle product; the zeitgeist stops here. The iPod is clearly the "it" accessory of the day. And as such, designers have begun to flock to it, many creating iPod accessories targeted specifically towards women.
This was especially evident at the recent Macworld Expo Boston, where haute couture iPod accessories for women ruled the day. (Or at least, unlike in previous years, had a strong presence.)
DLO—Digital Lifestyle Outfitter's new iPod mini case, the Mini Fling, is one such example. Rather than black or gray, cases come in metallic pink, psychedelic green, and "crocodile blue." A built-in flip-up cosmetic mirror can help you change your lipstick to suit your playlist. The Mini Flings sell for about $40.
Although DLO is a long-time case maker for the iPod, the Mini Fling was a totally new concept based on market research that indicated women were not being well-served by traditional designs, which either ignored them altogether, or were "more expensive than the players themselves."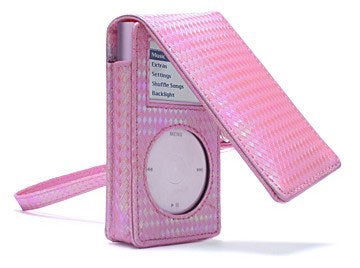 "When we looked at the space, particularly iPod mini, we realized that there were an extraordinarily high number of female purchasers," Andrew Green, vice president of marketing and design for DLO told Playlist . "[Apple] really pushed themselves into a fashion-forward type of space that a lot of female customers have latched onto. And indeed,the iPod itself wouldn't be the same without the non-traditional customers. Females are a huge part of that success."
Wanting to break into that market, DLO decided to come up with a design targeted exclusively towards women. Yet, the company wasn't sure what that entailed. So DLO sought input from female designers. "We asked some qualified women what they wanted in an iPod mini case and they gave it to us," he says.
"Most of the design team here are guys, and we wanted to do something fashion-forward, but at a really accessible price point. So we went outside of our typical design houses and internal design teams and contracted with a fashion house to design a case for us. They came back with some really specific stuff that they wanted and didn't want. For example, most cases have belt clips, and you know what? Women don't want those, that' a really guy-oriented and geeky thing. Instead, we have a wrist strap, and a small elastic loop that can hold headphones or lipstick."
Another designer making waves at Expo was Delarew Designs. The company designs handbags and backpacks with see-though windows to store an iPod. The bags, which come in a variety of colors and styles, are clearly targeted exclusively towards women.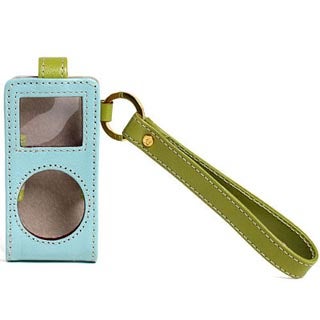 New York fashion designer Kate Spade is another iPod accessory designer marketing towards women. Spade has several iPod cases, each with straps, snap closures, and gold accessories. Spade cases come in blue, pink, aqua, yellow, black, and red (or, in fashion parlance: moss, amethyst, pool, coral, and chocolate) as well as a host of other colors, with designs for the iPod, iPod mini, and iPod shuffle. Prices range from $45 for the Fulham iPod shuffle case to $75 for the newly-released Saranac Jaine iPod case.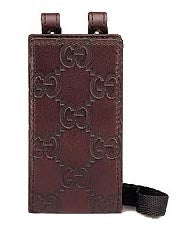 At the very high end, iPod cases from Gucci are equally at home on the runway as in an office setting. Gucci's newest offering, introduced just this week, sports chocolate "guccissima" leather with chocolate leather trim and silver hardware. A previous design featured a beige and ebony exterior with prominent Gucci "GG" logo designs stamped across it, with dark brown leather trim and silver hardware. The cases, for full-sized iPods, cost $235 and $215 respectively.
The designs found at Casauri aren't your typical black nylon blah-fests either. With colorful stripes, hues, and smart designs, they owe more to Fifth Avenue than Silicon Valley. Furthermore, in addition to selling female-friendly designs, the company is owned by two women, sisters Emily and Helena McHugh. What began as a class project at Colombia Business School blossomed into one of the more fashionable case design houses in the market. And while the sisters are mild-mannered enough in person, a press release on the Casauri Web site reads almost like a manifesto:
Casauri astutely identifies and executes the secret to reaching the elusive female consumer. Women demand products that are elegant, sensual, and reflect their passions. Women want to feel and look good. Casauri helps women accomplish both. Appealing to women defines the future of technology .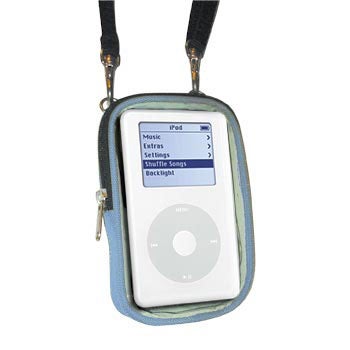 "The main thing we found is that people want to express themselves," Casauri founder Emily McHugh tells Playlist . "Women are tired of status quo cases designed with just men, or designed with no one—in mind. People want a case that represents themselves, Whether they are a man or woman, but that's especially true of women. For some people, that's a Kate Spade or a Gucci design, for others it's a Casauri. And, of course, the iPod is just so popular right now that everybody wants in on it."
Mathew Honan is a San Francisco-based writer and photographer. His work has also appeared in Macworld, Wired, Time, and Salon.
For more on iPod cases, please visit Playlist's iPod Product Guide.