At a private event Wednesday night, Belkin showed select members of the media a preview of upcoming iPod accessories. Release dates vary, with some accessories available in the next few weeks and some as late as September, but all will be on shelves for the holiday gift-buying season, according to Belkin. Here's a summary of the new stuff:
Dock Adapter for iPod shuffle ($19.99) Belkin's own market research found that 50 percent of iPod shuffle users also have a full-size or mini iPod with a dock connector port, and that many of those iPod owners have dock-connector accessories: power adapters, car chargers, battery packs, and speakers. The Dock Adapter for iPod shuffle plugs into the bottom of your iPod shuffle and provides a standard dock connector port, allowing you to use many of your full-sized or mini iPod accessories with your iPod shuffle. The adapter passes both power and audio through its dock connector port.
TuneTalk for iPod ($29.99) As an alternative to Belkin's existing Voice Recorder, the TuneTalk is a microphone that plugs into the headphone/remote port of full-size, 3rd-generation and later iPods and allows you to record 16-bit, 8kHz mono audio in WAV format—basically speech. The omni-directional microphone includes a recording indicator LED and a foam windscreen/cover.
TuneCommand for iPod ($49.99) Entering the crowded market for iPod remotes, the TuneCommand uses RF technology and promises range of up to 150 feet. The remote's button layout and overall design are among the best we've seen, and the TuneCommand is the first RF-based remote that allows you to toggle shuffle and repeat settings (Ten Technology's naviPro eX offers these functions, as well as a few more, in an infrared-based remote.) When not in use, the unit's receiver attaches to the top of the remote for storage, and Belkin includes a lanyard and belt clip to carry the remote.
Belkin Dock Adapter for iPod shuffle, TuneTalk, and TuneCommand for iPod
TuneStage for iPod ($179.99) First shown in January, Belkin's TuneStage provides a unique approach to connecting your iPod to your home stereo. Instead of using a cable to connect your iPod to your stereo's inputs, and then having to use a separate IR or RF remote to control your iPod from across the room, the TuneStage receiver, which looks a bit like a low-profile hub or wireless router, connects to your stereo and receives a wireless audio signal from a small Bluetooth transmitter that connects to your dockable iPod's headphone/remote jack. The result is that you use your iPod as the system's remote, giving you full control of your music via the iPod's interface. Belkin rates the TuneStage's range at up to 33 feet.
Power Pack for iPod shuffle ($29.99) If you've been considering Apple's $29 iPod AC charger for use with your iPod shuffle (or, apparently, any dockable iPod via Apple's USB dock cable), Belkin's Power Pack may be a better value. It includes an AC adapter with a USB port, a car adapter with a USB port, and a USB extension cable, allowing you to charge your shuffle or iPod via AC outlet, car accessory (a.k.a., cigarette lighter) jack, or USB port.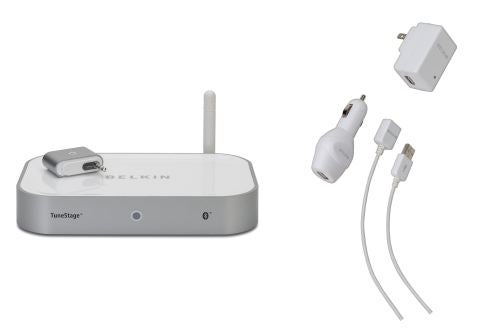 Belkin TuneStage for iPod and Power Pack for iPod shuffle
For more on iPod accessories, visit the Playlist Product Guide.