No doubt about it — Apple's announcement that it's selling a four-button, scroll-wheel-bearing USB mouse is big news. Not in the earth-shattering kind of way that you'd greet the announcement of a new Mac or iPod. It is, after all, just a mouse.
But the Mighty Mouse marks the end of 21 years of Apple's one-button mouse policy. In that way, it's a little bit like the Berlin Wall coming down. Except, y'know, with mice.
Steamships and Falco
When I was in college, I took a journalism course — insert your own joke at my expense here — that included a project involving century-old newspapers. I dug through the microfilm collection at UC San Diego's iconic central library and ended up with numerous copies of the New York Times dating from the late 19th century.
The news stories in those old newspapers were, to put it bluntly, not as big on the timeliness as today's media. Most stories started like this: "News has reached here from the steamship Valiant that the German Kaiser, after partaking of a large dinner of fresh clams, became deathly ill a month ago."
I was thinking about that today when I heard about this new Apple mouse: Word has reached the campus of Apple from a dying man on horseback who told of strange and mysterious computers used in a foreign land that offered not one but several mouse buttons. Before the aged rider expired, he also told of a wheel on the mouse that spun, causing items on the screen to scroll.
Yes, it may have taken years, but Apple has finally gotten the message: the one-button mouse has gone the way of a-ha, Taco, and Falco, a vestige of the '80s that has turned into a quaint and curious relic.
Oh, No! We're Gonna Get Sued
My first thought upon hearing the name of this new mouse — the Mighty Mouse — was that Viacom, the owners of D-list cartoon superhero Mighty Mouse, might be a bit upset.
I say this because when I worked at MacUser , we had a feature of our web site called Mighty Mice. It was essentially a mouse-ratings database, which you could search to find the top products in certain categories. We served it off of a little underpowered Power Computing clone, using FileMaker and Web FM. It was pretty cool.
One day, however, we received an ugly shock: a cease-and-desist letter had arrived from the cruel corporate overlords at Viacom, who had somehow gotten wind of our little web site and felt that a web-based database of product information called Mighty Mice was far too close to their animated superhero for comfort. Hey, at least they didn't demand that we stop using mouse ratings.
In a true sign of corporate backbone on the part of Ziff-Davis Publishing, we were told to immediately change the name to something else. No fight, no negotiation, no nothing. The new name we came up with for the service was so exciting and ground-breaking that I honestly can't remember it today.
Today's Apple is much smarter than we were. The company apparently asked Viacom for a license to use the Mighty Mouse name. And, more to the point, today's Apple has much more clout than we did: Viacom granted them the license. Inside the Mighty Mouse box that arrived Tuesday at the Macworld office is a stiff card-stock insert that says, in small print below some Apple marketing slogans, "Mighty Mouse is a trademark of Viacom Consumer Products Inc., used under license."
Good to see that the lawyers at Viacom are still on their toes eight years later.
But How Does It Work?
Expect a full review of the Mighty Mouse on Macworld.com later this week. In the meantime, I can give you the 30-minute overview of the product: it's a mouse . Sorry, that's the 30-second overview. Let's try again.
The Mighty Mouse is made of white plastic — there's no see-through top surface like on the previous Apple Pro Mouse. There's an embossed Apple logo on the top. It's still shaped like the Pro Mouse, as well. The scroll ball on the top is surprisingly small, but it scrolls smoothly with a slight amount of resistance to give you some tactile feedback. (It gives you auditory feedback, too, but that's fake: the clicking and scrolling sounds for the scroll ball and side buttons are generated by a tiny electronic clicker somewhere inside the front third of the mouse.)
Best of all, though, are the buttons. And every time you see a news story that says, "Apple finally ships two-button mouse," I want you to send the writer a polite note asking for a correction. That's because this is not a two-button mouse. There are four ways to click, so I'm calling it a four-button mouse, although none of them are traditional buttons.
The old Apple Pro Mouse clicked without a button — you just pressed on it and it would depress slightly, causing a click. The Mighty Mouse works just the same, except now the mouse pivots along its midline, so that a press on the left half of the mouse is not the same as a press along the right half. (Actually, when you get the mouse it is the same. Apple is probably worried that many novice users might be confused by a multi-button mouse, so by default Apple's software sets both buttons to generate a standard click. More on the software in a moment.)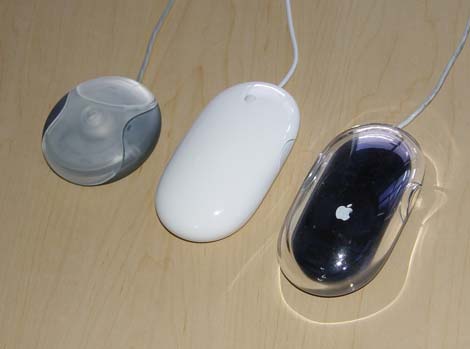 The Mighty Mouse (center) is an evolution on the Apple Pro Mouse (right). We don't know what the heck that thing is on the left, but it's certainly not a legitimate pointing device.
The Apple Pro mouse had two indentations on either side, but they weren't clickable buttons — they were meant for you to grab so that you could keep a click going as you performed a long drag operation. The Mighty Mouse has the indentations, too, but they're not superfluous anymore: apply pressure to them both and you've discovered another mouse button. (These two indentations are not separately programmable; Apple's software indicates that they're meant to be used together as a single button.) There's a slight amount of give when you press them, and a (synthesized!) click. Yup, that's a button, all right.
The Mighty Mouse's scroll wheel — sorry, scroll ball — is small (and round, not oval like most scroll wheels I've seen). It's easy to scroll, both up and down and from side to side. Even diagonal scrolling seems to work fine. And it's also clickable, giving the Mighty Mouse its fourth programmable button.
Mighty Mouse Software
The Mighty Mouse ships with an installer CD that adds special Mighty Mouse-specific software to your Mac. I suppose this software will make its way into the standard distribution of Mac OS X before too long, but for now it's a special install that requires a restart.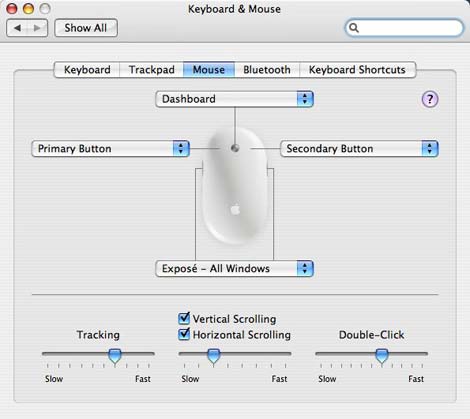 As you might expect, the software modifies the Mouse tab of your Keyboard & Mouse preference pane. By default, the scroll-wheel button is set to invoke Dashboard and the two indentations invoke Exposé in "All Windows" mode. And as I said earlier, the right button is set to Primary Button — you need to change it to Secondary Button in order for it to perform the equivalent of a Control-Click. Other presets let you program buttons to invoke Spotlight, the Application Switcher, and other modes of Exposé. An "Other" command lets you attach a button to any file, presumably including applications and scripts.
Can Apple Survive?
Since it's mandatory for every article about Apple to include a discussion about the company's chances for survival, here's mine: Can Apple survive in a world where it's shipping multi-button mice to paying customers?
Let's go easy here. First off, this is a $50 add-on product right now. Although like the Apple Pro Mouse before it, I would imagine this new mouse will worm its way into boxes containing new Macs eventually. And presumably Apple will one day offer a Bluetooth version of the mouse.
The more important question is, can we survive? Let me check. Sky's still blue. Breathe in and out — still oxygen in the atmosphere. If you drop the mouse, it falls to the ground, so laws of gravity are still in effect.
Well, how about that. Apple released a multi-button mouse and the world didn't end. Guess all those pundits were wrong, after all.
(Updated to make it clear that two of the mouse buttons make synthesized clicks, not "real" clicks.)