With Dreamweaver 8, part of the just-announced Macromedia Studio 8 suite, Macromedia continues to push the envelope of Web development. In addition to many subtle refinements and workflow improvements, the leading visual Web-page authoring program boasts redesigned CSS tools, snappier background FTP, and tools for converting XML files into beautifully designed, browser friendly documents.
Here's what you can expect when you take the updated Web-design application for a spin.
Improved Workflow
Dreamweaver 8 introduces many refinements to help Web designers work more effectively. A tabbed-interface for the document window keeps all of the currently opened documents in a single pane. Like tabbed-browsing in Safari, this means a mouse click switches documents, bypassing the usual search and find mission among a bevy of open windows.
In addition, you can save an arrangement of panels as a "Workspace layout." In this way, you can save groups of panels to accommodate different workflows. For example, you could create one layout of panels for working on database-driven Web pages, a different layout for design-intensive, CSS-heavy pages, and switch between them as you work on different types of Web pages.
Several new features will appeal to designers: a zoom tool makes it easier to check the alignment of graphics, select small items, and work with small type; you can also drag guides on a page for accurate placement of elements, and have Dreamweaver display guides that represent the viewable area of different screen resolutions. For example, you can see the area of a page that's "above the fold" when viewed on a 800×600 pixel monitor.
Support for Flash Video lets you embed video, with VCR-like controls, directly in a Web page. (You'll need additional software such as Flash MX 2004 Pro to create and encode the video.)
Expanded CSS Support
Dreamweaver 8 builds on the already impressive array of Cascading Style Sheet features found in Dreamweaver MX 2004 ( ; January 2004 ). The program improves the display of complex style sheet information, limiting the number of times you must jump to a Web browser to check your design.
Several visualization settings provide helpful views for troubleshooting complex CSS layouts: you can outline CSS block-elements, or highlight them with a variety of background colors to quickly identify their location and size; Dreamweaver 8 also provides helpful cues to visualize the effect of padding and margins on an element.
New support for media types lets you add styles aimed at specific devices—for example a stylesheet that only applies when a Web page is printed, and another when the page is displayed on a computer.
The CSS panel has been completely re-worked into a unified pane which brings together Dreamweaver MX 2004's many CSS panels to one location. The result is a much more usable control panel for quickly identifying styles, editing them, and viewing which styles apply to page elements, like paragraphs, images and links.
Dreamweaver 8 also adds a summary view in the CSS panel to quickly identify which CSS properties apply to the currently selected element. A simple list identifies which property from which style is formatting the current selection. Since the rules governing how multiple CSS styles combine to format a Web page are complex and confusing, this feature will quickly become an indispensable tool for any Web designer charged with the task of troubleshooting complex CSS-based designs.
Snappier File Transfers
To the relief of many Web designers who has had to sit idle, twiddling their thumbs as Dreamweaver transfers files to a Web server, the new version finally introduces background FTP. Previous versions of Dreamweaver would lock the user out of any productive task while it transferred files over the Internet. Now you can continue to work on a site—edit and add new pages, create new styles and so on—while Dreamweaver dutifully transfers files in the background.
In addition, Dreamweaver 8 provides a much-improved file synchronization feature, so you can make sure your Web site always has the most recent, updated version of a Web page.
Into the Future with XML and XSLT
Dreamweaver 8 continues the Macromedia tradition of providing user-friendly, visual tools for working with complex technologies. The new XML/XSLT authoring feature simplifies the process of formatting an XML file for viewing in a Web browser. You can create XSLT files, complete with CSS formatting, that transform a hard-to-understand XML file, into an attractive Web page.
Dreamweaver 8 offers two approaches to this problem: the client-side method lets you quickly format a XML file for viewing in a browser like Safari, Firefox, Internet Explorer 6 for Windows, or any other browser that can read and display XML and XSLT files. To reach a wider audience, you can use Dreamweaver 8's dynamic page tools which employ the power of PHP, ASP, or any of the other server-side languages Dreamweaver understands, to convert a XML file into HTML readable by any Web browser.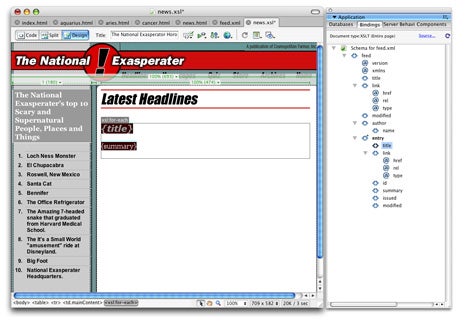 And before you say, "Hey I don't use XML" imagine incorporating up-to the minute news and information from your favorite Web sites into your home page. Since RSS feeds are simply XML, Dreamweaver 8 lets you do just that.
What's Missing
Some areas of the program continue to stagnate, however. Dreamweaver Behaviors—JavaScript programs that add interactivity to a page—have been all but abandoned. And, (with the notable exception of the XML/XSLT tools and new support for ColdFusion MX 7) the server-side of things doesn't offer any exciting new behaviors for adding more functionality to database-driven Web sites.
David Sawyer McFarland is the author of Dreamweaver 8: The Missing Manual (O'Reilly, 2005).