At a Glance
Expert's Rating
Pros
Good sound quality in a compact (though chunky) package
Rechargeable battery
Can charge iPod with a bit of resourcefulness
Works with any portable source
Cons
Not the best fit for iPods
Audio connection cable too short
Cloth speaker grill not a good choice for portable speakers
Sound a bit treble-heavy
No remote
Our Verdict
For quite a while now, those of us who follow the iPod accessory market have been watching Cambridge SoundWorks to see when (or if) it would offer a speaker product for the iPod. After all, Cambridge SoundWorks has long been known for multimedia speakers that offer good sound quality for the money. However, given that the company is owned by Creative Technology—considered by many to be Apple's primary competitor in the portable MP3 player market—it seemed unlikely that Cambridge SoundWorks would release a speaker system that might further the iPod's accessory advantage.
And for years, that theory has held true: Since 2001, the company has offered versions of its PlayDock "transportable" speaker and charging system for Creative players, as well as various generic speaker systems that work with any audio source. But the company recently introduced a new version of the PlayDock, the PlayDock MP3 , that is at least partially advertised as an iPod accessory. After testing the PlayDock MP3, I can tell you that it's still better suited to Creative players, but this version at least includes features that should make it more attractive to the majority of the portable player market: iPod owners.
A dock or not?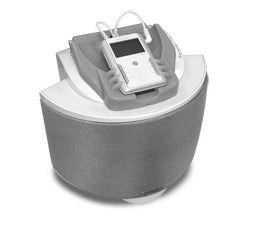 The PlayDock MP3 certainly doesn't look like most other portable speaker systems. Instead of a wide, rectangular design, the white and gray PlayDock's main body is semicircular in shape with a metallic gray fabric grill covering the speaker drivers. Another semicircular segment—this one vertical instead of horizontal—comprises the rear of the unit, housing its built-in rechargeable battery and acting as a carrying handle. (I found the carrying handle sufficient for carrying the PlayDock from location to location, but it's not a system you'll want to carry while you're using it.) The overall size of the PlayDock is approximately 11" wide by 10" deep by 9" tall at its widest points—chunkier in shape than most systems, but a good size for a shelf or table—and weighs just under 14 pounds (not including your MP3 player). Three large rubber feet keep the PlayDock stable.
If the shape of the PlayDock MP3 is interesting, the top of the unit is even more curious, thanks to its large "dock" apparatus. Instead of making the PlayDock an iPod-only system, Cambridge SoundWorks has made it compatible with a wide range of players: iPod and iPod mini; Dell Pocket DJ; and Creative's Zen, Zen NX, Zen Xtra, Zen Micro, Zen Touch, and MuVo2. The PlayDock provides this flexibility via two large silicone "holders" and two smaller silicone "inserts." The larger holders, which attach to the PlayDock, fit Zen Touch, MuVo2, full-size iPod, Zen, Zen NX, and Zen Xtra models. The inserts, which fit into the holders, accommodate the smaller iPod mini, Zen Micro, and Dell Pocket DJ players. By using the correct combination of holders and inserts, any of these players can fit fairly securely, held in place by the stickiness of the silicone. However, thinner iPod models don't fit as snugly as I would have liked—a tip in the wrong direction could result in your iPod taking a tumble. (You can also use any other MP3 player; for example, I used an iPod shuffle during my testing. The major caveat is that other players won't fit neatly into the silicone holders and inserts.)
The PlayDock gets its audio from your player's headphone jack, using a 4-inch, non-removable cable with a 1/8" stereo miniplug; you set your player's volume to the appropriate level—anywhere from 1/2 to 3/4, depending on the player—when using the PlayDock. (You could, in theory, use the line out jack of some players, or use an accessory such as a SendStation PocketDock to get a line-level output from your iPod; unfortunately, the short length of the PlayDock's audio cable means you'd have to put the player upside-down in the holder.)
If you've got a supported player—specifically, a Zen, Zen NX, Zen Xtra, or a player with a top-mounted mini-USB jack such as a Zen Micro, Dell Pocket DJ, Zen Touch, or MuVo2—the PlayDock can also charge your player when using the system's AC adapter. The PlayDock offers this functionality via two mini-USB jacks, one on top next to the audio cable and the other on the front of the unit, hidden under the large silicon holder. Cambridge SoundWorks includes a 6-inch mini-USB to mini-USB cable and a 6-inch mini-USB to DC connector cable for this purpose; you plug the appropriate cable for your player into the mini-USB jack closest to your player's charging jack. (One of the large silicone holders provides holes for storing the mini USB and stereo miniplug plugs when not in use.)
As an aside, although Creative doesn't advertise the PlayDock MP3 as being able to charge an iPod, it should be possible to use it to charge an iPod mini or a 4G or later full-size iPod. After all, these models allow you to charge your iPod via any powered USB port, so all you would need is a male-to-female USB adapter or extension cord that lets you plug a standard USB connector into a mini-USB jack. You could then use your iPod's USB dock connector cable to connect your iPod to that adapter or extension cord.
Finally, the top of the system also hosts the system's main controls via four small buttons: volume up, volume down, "Wide" (an EQ mode that allegedly "expands the stereo sound"), and Play/Mute. The latter is basically the unit's on/off switch. (A second, "master" power switch is located near the back of the unit; the PlayDock's manual says you should only switch this control to the "off" position when storing the unit for an extended period of time.) Even with the Play/Mute button in "Play" mode, the PlayDock will switch to battery-saving status—a sort of sleep mode—if it doesn't detect an audio signal for 10-15 minutes.
Look inside and listen up
Cambridge SoundWorks has hidden three speakers behind the PlayDock MP3's grill: left and right drivers (size information isn't provided, but they appear to be 2.5" to 3") and a center-mounted, 4-inch "subwoofer." Each driver has its own amplifier—the left and right speakers each get a 7-Watt amp, with the middle driver getting a 15-Watt version.
(Speaking of the grill, given that this is a speaker system designed to be moved around, the decision to use a fabric speaker grill is an odd one. If you're not careful, it won't take long before you snag the fabric on something or, even worse, rip a hole in it.)
As I mentioned above, the PlayDock MP3 is fairly heavy—over 14 pounds when you include your player. Apart from Cambridge SoundWorks' own Model Twelve, a massive, 30-pound, sub/sat/amp system, the PlayDock is the heaviest portable speaker system we've tested; it's better suited for stationary use, being carried from location to location, than it is for "carry around" use. (Which is likely why Cambridge SoundWorks calls the PlayDock "transportable" rather than "portable.") However, it's also one of the most solid: Except for the fabric grill and the silicone dock inserts, which are flexible and removable by design, the unit feels quite sturdy and durable.
Another reason for the system's heavy weight is that unlike most other portable or transportable speaker systems, which use standard alkaline batteries, the PlayDock MP3 includes a large, sealed, lead-acid rechargeable battery that charges when powering the system via the included AC adapter. Cambridge SoundWorks estimates a battery life of 8 to 10 hours at moderate volume levels; this is consistent with our testing. And if you're suspicious of internal batteries, you'll be happy to hear that the PlayDock MP3 uses the same user-replaceable battery as many of the company's other portable products, so you can get a new battery if you ever wear out the original. The back panel of the PlayDock provides access to the battery via six Philips screws.
In terms of sound quality, the PlayDock is very good for a portable system. Midrange and upper bass are balanced and enjoyable, with bass response flat to around 110Hz. (Cambridge SoundWorks rates the system down to 80Hz, but in my testing, although bass was audible at 80Hz, response was no longer flat.) Stereo separation doesn't compare with a home system, of course, but considering how close together the PlayDock's drivers are, it's respectable. The system's biggest weakness is that the treble is a bit overdone. If you're the type to turn up the treble setting on your home or car stereo, you may actually like this emphasis, but during certain recordings I found the treble boost to overshadow the bass and midrange and, in some cases, to actually be a bit fatiguing. But this criticism assumes indoor listening; if you plan on using the PlayDock MP3 mainly outdoors, the excess treble may actually be an asset, as treble tends to get "lost" outdoors thanks to a lack of reflective surfaces. (In my testing, the treble emphasis was also not as big of an issue in large rooms.)
I also tested the PlayDock's "Wide" setting, which is supposed to "expand the stereo sound"—in other words, increase stereo separation and improve the soundstage. Unfortunately, I found this setting to create a fake "echoey" effect that was more annoying than enjoyable. The system's manual says the feature is better suited to outdoor use, but even there I didn't enjoy it. Thankfully, the PlayDock's sound quality is good without it.
Finally, for those concerned about volume, the PlayDock puts out more than enough sound for most indoor rooms, and enough to hear your music clearly from across a good-sized backyard. And it does so with very little distortion at the loudest volume levels.
Compare and contrast
Those thinking about buying the PlayDock MP3 for use with an iPod are likely to also be considering DLO's $150 iBoom and Altec Lansing's inMotion iM7, so it's worth briefly discussing how these systems compare.
As you'd expect from systems made specifically for the iPod, the iBoom and iM7 offer much better fits thanks to iPod-hugging "dock" slots that both grab audio from and send power to your player. On the other hand, the PlayDock is a bit more flexible, as you can use it with nearly any MP3 player (including an iPod shuffle) without having stray cables hanging out the back or side. The PlayDock is also rechargeable, whereas the other two units require eight D batteries each.
Compared directly to the iBoom, the PlayDock offers significantly better sound quality and better overall build quality, whereas the iBoom, for $50 less, includes an FM radio and is easier to carry around (especially if you purchase the $30 iBoom BoomBag, although that closes the price gap). The iM7 sounds a big better than the PlayDock, offers a remote control, and is also a bit easier to carry, but also costs $50 more.
The Lowdown
When writing this review, more than anything I was struck by how much better the portable speaker options are for iPod owners than for owners of other players: If you've got a non-iPod MP3 player, the PlayDock MP3 is without question one of the best "transportable" speaker systems on the market in terms of convenience, construction, and sound quality. However, if your player is an iPod, the PlayDock MP3 has tougher competition. For example, to listen to your iPod on the go, you'll likely prefer the carry-friendly design and iPod-securing dock slot of the less expensive iBoom or the more capable iM7—these systems were designed specifically for iPods, and it shows. Still, if you can do without the iPod-specific functionality, the SoundDock MP3 is a solid system, especially if you just want something to transport between stationary locations. Because our focus at Playlist is iPods, I give the PlayDock MP3 our 3-Play ("Good") rating; those with other players will likely find it 4-Play ("Very Good") worthy.
For more information on speakers, visit Playlist's Product Guide.