At a Glance
Expert's Rating
Pros
Super-compact design
Perfect fit for iPod shuffle
Cons
Sound quality proportional to size
Difficult to remove iPod shufflefrom speakers
Our Verdict
Although a number of iPod speaker systems accommodate the iPod shuffle, PodGear's PocketParty Shuffle is the only one we've seen that will work only with Apple's smallest player. But that design choice means the PocketParty Shuffle is a perfect aesthetic and functional match for the shuffle itself.
The PocketParty shuffle is made of shuffle-matching white plastic and is only 3.5" long, 1" wide, and 1.5" across at its thickest point. A shuffle-holding "dock" area with a standard 1/8" stereo miniplug is situated such that plugging your iPod shuffle into the unit creates a seamless block of music-producing white plastic—your iPod shuffle looks like it was meant to be here. (To secure your shuffle in the unit, you first swap out your shuffle's standard USB connector cap with one provided by PodGear that includes a small, protruding edge. You then slide your iPod onto the PocketParty Shuffle—inserting the miniplug into your shuffle's headphone jack—until that cap snaps into a groove on the top of the speaker system.)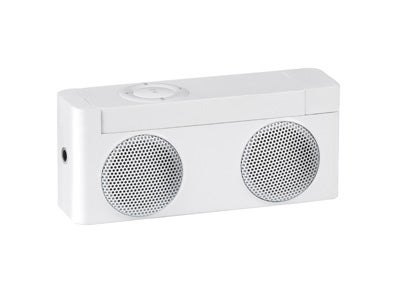 There are only two drawbacks to this arrangement: The first is that you can't access the shuffle's off/play/shuffle switch and battery meter button, since they're on the back of the shuffle. The second, more serious, is that I found it fairly difficult to remove the iPod shuffle from the PocketParty—you have to lift the bottom of the shuffle up at an angle to release it from the speakers, and I was worried that I was going to break the system's miniplug during this procedure. The system worked fine after repeated removals, but I wonder about the long-term reliability of this design.
Once your shuffle is in the PocketParty, and you've turned the speakers on (via a slider on the back of the PocketParty that looks just like the shuffle's own power switch), you control playback and volume via your iPod shuffle's controls. As you might expect from a system this small—the PocketParty uses two 1-inch speakers—sound quality isn't great; in fact, it's quite tinny, sounding much like a small transistor radio. (I actually prefer the sound quality of PodGear's standard version of the PocketParty, which isn't quite as tinny and reaches higher volumes without distortion.) But you buy a system this small for portability and convenience, not sound quality.
The PocketParty Shuffle has two other handy features. The first is a lanyard slot, which can be used with the included lanyard to hang the system around your neck or on any stationary object; at only 3 ounces, including your shuffle, it's light enough to tote around like the shuffle, even though it's a bit bulkier. The second is a headphone jack that allows you to listen to your shuffle via headphones without having to remove it from the PocketParty. However, unlike most systems, where plugging in a pair of headphones mutes the speakers, the PocketParty's headphone jack is a simple pass-through circuit—you have to turn the PocketParty off if you don't want to hear the speakers.
The system is powered for up to 10 hours by a single AAA battery, which you install via a sliding door on the rear (next to the power switch).
The Lowdown
The PocketParty Shuffle isn't the best sounding small speaker system we've reviewed—Pacific Rim Technologies' Cube Travel Speakers sound significantly better for less money, and the same is true for PodGear's own standard PocketParty, MacAlly's PodWave, and Mythix's iChant. In addition, the PocketParty Shuffle has several quirks that prevent us from giving it a higher rating. But it's still one of the coolest iPod shuffle accessories we've seen, and wins lots of points for its design alone. If you don't need great sound quality, it's a handy way to listen out loud that won't take much room in your pocket or bag. And even if you're a stickler for sound quality, it's still adequate for listening to speech. Load your iPod shuffle up with your favorite podcasts and then throw the whole shebang in your bag—you've got a perfect portable podcast listening station.