Our final of three installments in the "50 Mac Gems" series takes a look at the Web and communication—the best of the lot from browsing, mail, chat, headlines and assistants.
Browser-Based PDF Viewer
Tiger's Safari 2.0 provides basic PDF-viewing features, and the latest version of Adobe Reader includes a PDF plug-in for most Web browsers—but if you do a lot of PDF viewing, get PDF Browser Plugin ( ). It not only lets you view online PDFs directly in your browser, but also provides multiple layout options; a split view (for viewing different parts of a PDF simultaneously); and support for annotation, forms, tables of contents, and links. You can access options and control viewing via toolbar menus and keyboard commands, and you get additional printing options not available without the plug-in. You can also send PDFs to other applications or save them to disk (home, education, or noncommercial use, free; commercial site license, $69).
RSS Reader
Safari 2.0's RSS-reading features are nice, but if you're serious about news feeds, you need a dedicated RSS reader. The $25 NetNewsWire is my favorite, but NetNewsWire Lite ( ) offers many of its features for free. It organizes your RSS feeds in a three-paned interface. New articles are highlighted, as well as included in the app's Dock menu; choose a title to view the article in the main window. If you have NetNewsWire Lite installed on multiple Macs, you can share RSS subscriptions among them (free).
iSight Capture App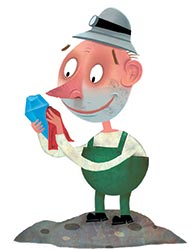 Apple's iSight makes a great video-chat camera, but when you're not participating in a video chat, your iSight just sits there. MulleSight ( ) lets you use your iSight to take snapshots, which it then sends to the Clipboard for past-ing into any application that supports images. MulleSight also provides access to advanced camera and compression settings, and because it supports AppleScript, scripts and other applications can access your iSight through MulleSight to capture images or video (free).
IP-Address E-mailer
To connect remotely to your computer—for accessing files or performing administrative tasks—you need to know its IP address. If you have a dynamic IP address (the case with most DSL, cable, and modem connections), this can be a difficult task. Ipanema ( ) provides welcome assistance by e-mailing—via OS X's Mail app—your IP address to you. You can tell Ipanema to alert you when your IP address changes, at periodic intervals, or both. The e-mail message lists both external and internal IP addresses, including the IP addresses for each active network port, such as Ethernet, AirPort, and modem (free).
RSS-Feed Creator
If you want to create your own RSS feed but don't know how, Feeder ( ) is for you. You provide the articles, and Feeder produces RSS 2.0-compatible feed files that can include formatted text, links, images, and even Podcast enclosures. Customizable templates, live previews, and a simple interface make the process easy—but Feeder also has many advanced features. When you're ready, you can pub-lish your feed to a Web site, an FTP or SFTP server, or a .Mac account ($30).
Three Web tools
One of Safari's most glaring omissions is the ability to sort your bookmarks alphabetically. Bookdog ( ) provides this functionality, as well as the ability to find duplicate bookmarks. Bookdog lets you choose which folders of bookmarks should be sorted; how they should be sorted (by page name, URL, or domain); and what popular site-name prefixes (such as "Welcome to") Bookdog should ignore when sorting. You can even set Bookdog to sort your bookmarks on a regular schedule ($10).
Concierge ( ) places a drawer that adds several useful bookmark-related features on the side of Safari windows. The Scratchpad view lets you temporarily store URLs, e-mail links, aliases to files and folders in the Finder, text notes, and links to Address Book cards and groups. You can add items to the Scratchpad via drag and drop, contextual menus, or the Concierge menu (which is added to Safari's menu bar when you install Concierge); you can open saved bookmarks in Safari in the same ways. Concierge's Smart Folders show bookmarks and history items relating to any site you choose. Concierge also lets you view your bookmarks without obscuring the current Safari window. You can even add notes to bookmarks and sort your History list by domain, date, or both ($10).
Have you ever wished you could download those Flash games and movies you find on the Web, so you could play them later? iSwiff ( ) lets you do just that, provided you've already installed Macromedia's Flash browser plug-in. Just drag the downloaded Flash file onto iSwiff to play it. (You can use File Juicer [see page 50] to extract .swv files from Windows .exe archives.) The developer's Web site even provides a number of useful links to Flash games on the Web (free).