Expanding further beyond its core search engine and into Web portal territory, Google on Wednesday introduced Google Talk, an instant messaging (IM) service with voice communications capabilities that's also compatible with several Mac client applications, including iChat 3.0.
Many industry observers have said that Google needs to build up an arsenal of Web portal services because users aren't very loyal to search engines. However, users are loyal to Web portal services such as instant messaging, photo sharing and Web mail because they provide ways to communicate with others. And in the past year, Yahoo, Microsoft, and AOL have aggressively ventured into the search space, Google's traditional stomping ground.
Google Talk is built on the open XMPP (Extensible Messaging and Presence Protocol) framework maintained by the Jabber Software Foundation and used in numerous chat clients. The system is currently in test, or beta, mode and requires that its users have a Gmail account. Google says its free Web mail service is tightly integrated with the Windows-based Google Talk application.
Gmail, launched in April 2004, is still in beta mode and new users have to be invited by an existing user to sign up for the service. Gmail users typically have 50 invitations available.
Although there is no Google Talk client available for the Mac, Google's use of XMPP means that other client programs can use the service. On Mac OS X, these programs include Adium, Psi, and iChat 3.0 (available as a part of Mac OS X Tiger ). The Google Talk site includes instructions on how to connect iChat to the Google Talk servers.
Once iChat is configured properly, Google Talk buddies appear in iChat's Jabber List window.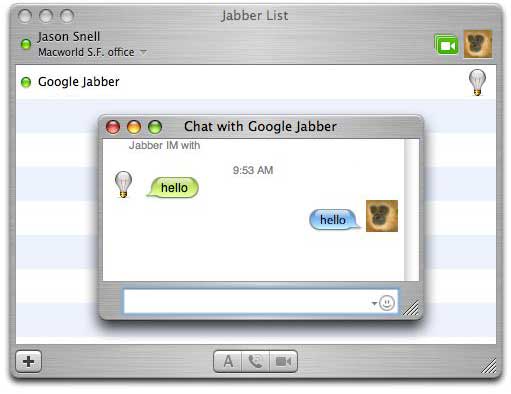 Regarding the current lack of interoperability among the three largest consumer IM networks—Yahoo's Messenger, AOL's AIM and Microsoft's Messenger —Google said it is committed to work with IM service providers to establish links between its service and others.
In addition to Gmail and Google Talk, Google has other non-search online services such as the Picasa Windows application to share and organize digital photos; the Orkut social networking service, whose access remains restricted to invitation-only, like Gmail; and the popular Blogger weblog service.