At a Glance
Expert's Rating
Pros
Server-off SqueezeNetwork feature
Bright display with fast visualizers
Wireless networking and routing
Support for compressed and uncompressed audio
Easy-to-use interface
Cons
No support for encrypted iTunes Music Store files
Somewhat small display
Our Verdict
I love my iPod and my PowerBook, but when I'm at home I'm not interested in plugging either of them into my stereo in order to listen to music. Instead, I use a computer (mine's a Mac mini living in a bedroom closet) as the ultimate repository of my music collection, and attach networked music players from Slim Devices wherever I want to listen to music.
If you're happy to listen to your music through speakers attached to your computer, or to dock your iPod to your stereo, get it playing, and walk away, Slim Devices' $199 Squeezebox2 isn't for you. But if you'd like access to your music collection from several different rooms or prefer to control your music from across the room via a remote control, Slim Devices' latest music player is an affordable, easy-to-use tool.
Like its predecessors, the SliMP3 (5 mice; Macworld, April 2003) and Squeezebox (4 mice; Macworld, April 2004), the Squeezebox2 has no moving parts or hard drive. Instead, you run the free SlimServer software on the computer that holds your music collection. If you're running OS X and iTunes, installation is a snap—SlimServer appears as a system preference pane, and the software automatically links to your iTunes library and playlists. With its bright fluorescent display and infrared remote, the Squeezebox fits right in as a home stereo component, letting you navigate its iPod-style interface by remote control. (You can also control the Squeezebox via a Web browser.) The device's standard display size is a bit too small, but its large-type mode works fine when you're all the way across the room.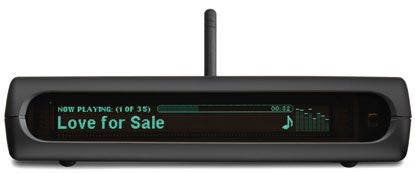 Although at a glance the Squeezebox2 appears no different from the original Squeezebox, inside it's got a host of features that make it a markedly better product. Audiophiles will squeal about the native FLAC support, high-quality Burr-Brown DAC, and numerous other fiddly changes that Slim Devices' engineers made specifically to address complaints from those among us who can hear a dog whistle from a mile away.
The rest of us will benefit from Squeezebox2's support for 802.11g networking (in the $279 Squeezebox2 Wireless) with wireless bridging and its readable 320×32 bitmap display with featuring beautiful high-speed visualizer effects. Most importantly, I found the combination of Squeezebox2 and Slim Devices' new SlimServer 6.1 software to be a major improvement over the company's recent player-server combos in terms of stability. That's partially due to the improvements in SlimServer, but mostly due to Squeezebox2's added brainpower and cache RAM, which makes it able to smooth out the occasional bumps caused by the perl-based server software.
As with previous models, the Squeezebox2 offers many audio-out options, from the standard RCA stereo plugs to coaxial and optical digital outputs. It even includes a minijack for headphones or powered speakers. Although Squeezebox2 only supports PCM, MP3, and FLAC formats natively, SlimServer will play back just about any file format you throw at it, converting it on the fly as it sends it off to the Squeezebox2 for playback.
SlimServer's got excellent support for Internet radio stations, but it lacks support for commercial subscription-based music services and won't play songs bought on Apple's iTunes Music Store.
Squeezebox2 also addresses one of the major drawbacks of past Slim Devices products: they all refused to work unless your server was running. In contrast, Squeezebox2 can connect via the Internet to SqueezeNetwork, a free service from Slim Devices that provides access to Internet radio streams and a sound library. The result: you can still use Squeezebox2 as an alarm clock and an Internet radio without keeping your computer on all night long.
Finally, Squeezebox2 is an excellent product for use in a home with a large music library and several different music-playback locations. In my house, the Squeezebox2 serves the living room; there's an original Squeezebox is in the bedroom; and my daughter listens to digitized children's albums via a geriatric SliMP3 in her room. All the players can be controlled independently, which can be a blessing when everyone in the house wants to listen to something different.
The Lowdown
Casual listeners might be content to cross the room to click on a PowerBook or adjust an iPod when they want to switch tracks or jump to a different playlist. But for those of us who want a stereo-component experience from our digital music libraries, and want to play back those libraries from anywhere in the house, Squeezebox2 is a joy to use. When I'm out and about, my iPod is a prized possession, but when I'm at home, Squeezebox2 is my digital-music player of choice.