FileMaker Pro 7, released in March 2004, was the database application's most ambitious upgrade ever, with the finished product getting a warm reception from reviewers. But good reviews aren't everything—real-world adoption of FileMaker Pro 7 was slow. Ordinary end-users didn't care much about the most revolutionary features in FileMaker 7—things like the new relational engine, or the ability to put many data tables in a single document file. Do-it-yourself developers—the other half of FileMaker's core market—found the new features perhaps a bit too daunting. Finally, there was the fact that converting old solutions for use in FileMaker 7 was, in many cases, so difficult and so expensive that some companies and developers simply decided to sit that version out.
Enter FileMaker Pro 8, six months sooner and six ways stronger than anyone expected. If you're still using FileMaker 6, the time to upgrade is at hand. Think of this latest version of FileMaker as the equivalent to the Jaguar update to Mac OS X—this is the really-ready-for prime time release.
Easy in…
A number of the new data-input features in FileMaker 8 ($299; upgrade, $179) will be familiar to users of other Mac programs. Auto-complete is a common tool in Web browsers and in other databases, and now FileMaker Pro has it, too. With the program's new auto-complete feature, you type "Ze," for example, and FileMaker offers to complete it as "Zeckendorfer."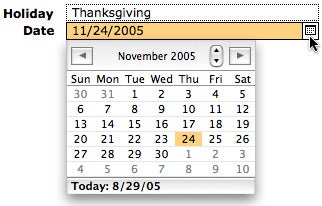 Another common data-input featuring making its FileMaker debut is visual spell checking, where a squiggly line now appears under potentially misspelled words. FileMaker 8 also adds drop-down calendars (pictured right), making it easier than ever for users to enter dates into fields. And for the developer, implementing any of these options is a simple matter of clicking on a checkbox in a dialog.
Easy out
FileMaker Pro 8 introduces a couple great new ways to get data out of your solution. First, there's built-in support for saving any report or layout to PDF. Users don't have to see a single save-as dialog, because the Save as PDF feature is fully scriptable: developers can set things up so that users need only click on a button to create, say, 100 different PDF reports with individual file names (with the names coming from appropriate fields in the database). In a similar vein, you no longer need to export to one format, then import into Excel. FileMaker Pro—which has long been able to read Excel worksheet files—can now write them, too.
Even better, FileMaker Pro 8 can now output data directly to e-mail, either as an individual message containing a set of records, or as an e-mail merge that goes to many different recipients. The e-mail addresses and subject lines can come from fields in the database, and so can the body of the message; setting up an e-mail marketing campaign in FileMaker Pro 8 couldn't get any easier.
Something fishy… er… mousy
Also new in FileMaker Pro 8 is the Fast Match feature. Right-click (or control-click) on a field and select Find Matching Records from the contextual menu; FileMaker will instantly find all the records that match that record's contents in that field. I've been programming this capability into my databases for years and I'm delighted that it's now available everywhere with no more effort on my part.
With this version, FileMaker Pro finally supports mouse scroll-wheels. Now as it happens, Apple, which owns FileMaker, released a multi-button, scrolling mouse about a month before FileMaker Pro 8 was released, with support for right-clicking and mouse scrolling. Coincidence? You be the judge. In any case, these are modest but valuable enhancements to FileMaker's user interface.
Pro for pros
In the end, the really exciting stuff in FileMaker 8 is, once again, for developers. That probably explains why, for the first time ever, FileMaker used the keynote at the company's annual Developers Conference to release the new version. I don't think I perceive things this way simply because I happen to be a FileMaker developer. I think it's pretty clear that FileMaker is trying to make its software a more serious contender in the rapid-applications-development market.
In order to emphasize both the similarities and differences between the two products, the product formerly known as FileMaker Developer has been renamed FileMaker Pro 8 Advanced ($499; upgrade $299). There are a number of major new features in FileMaker Pro Advanced—the ability to import tables and fields from other FileMaker database files, as well as support for copying and pasting fields, scripts and tables; extensive support for fully customized menus; and Tooltips (which users will like, but which have to be configured in FileMaker Advanced). Not the least of the changes is the addition of a data viewer in FileMaker Advanced (shown below), which lets you monitor any fields or variables you like while you are debugging scripts.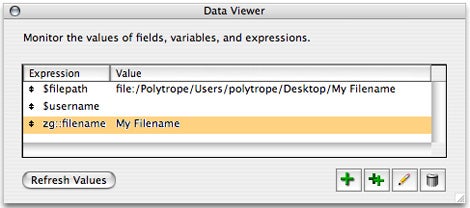 But several new developer-oriented advances are found even in the standard release of FileMaker Pro. The introduction of variables defined inside scripts (with both local and global scope) should eliminate 90 percent of the global fields that we have all been relying upon for temporary storage of values. And it further blurs the line between FileMaker's ScriptMaker and an honest-to-gosh procedural language.
The coolest new developer-oriented feature in FileMaker Pro 8? Some will say custom menus, but I think it's got to be tab controls. The tab control tool creates an object that gives one layout a number of distinct "layers." Each layer or page of the tab object can display its own set of fields. This makes it easy to put a large number of fields on one layout, with one set of user-interface buttons and perhaps some common fields, but to hide and show groups of fields one tab at a time. It's a tremendous space-saver and time-saver, and dead simple to use.
The last word
FileMaker Pro 8 and FileMaker Pro 8 Advanced—both available now—are solid upgrades and then some. When FileMaker Server is released later this fall, this major contender in the small-to-medium-sized database market will have strengthened its position by strengthening its products both for end-users and for developers.
William Porter is an independent database developer.