If you've been following along, you know that you can digitize your LPs and tapes on your Mac or PC by connecting a turntable (via an amplifier) or cassette deck to your computer and recording it with an audio editing application. Those who've tried it also know that turning an old LP into a new audio CD can be a tiresome process. With that in mind I've set about streamlining the job. Here's what I've come up with on my Mac.
Dream vs Reality
Ideally, importing cassettes and LPs would work this way: After establishing the various connections between your gear, you press Record in the audio editor, drop the needle on your record player, leave the room, and when you return your music is segmented into individual tracks and correctly tagged with song, artist, and album information.
If only it was that easy.
Roxio's CD Spin Doctor (bundled with Roxio's Toast Titanium 7 and The Boom Box ) gets close. It will attempt to divide the side of a recorded LP or cassette into individual tracks. Regrettably, although it has some controls for zeroing in on silent passages (which is how it determines where to segment tracks), it's not as accurate as I'd like—particularly on jazz and classical recordings where transitions between one track and another can be pretty subtle.
Classic Conversion
I've been able to get more accurate results by capturing and editing my recordings with Amadeus II, a $30 audio editor from Martin Hairer. Recent versions of the program include a couple of features that make it easier to chunk long recordings into individual tracks and export those tracks in iTunes- and iPod-friendly formats. It works like this:
After recording your audio as a single long track as outlined in the linked article above, select everything in the audio track and choose Selection > Generate Markers. In the resulting dialog box set a minimum length of silence you'd like the program to look for. I've found that 00'00"300 works well for very short periods of silence between tracks (as found in some jazz and classical recordings). For most albums with distinct gaps between tracks, a setting of 00'02"000 works well. The Maximal Level setting of -40.00dB is fine.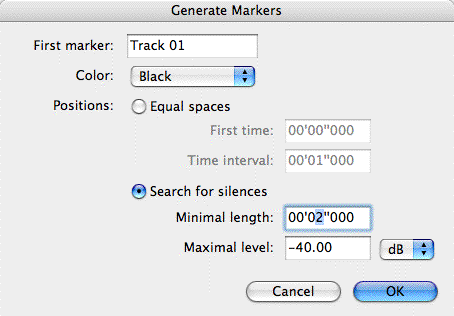 Amadeus will then scan the track for periods of silence. When it finds one that meets the criterion you've set up, it inserts a marker. With markers in place, audition their location by playing a bit of audio before and after each marker. If any are wrong or misplaced, delete or shift them.
Choose Selection > Split According to Markers. In the sheet that appears you can then select a destination for the files as well as choose an export format. Amadeus supports exporting files in the AIFF, QuickTime, AVI, NeXT/Sun (.au), AAC ADTS. Apple CAF File, .mp4, .m4a, Bookmarkable AAC, FLAC, MP3, Ogg Vorbis, Soundesigner, and WAV formats.
Of Tracks and Tags
Now that you've created individual tracks it's time to bring them into iTunes and give them a name. Regrettably, iTunes is incapable of automatically assigning track names to songs in a playlist. Its auto-naming feature works only with audio CDs. If you've recorded and imported an entire album and burned it to an audio CD, there's a reasonable chance that iTunes will be able to assign names to the tracks on that CD—provided that the length of the tracks is fairly close to the track lengths on the original album.
But that still leaves the problem of naming the tracks in your iTunes library. Sure, you can do it by hand, but what good are computers if we can't force them to take on these kinds of tedious tasks? Here are a couple of ways around it.
Travel to Doug's AppleScripts for iTunes and download the CDDB Safari Kit. According to the description, "These two AppleScripts, 'CDDB Safari' and 'CDDB Tracks to iTunes via Safari', assist in finding and retrieving Album track information, Album, Artist, and Year from Gracenote's CDDB website using Apple's Safari browser."
Create a playlist that contains the tracks (in order) that you ripped from your album. Launch Safari, go to the Gracenote CD database site, search for your album, and when you pull up the page that lists its tracks, invoke the CDDB Track to iTunes via Safari AppleScript. You'll be asked if you'd like to import all the track names and you can then choose to import the album and artist data as well. The AppleScript will then assign the titles, album, and artist name to your tracks.
Alternatively, you can use a different Doug script— Copy Tag Info Tracks to Tracks. Using this script, locate the original album in the iTunes Music Store, create a new playlist, select all the tracks from the store, and drag them to the playlist you just created. Select all the tracks in this playlist and invoke the script. Once it's copied the tags from the selected tracks it will ask which you'd like to copy to another playlist. Tell it what you'd like to do and, when prompted, select the same tracks in your ripped version of the album. The script will copy the tag information to these tracks. (Thanks to forum visitor Graeme Smith for this one!)
To complete the tweaking of your imported files, return to Doug's AppleScripts and download the Find Album Artwork with Google script. This script will search Google's images for the album artwork of the currently selected track. Grab the appropriate images, switch to iTunes, click the button to reveal the artwork pane, select the tracks you'd like to append an image to, and drag the image into the Artwork field to add the artwork to each track.