Slow QuickTime movies
Don't want to miss a second of the latest iPod ad (or any other QuickTime content)? Watch it in superslow motion. Once the clip starts playing (you can find one here ), you can simply press the right-arrow key to move through the movie frame by frame. If you hold the key down, the movie moves at normal speed without sound. The left-arrow key does the same thing, but in reverse (QuickTime seems to have more trouble playing backward than playing forward, so the results are somewhat jerky).
You can get even more control over playback by using a scroll-wheel mouse. Make sure your cursor is somewhere within the movie frame, and then simply move the mouse wheel up while the movie is playing to control the playback speed and direction. —RG
Return the toolbar to System Preferences
Tiger's updated System Preferences has a nice new feature—the integration of Spotlight searching, which displays results as you type. However, it's also missing one very useful feature—the customizable toolbar where you could store frequently used preference panes for quick access. If you prefer the old way, there is a relatively simple solution: use the previous version of System Preferences. If you used the Archive & Install option to install Tiger, you'll find the previous System Preferences application in your /Previous System/Applications folder. Give it a new name (for example, Old System Prefs) to avoid overwriting the new version, and then copy it to your root Applications folder. When you launch System Preferences, you'll see what looks a lot like the new version, but you'll have the toolbar to work with. However, you'll no longer see the integrated Spotlight search box. Also, the Spotlight panel will be in the Other section. Apart from these changes, the application is fully functional—and you'll have the toolbar again. —RG
Access invisible login buttons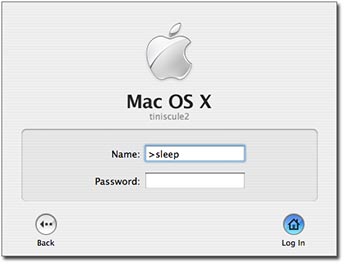 Invisible Sleep Button You can hide your Sleep, Restart, and Shut Down buttons from the exploring fingers of your children. Then accessing these options just takes a bit of typing, as shown here.
Tired of the smallest members of your household messing with your Mac? If you have little kids who love to click on buttons, consider disabling the login window's Restart, Sleep, and Shut Down options. To do so, go to the Accounts preference pane, select the account, and click on Login Options. (You might need to click on the lock at the bottom of the dialog box first and enter your password.) Deselect the Show The Restart, Sleep, And Shut Down Buttons option. Without any buttons to click on, children will quickly grow bored and leave your machine alone.
But what if you want to put your machine to sleep, restart it, or shut it down from the login window after you've disabled the buttons? No problem. First, make sure your login window is in Name And Password mode. You can set this permanently in the Login Options window (by selecting the Name and Password option). Or you can use a little trick to switch the window in real time: Go to the login window, use the arrow keys to highlight a user, and press shift-option-return. The window will show the list of users. In the Name field, type
> sleep
,
> restart
, or
> shutdown
(see ""Invisible Sleep Button). Click on Log In or just press return. It'll take a while before the munchkins figure that one out!
—RG
Fly between AirPort networks
Suppose you need to regularly connect to two different wireless networks—at work and at home, for example. Of course, each one uses a different network setup, such as DHCP in one case and a manual IP address in the other. Before Tiger, that meant you had to set up a separate network location for each and switch between them. Now you can create multiple AirPort configurations for the same network location. This allows for seamless switching without having to select a different location each time, saving some hassle and mouse-clicking. Simply open the Network preference pane and select Network Port Configurations from the Show pop-up menu. Then click on the New button and select AirPort from the Port pop-up menu.—TL
Give different hard disks different bedtimes
To conserve energy, you can set your hard disks to sleep when you're not using them. Just choose the Put The Hard Disk(s) To Sleep option in the Energy Saver preference pane. If you have multiple disks, however, there's no obvious way to set separate sleep times for each—this can be annoying since there's a delay when you wake a disk up. You can gain more control over your hard disks' sleeping patterns by using the Developer (Xcode) tools that came on your Tiger installation CD.
Install the tools from the CD. Then go to the /Developer/Applications/Performance Tools folder and open the Spindown HD application. From here, you can select a separate time for each mounted drive. —TL
Hide your Mac from hackers
If you use an always-on Internet connection, make sure to check out Tiger's new hacker-fighting tools. Go to the Sharing preference pane and click on the Firewall tab to see the new Advanced button. Click on it to access options such as Stealth Mode. With Stealth Mode enabled, uninvited queries to your computer will receive no acknowledgement, making it nearly impossible for someone to surreptitiously discover (and possibly hack into) your Mac. —TL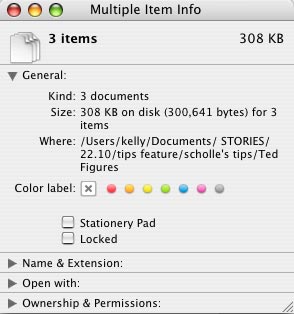 The 411 Hold down the control key when opening a new Info window for multiple selections, and you'll see a summary box.
Get better info
Reader Favorite: When you select multiple files in the Finder and go to File: Get Info, a new Info window opens for each file (see "The 411"). However, if you hold down the control key and do the same thing, the Get Info option changes to Get Summary Info. Selecting this option displays a single Info window with a summary of all the selected files and their combined size. If you hold down the option key instead, the Get Info option changes to Show Inspector. This opens an Info window that operates just like the one in Mac OS X 10.1—the window stays on screen and updates to show the file information of any file or folder you click on. —Andy Burson
Consult the dictionary
Reader Favorite: One of my favorite little secrets in Tiger is the Dictionary/Thesaurus pop-up window that appears in applications such as Safari and Mail. Simply hover your cursor over any word and press Command-control-D to bring up a small window with the word's definition. If you keep the control and Command keys pressed, you can then mouse over other words to see their dictionary or thesaurus entries as well. You can even highlight just part of a word ( embark from disembarkation, for instance) to get the definition of a word within a word, or a part of a compound word (such as science from science fiction ). —Lloyd Viente
[ Contributing Editor Christopher Breen writes Macworld's Mac 911 column. Senior Editor Rob Griffiths runs the Mac OS X Hints Web site. Contributing Editor Ted Landau is the author of Mac OS X Help Line: Tiger Edition (Peachpit Press, 2005). Kelly Lunsford is Macworld's senior how-to editor. Kirk McElhearn is a coauthor of Mastering Mac OS X , fourth edition (Sybex, 2005). Dori Smith is the author of Dashboard Widgets of Mac OS X Tiger: Visual QuickStart Guide (Peachpit Press, 2005). ]
Note: When you purchase something after clicking links in our articles, we may earn a small commission. Read our affiliate link policy for more details.