Although talk of an iTunes phone has eclipsed the topic, I continue to be interested in where an Apple-branded handheld video player might take us. With that in mind, I've been looking at the inexpensive state of the art in the form of Handheld Entertainment's $100 Zvue video player, a device about the size of a Palm computer that displays text, pictures, and movies as well as plays MP3, OGG, WAV, and unprotected WMA music files.
Yes, you read right, $100—the price of Apple's least expensive, display-less iPod shuffle. This price is possible thanks to the device's lack of a hard drive. Anything you wish to view or play on the Zvue must be stored on a removable SD card (you can purchase the Zvue with a 512MB card, capable of storing 420 minutes of memory, for $160). Additionally, packing the device with batteries is up to you—the Zvue holds four AA batteries rather than the kind of rechargeable Lithium-Ion batteries you find in today's music players.
Before I take another step, let me emphasize that dropping a C-Note on this thing is a sound investment for the right kind of person. I'd happily give a Zvue to a 10-year-old during a long car trip or whip it out to bore members of my extended family with pictures and movies from my latest vacation. Again, it's One Hundred Dollars , and that excuses a host of sins.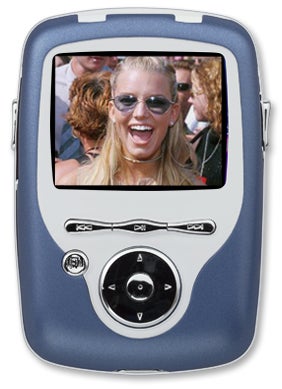 In some ways the Zvue reminds me of MP3 players before the iPod changed what we expect from a digital music player. Like these old players, the Zvue lacks transparency—you have to work to convert videos to a format compatible with the device and moving media to the device is a fairly primitive process. Instead of a slick application like iTunes that fully integrates the player into the experience, the Zvue demands that you mount the SD card as a volume—either by plugging the Zvue into your computer via a slow USB 1.1 link or by mounting the media with a card reader—and drag media files onto the card.
Once the media files are on the device you access them by navigating through the kind of hierarchical folder structure that Creative Technologies now claims as its own. Pictures and video are projected on a 2.5-inch color display that must be viewed at a fairly exacting angle for the image to be clear.
But I come not to praise or decry the Zvue, but rather use it as an example of today's state of inexpensive portable video players and then look at what Apple needs to do to pull portable video into the mainstream.
Steve Jobs is about as likely to offer a personal video player that relies on removable media as he is to appear at next Wednesday's music event dressed in a flowered pinafore. Ditto a device that requires that you flip open the back and insert a fresh set of batteries. The iPod and Mac mini clearly demonstrate that Apple shuns consumer products that require fiddling. Look for a player with built in storage—a hard drive or high-capacity flash memory—and a rechargeable Lithium-Ion battery.
The iPod's square-ish display may be fine for viewing photos but my guess is that Apple would consider unacceptable any player that didn't offer a widescreen view, and one that could be stared at for hours without inducing a migraine. Sony's PSP and Palm's LifeDrive have shown the way with their horizontal video orientation and large-enough displays. Add to this a screen that can be viewed slightly off-axis and you're well on your way.
Speaking of displays, such a device needs video output so that it can be easily plugged into a television and AV audio system. Why create two products—a portable video player as well as a set-top box—when one could serve both your portable and stationary needs.
The video client for the device, which we can assume will be an advanced flavor of iTunes, has to offer the same ease of use found in the iPod/iTunes experience. Videos purchased from the iTunes Music Store should be automatically synced with the device when it's next attached to the computer. Other videos—either those you've created in a program like iMovie or downloaded from the web—should be automatically converted to a vPod friendly format much as photos are now converted for the color iPod.
Will Apple turn out such a device for $100? Oh sure, the second pigs take wing. Okay, so you can bet that if and when Apple releases a portable video player it won't be cheap. But Apple doesn't do cheap. It does elegant and it does intuitive , and it does right . And despite the temptations of portable video on the cheap, that's what I expect from my media player.