As hinted in my recent article, Amicable split: Auto-chunking LPs and tapes, I've been pulling a lot of my old music into iTunes, splitting it into separate tracks, naming it, and, finally, slapping album artwork where it's appropriate. While I'm pretty happy with much of the process, I've continued to seek a slicker artwork solution. I think I've found it.
While Brett O'Connor's Find Album Artwork with Google AppleScript gets the job done, I've abandoned it as it requires more steps than I'm willing to undertake. It's very nice that it will pull up a Google page of album images for selected tracks. But then I have to go to the trouble to choose the correct image (some are smaller than others or incorrect versions of the album artwork) and then drag it into iTunes.
And yes, I really am that lazy.
Instead, on my Mac I've turned to Sprote Rsrch's free Clutter. As described by folks at S.R., Clutter is "an alternate user interface to your music collection. When deciding what to play next, instead of searching through a huge alphabetical list, let your eye roam over the covers of your favorite CDs and those you've been listening to recently."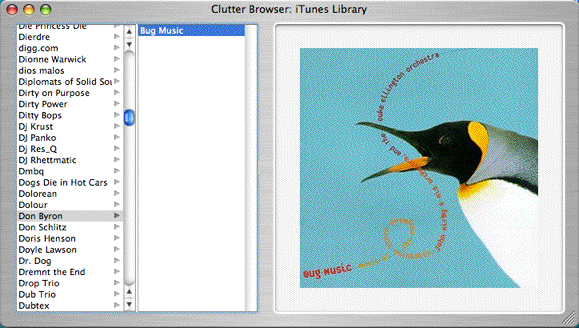 These CD covers are just windows that represent albums in your iTunes library. Just like real CDs you can strew them over your workspace. Double-click the cover to play it.
Cool enough, but what gets me all hot and bothered about Clutter is its ability to automatically grab album artwork from Amazon. Unlike the Google images unearthed by the aforementioned AppleScript, the Amazon images are quite large. To pull them into Clutter, just choose Clutter's Window > Browser, click on an artist entry in the resulting Clutter Browser: iTunes Library window, and, if your Mac's connected to the Internet, Clutter downloads the large version of the selected album's artwork. To then move it into iTunes, just choose File > Copy Cover to iTunes.
Regrettably, there's no version of Clutter for Windows. I've scouted around for a bit and discovered that YVG Software Services' free iTunes Art Importer is the next best thing if you've got a Windows PC. It uses Microsoft's .NET Framework to locate Amazon album artwork for tracks selected in iTunes. Because Amazon sometimes carries multiple covers for a particular album—one for the domestic version and another for an import—the program lists all available versions with a thumbnail for each. Pick the version you want and click the Import button and artwork will be appended to the selected tracks.

A cool, but potentially hazardous, feature is its Auto-Import Best Guess option. With this option enabled, the program will grab what it believes is the best cover for the selected artwork and slap it on without your confirmation. This works for all selected tracks so, conceivably, you could select all the tracks in your iTunes library, switch on iTunes Art Importer, and come back hours later to a library populated with album artwork. In my brief tests the feature was fairly accurate, though it was slow downloading the artwork for some albums.
There are other ways to bring album artwork into iTunes, but, so far, I've found these tools to offer the highest quality artwork and greatest convenience. Got a preference of your own? Use the Comments link below and share it with us.