There's a new iPod on the scene—the iPod nano—and we've got one. What follows are our first impressions of this very impressive little player.
As you've undoubtedly heard, the iPod nano comes in two colors (white and black) and two configurations ($199 for 2GB, and $249 for 4GB). Each model stores music on a memory card rather than a hard drive, bears a crisp color display, and—like current full-sized iPods and the now-defunct iPod mini—sports a click wheel. Unlike with other iPod models, you'll find the headphone port on the bottom of this iPod, next to the dock connector. The Hold switch remains, all alone, on the iPod nano's top.
The nano is as thin and light as Steve Jobs suggests, weighing just 1.5 ounces, and is as thick as a stack of six credit cards. Despite its small size, the markings on the click wheel are clear and the click wheel is responsive. The screen really does look great—it's very bright and readable. And the nano feels perkier than my other iPods, scrolling very quickly through a window full of songs, moving rapidly from one screen to the next, and flying through pictures.
In the iPod nano's narrow box you'll find the iPod itself, a USB 2.0 cable, Apple's standard earbuds, two sets of foam covers for the earbuds, and an iPod Dock Adapter—a white plastic insert that will fit in future iPod dock connector accessories.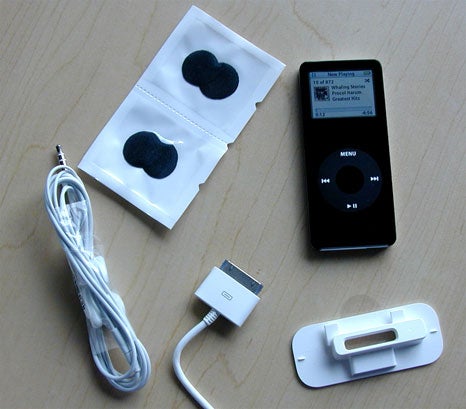 Syncing
The nano can be synced to a Mac or PC by a USB 2.0 connection only, although you can charge it over a FireWire connection. (At this point I'm not sure what this means for booting from the device.)
When you sync the nano you'll learn that it will hold both music and photos. The iPod Setup Assistant suggests that music takes priority, but this suggestion is a little confusing. When I plugged in the nano and saw the Assistant's admonition that "iTunes will first copy all of your music to the iPod and then use the remaining space for photos," I assumed that no photos would be copied to the nano as my music library should take up all its space. That turned out to not be the case.
Instead, iTunes reserved about 135MB of space, copied 889 songs to the nano, and then added 86.4MB of photos to the iPod. Had I told iTunes to not copy any photos to the nano, it would have moved more music to the device.
Like other iPods with small hard drives, if your music collection exceeds the capacity of the nano, iTunes will offer to create a selection of music for you. As with other iPods, this automatic playlist-creation feature isn't terribly discerning. For example, it placed all my five-second Griffin iTrip configuration tones on the nano.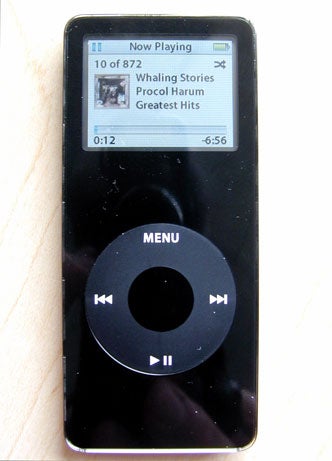 The nano syncs as quickly as other click wheel iPods I've owned, taking around 7 minutes to copy approximately 900 songs to the device. Music syncing isn't slowed down even when iTunes optimizes photos for the nano—the two processes occur at the same time without affecting music synchronization.
Not Quite a Full-Grown iPod
Although the iPod nano can display pictures and slideshows like today's color iPods, it doesn't have all the capabilities of these iPods. For example, you'll find no TV Out commands in its Slideshow Settings window because it can't project pictures to an attached television. Also, it doesn't work with Apple's iPod Camera Connector or Belkin's Media Reader, which means you can't upload pictures to it. And although the Diagnostic Screen shows a LineIn test, current iPod microphones require a connection to the Remote Control port as well, which is missing on the nano.
New Features
The iPod behaves exactly like you'd expect it to. For the most part, menu navigation is like other iPods. But this iPod includes a few extra features. The first is the Stopwatch, which you find in the Extras screen. The Stopwatch will track total time and lap time. When you click Done to stop the watch, it saves your times in a Stopwatch screen. Select one of these entries, click the Select button, and you'll see a summary that displays the date and time of the event, total time, each lap time, and such summary statistics as total time, longest and shortest laps, and average lap time.
Speaking of time, this iPod includes a new clock, which shows the current time in an analog and digital display. Unlike previous clocks, it also lets you view multiple clocks—just click the New Clock entry at the bottom of the screen, choose a region, and select a major city in that region. The clock will change time to denote night. Each clock offers its own alarm as well as its own sleep timer.
The last new feature shown off by Jobs during his presentation was Screen Lock, a feature for, well, locking your iPod's screen. Like a cheap bike lock, this lock lets you create a four-digit password using numbers from 0 – 9. The interface is nothing but cute, featuring a round combination wheel with four digits above. To move from one digit to another use the Next and Previous buttons. Clicking the Select button also takes you to the next digit and, when you reach the final digit, sets the code. When locked you can pause and play the iPod but nothing more—you can't even adjust the volume because turning the wheel adjusts the currently selected digit. Even when you reset the iPod it boots back into the Screen Lock screen.
One possible flaw in this scheme is that once you've set the combination, lock the iPod, unlock it again, and then later return to the Screen Lock screen to switch on the lock, the iPod tells you what the combination is.
Performance
We've played with the new nano for only a couple of hours and so it's too soon to issue a final judgement. I can say that everyone in the Macworld offices who's touched it has been thrilled with its looks, and many have been awed by how such a tiny device acts just like a much-larger iPod. We've also been impressed by its screen and the responsiveness of its controls. We'll look far more deeply into the iPod nano's capabilities and performance in our upcoming review, but at first blush, this one looks like a winner.
Note: When you purchase something after clicking links in our articles, we may earn a small commission. Read our affiliate link policy for more details.