Amidst the brouhaha of Wednesdays's announcement of the iPod nano, most people—especially those of us lucky enough to see the new player in person—were enthralled by just how incredibly small, yet full-featured, the nano is. But as the initial excitement passes, the question many people are likely to be asking is this: "Will the iPod accessories I already own, or the ones currently on the market, work with the nano?" Playlist has spent the past couple days with a new nano (check out Chris Breen's First Look ), and here's what we can tell you.
Ports and connections
Like its iPod mini predecessor, the nano includes Apple's proprietary dock connector port, which means that it should work with most dock-connector accessories that worked with the iPod mini (more details on specific accessories below). The nano also includes a standard headphone minijack. However, it does not include the remote jack found on full-size and mini models.
Power/chargers
Power-related accessories, such as car chargers, external batteries, and Apple's USB charger—all of which connect to dockable iPods via the dock connector port—should be fully compatible with the nano.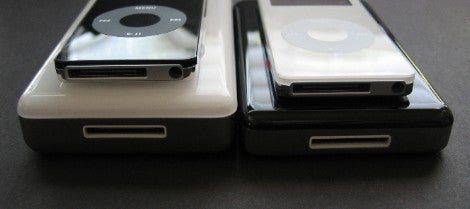 Speakers
We've tested the nano with a good number of iPod speaker systems, and in our testing, speakers that get their audio from the dock connector—such as Bose's SoundDock, Logitech's mm50, JBL's On Stage, Altec Lansing's inMotion models, Klipsch's iFi, and even iHome Audio's iH5 clock radio —work with the iPod nano just as they do with other dockable iPods; audio is passed to the speakers as expected. In addition, on those systems with a wireless remote control, the remote also controls the nano's playback, just as it does with mini and full-size iPods.
There are, however, two caveats here: The first is that since the nano's dock port is off-center, the nano sits off-center when connected to these speaker systems (or when sitting in any dock-cradle accessory, for that matter). The second is that most of these speaker systems do not currently include a "dock cradle insert" specifically for the iPod nano, although we expect many vendors to provide such adapters soon. (See "The mysterious Dock Adapter," below, for more on dock cradles for the nano.) That being said, because the iPod nano is so light—it weighs only 1.5 ounces—the dock connector itself should be strong enough to hold the player upright, at least until speaker vendors provide an "official" cradle insert.
The iPod nano in Bose's SoundDock
Of course, any speaker system that connects via a standard headphone jack is also fully compatible with the iPod nano; JBL's On Tour is an especially nice portable match. (As a side note, if the nano's bottom-mounted headphone jack were centered, PodGear's Shuffle Station would have been a better match for the iPod nano than for the shuffle—the shuffle currently has to be connected upside-down. Alas, the nano's jack is far enough off to the side that the nano doesn't fit between the Shuffle Station's speakers.)
Remote controls
This is one area in which the iPod nano comes up short compared to the iPod mini it replaces: The nano is missing the remote control jack found on mini and full-size iPod models, so accessories that rely on that jack are incompatible with the nano. This rules out all of the standalone remote control accessories currently on the market.
However, in our testing, products that provide remote control functionality via the iPod's dock connector port—such as many of the iPod speaker systems mentioned above, as well as "combo" products such as Kensington's Stereo Dock — do work with the nano. We suspect that it won't be long before a number of vendors announce dock-connector-based remote controls similar to the Stereo Dock.
The iPod nano in Kensington's Stereo Dock
FM transmitters
There are currently three types of FM transmitters for the iPod, differing mainly in how they connect to the player. Those that connect via a dock connector plug (such as Kensington's Digital FM Transmitter/Auto Charger ) or a standard headphone miniplug (such as Belkin's TuneCast II ) are, in our testing, fully compatible with the nano. On the other hand, those that connect to the headphone/remote jack on mini and standard iPods (such as Griffin's iTrip LCD and Xtreme Mac's AirPlay ) are incompatible due to the lack of this jack.
Photo accessories
Although the nano has a color screen like full-size "color" iPods, and can store and display photos from your iPhoto Library, it doesn't allow you to upload photos directly. In other words, the nano is incompatible with Apple's iPod Camera Connector, as well as Belkin's Digital Camera Link and Media Reader. To get photos on your iPod nano, you need to enable photo syncing from within iTunes.
Similarly, unlike full-size color/photo iPods, the iPod nano doesn't support presenting photos on a television—the nano's headphone jack is audio-only. (The headphone jack on color/photo iPods is actually an audio-video combo jack.) Thus, accessories that allow you to connect your full-size color iPod to a television—such as Apple's own AV Cable and dock for color iPods, PodsPlus' Dock with Video Out, and Boxwave's iPod Photo AV miniSync —will not provide video connectivity. (However, their audio and charging/syncing features should work fine.)
Voice recorders
Because the iPod nano doesn't feature the remote/headphone jack used by all of the voice recording accessories currently on the market, none of these products will work with the nano. However, our First Look noted an interesting discovery we made while putting the nano through its Diagnostic Screen paces: The nano includes a "LineIn" test—something previously found only on full-size iPods, suggesting that unlike the iPod mini, the nano at least has the ability to record audio. If this is indeed the case, voice recorders for the nano will likely need to connect via the nano's dock connector port.
Headphones
The iPod nano is identical to other iPods with respect to headphones: Any headphones that use a standard 1/8″ stereo miniplug will work with the iPod nano. Those with 1/4″ stereo plugs need a 1/8″ adapter.
Cases
For obvious reasons, none of the current offerings in this category are compatible with the nano; you'll have to wait for vendors to ship new cases specifically made for this model. Among the first to announce such cases are TuneWear, which announced a nano version of their IceWear case earlier today, and Apple, which announced their own nano cases at the same time as the player itself. (See below for more on Apple's nano accessories.)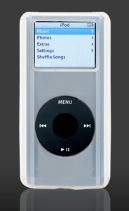 TuneWear's IceWear for iPod nano
Sync cables and other dock-connector accessories
The iPod nano uses the same dock connector port as the iPod mini and full-size iPod models, but the nano's sync functionality differs in one significant way: Although it can both sync with your computer and charge via a USB connection, when connected via FireWire the nano charges but doesn't sync. So FireWire-based dock connector cables and other "docking" accessories that connect to your computer via FireWire will not be able to sync your iPod nano with iTunes. This is a shame, considering that FireWire 400 is faster than USB 2.0. It's also particularly disappointing for owners of older Macintosh computers, many of which have FireWire ports but no USB 2.0 ports—their USB ports are of the slower 1.1 spec.
Other dock connector accessories should function as expected. For example, with the exception of FireWire syncing, SendStation's PocketDock adapters work as expected: Their USB ports charge and sync the nano, their FireWire ports charge it, and their audio line-out jacks indeed provide a line-level audio signal unaffected by the nano's volume control.
Actually, there's one other caveat with the dock connector on the iPod nano: Because the nano's headphone jack is located on the bottom of the player, right next to the dock connector port, if an accessory's dock connector plug is unusually wide, there may not be room to simultaneously connect that plug and headphones or other accessories that plug into the headphone jack. For example, if you plug SendStation's PocketDock Line Out USB into your iPod nano, the headphone jack is all but inaccessible.
The mysterious Dock Adapter
Included with the iPod nano is a mysterious piece of plastic called an "iPod Dock Adapter," which looks very much like the dock cradle adapters included with some iPod accessories; for example, such adapters let the Bose SoundDock fit different-sized iPods. However, the adapter included with the iPod nano doesn't fit any existing accessories.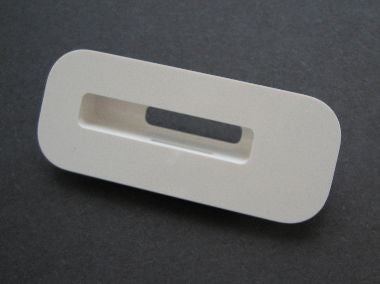 Apple's iPod nano Dock Adapter
So what's this adapter for? It appears that Apple has told vendors—at least those who are part of the Made for iPod program, according to this Knowledge Base document —that instead of designing their own dock cradles and adapters, future products should include a "universal" dock cradle that accepts Apple's dock adapters. Each new iPod model will include an adapter that lets that iPod work with any "official" iPod accessory. This is a great idea that benefits both consumers and third-party vendors: Whenever a new iPod is released, vendors don't have to rush to fabricate new dock cradle adapters so that their products are compatible with the new iPods, and customers don't have to wait for vendors to create such adapters to be able to use their new iPods with their existing accessories.
In other words, right now the included Dock Adapter isn't very useful—as I mentioned above, current accessories can't take advantage of it—but as more vendors adopt Apple's "universal" dock cradle, the adapter means the iPod nano will work with many more accessories. It also means that future iPod models will work with those accessories immediately upon release.
Apple's own nano accessories
Finally, it's worth mentioning that Apple has also announced a few of their own accessories for the iPod nano, which will be available over the next month and a half. The $39 iPod nano Lanyard Headphones combine a lanyard and earbuds into a single around-the-neck cable. The $29 iPod nano Armband, available in blue, red, green, pink, and grey, lets you wear your iPod nano on your arm. And the iPod nano Tubes—$29 for a pack of five (clear, blue, purple, green and pink)—cover your nano in protective silicone; only the screen and ends are exposed.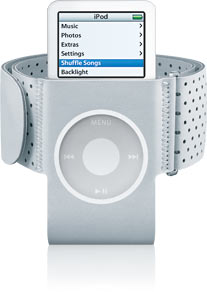 Apple's iPod nano armband
As vendors release accessories for the iPod nano, we'll keep you informed—keep an eye out on the Playlist home page and the Playlist Product Guide for all the latest news and reviews.