Macworld sent in a team of specially trained spies to uncover Tiger's deepest, darkest secrets. Our third installment deals with Preview. Tiger's viewer application can do more than just perform basic tasks. It can also edit images, capture screenshots, display folder images and much more.
Here's a sampling:
View a folder's images
In previous versions of OS X, if you wanted to look at all the images in a folder, you had to open the folder, select all the images, and then drag and drop them onto Preview's icon in the Finder or the Dock. In Tiger, a subtle change has made this process much easier. You can drag and drop a folder onto Preview's icon—just hold down Command-option while you drag (this command forces any program to try to open anything you drop on it). You can drop the folder onto any Preview icon, whether it's in the Dock, the Finder's toolbar or sidebar, or even the Finder itself.
When you drop the folder, Preview opens a new window containing all the images inside it—the drawer displays a thumbnail for each one. Each PDF file, however, opens in its own window.
This new feature also lets you do something else quite cool—quickly find all the interesting images that are sometimes hidden within an application. An application is nothing more than a special type of folder. Just hold down Command-option and drop an application (TextEdit, for example) onto Preview's icon. Preview displays any images it finds in a new Preview window. Just be careful about trying this with large applications such as DVD Studio Pro. The process of collecting all the images can take a very long time. If you run into trouble, click on the Cancel button in the dialog box to stop the process. —Rob Griffiths
Add keywords to files
A Different View Preview usually sorts the photos in its drawer alphabetically. But by choosing a different criterion from the contextual menu, you can change the sort order—here, images are sorted by file size—and display additional information about the files.
While you're sorting through folders of images or PDFs, why not also add keywords to them so they're easier to find with Spotlight later? Preview makes this easy. Drag the images or PDF files you'd like to tag into Preview and then select Tools: Get Info (or just press Command-I). In the Document Info window, click on the Keywords tab. Click on Add and then enter the keyword you'd like to use. If you have a group of files open, you can then simply click on the next image or PDF in the drawer. The window will change to reflect the selected file's information. When you're done, save the files. The next time you perform a Spotlight search, you'll be able to use the keywords to home in on your target. —RG
Change Preview's sort order
If you have multiple images open in a Preview window, you can now quickly change the order of the drawer's thumbnails—and get additional information about the images—by control-clicking in the drawer. From the menu that appears, select Name, Path, Date, Size, Kind, or Keyword. When you do, the images' sort order changes based on the selected criterion (if you choose Size, for example, the smallest files will appear at the top) and you'll see the information corresponding to your selection (see "A Different View"). —Kirk McElhearn
Fix pictures quickly
No time to fiddle around with iPhoto or Adobe Photoshop? Use Preview as a quick-and-dirty image-correction tool. Open a graphic and select Tools: Image Correction. You'll see various adjustment sliders—Exposure, Gamma, Saturation, Contrast, Brightness, and Sharpness (see "Hey, That's Not Photoshop!"). You can even apply a sepia tone to the image and set a white point and black point, which calibrate your picture according to the absolute white and black parts of the image. When you've made the changes you want, save the file. If you want to go back to the original, select File: Revert. —KM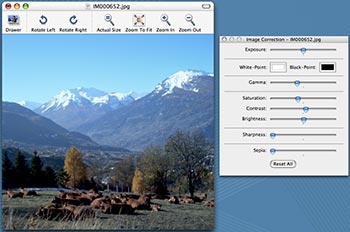 Hey, That's Not Photoshop! Try Preview's image-correction tools when you need to make a quick graphics fix.
A new way to grab screenshots
Sure, you can press Command-shift-3 or Command-shift-4 to take a picture of your screen, or you can use Apple's Grab utility (/Applications/Utilities). But now Preview includes its own screen-capture commands. In Preview, go to File: Grab. The options here are similar to the ones found in Grab. The difference is that after you make a capture in Preview, the new image immediately opens in Preview. —Ted Landau
Eliminate Preview's slide-show controller
The Preview application in Tiger has some nice features that its predecessors lack, including the ability to display multipage PDFs and groups of images in a slide show. Just press Command-shift-F—when you do, you get an on-screen slide-show controller. But if the controller is covering some of the PDF's or image's contents—or if you just find it distracting—you can get rid of it. While in Slideshow mode, click on the second icon from the right to make your PDF fill the screen. To remove the toolbar, just click outside it—the toolbar will come back if you move the cursor over the image, so you may want to click beyond the image's boundaries. Once you've hidden the controller, you can use the left- and right-arrow keys to move backward and forward through the PDF. —RG
Combine multiple PDFs
Say you have a series of PDFs of various recipes, organized by type. Each is a separate file, but you'd like to combine them into one PDF. Prior to 10.4, you could use a third-party tool or a Unix program to get the job done. With 10.4, you just need Automator.
In Automator's Library column, click on Finder, and then drag Get Specified Finder Items from the Action column into the Workflow area on the right of the Automator window. Next, drag the Sort Finder Items action into the Workflow area, below the already-placed action. If you don't want to sort by name, click on the pop-up menus to choose another criterion and sort order. Click on PDF in the Library column, and then drag Combine PDF Pages from the Action column and place it at the bottom of the Workflow area. Select the Finder in the Library column again, and drag the Open Finder Items from the Action column to the bottom of the Workflow area. When you're done, you should have four actions (see screenshot).
To turn this Automator action into something you can use directly from the Finder, choose File: Save As Plug-In. In the window that appears, give your action a meaningful name (Combine PDFs, for instance). Leave the Plug-in For pop-up menu set to Finder, and click on Save.
To put it to use, quit Automator and switch to the Finder. Select each of your PDFs, using the shift and/or Command keys as necessary to select them all, and then control-click on one of the selected files. Choose Automator: Combine PDFs (or whatever you called it) from the pop-up menu; then just sit back and wait a bit. Depending on the size of the PDFs, and how many PDFs you chose, the process will take from a few seconds to a few minutes. But when it's done, Preview will open one document containing every PDF you selected. Select File: Save to save it to the location of your choice. Note that this works best for PDFs with identical or very similar page layouts. For instance, you won't get good results if you combine landscape- and portrait-mode PDFs. —Rob Griffiths
This workflow combines multiple PDF files (selected in the Finder) into one new file.