When it's time to burn music, photos, or movies to CDs and DVDs, many Mac users turn to Toast, which has just undergone a major overhaul from Roxio. Sure, this latest version bears some resemblance to Toast 6, but Toast 7 Titanium features some of the most substantial changes to the program in years.
Announced a month ago, Toast 7 began shipping August 31. I've spent the past two weeks playing around with the updated burning application, and I can tell you what to expect whether you're planning to upgrade or if you're new to Toast.
Improvements for data backup and access
If you have really large files or folders to index—stuff that would occupy more than a single CD or DVD—Toast can manage it with the ability to span multiple discs. Toast installs a small restore utility on each disc, so you can restore files without needing Toast. Just as with Toast 6, Roxio includes the full version of Deja Vu, a utility from Propaganda Software that can help manage automated backups as well. And Deja Vu doesn't just work with Toast—it can also automate backups to mounted network volumes.
You can now personalize data discs with custom icons and backgrounds, particularly useful if you're planning on sending those files to a client and want a professional look to the disc. Toast 7 makes it possible to create a hybrid CD or DVD that shows platform-specific content, so you not only can customize how your disc will look but also what software and data will be visible to Windows and Mac users alike.
There's now an iLife browser built in to Toast 7 Titanium, so when you're creating your own movie, audio, or slideshow projects, you have instant access to the files, projects, playlists, and albums you've got stored in iPhoto, iMovie, iTunes, and iDVD.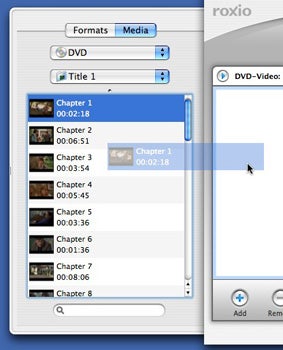 You can also access VIDEO_TS folders (created if you rip the contents of DVDs to disc) and EyeTV archives—Elgato's PVR solution for the Mac. And if you have a DVD camcorder or a DVD-R set top box that records in DVD-VR, Toast 7 Titanium can now import or copy that format.
Built-in Popcorn
Roxio's Popcorn utility has been integrated into Toast 7 Titanium. Popcorn lets you duplicate unencrypted DVDs, like those you create yourself using iDVD, or commercial ones that you've ripped using software such as Mac the Ripper.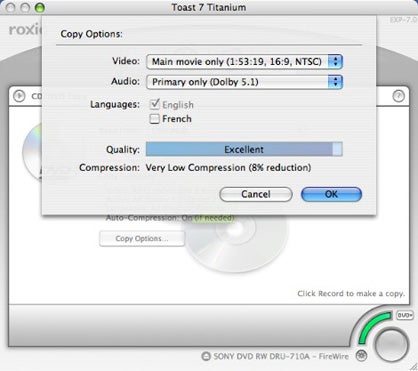 Popcorn makes it easy to copy discs—it can even compress the video contents of dual-layer discs to fit on a less expensive single-layer recordable DVD. The quality of soundtracks and voice tracks remains pristine. You can ignore extra language tracks to save some space.
This feature makes Toast eat staggering amounts of disc space, at least temporarily. Roxio recommends having 15GB free in order for the program to have enough caching space for compressing the contents of your disc. The software's good about cleaning up after itself once it's done, too.
DivX support
DivX is an MPEG-4-based codec that got a big head start on H.264, the video compressor/decompressor built into Mac OS X 10.4. DivX is quite popular on the Internet, used in downloadable movies and supported by some commercial DVD players. Toast 7 Titanium includes DivX 6 Pro—software that won't be available separately through the end of 2005, Roxio says.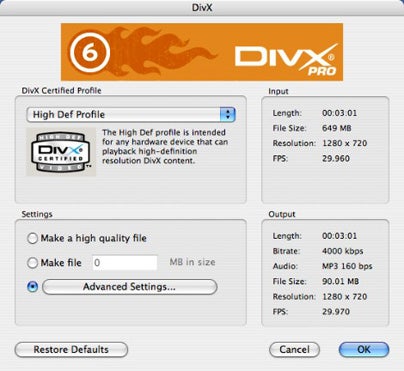 DivX 6 Pro provides you with everything to watch and encode DivX videos. You can convert existing movie files to DivX, burn DivX files to DVD as "regular" DVDs, and even burn DivX HD discs—1,280-by-720 resolution video that can be played back on DivX HD-enabled players. This means that you don't have to wait for Blu-Ray or HD-DVD recordable systems to start showing up for Macs before you can burn HD-capable DVDs.
This also might come in handy if you're tooling around with a high definition project in iMovie HD or Final Cut Express HD and you'd like to see your project in full resolution. DivX HD-certified players are showing up at electronics retailers for about $250.
DivX 6 Pro works with Tiger and QuickTime 7—better than I can say for the currently available free DivX decoder software (which is at version 5.2.1 as I write this).
You've long been able to drag and drop movies into Toast to burn them to Video CDs, Super Video CDs and DVDs, but up until now they've looked pretty plain vanilla—Toast only featured one menu interface. Now Roxio has teamed up with Realeyez Imaging to introduce custom interfaces. This gives your Toast projects an iDVD-style look and feel. In fact, the themes are culled from Realeyez's iDVD ThemePak collections.
Motion Pictures HD
Roxio also includes a still image slideshow-building utility called Motion Pictures HD, which enables you to create better looking slideshows than what you can make using iPhoto. The "HD" moniker means you can create "high definition" slideshows in 720p or 1080i HD formats, for use in iMovie HD or for burning to a DivX HD disc. You can also specify a widescreen (16:9) aspect ratio.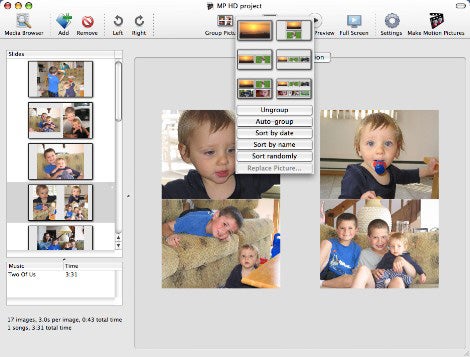 You can group multiple pictures into collages—what Roxio terms the " 24 effect," similar to the four-way split screen seen in the eponymous TV show. With this effect, you're not limited to just four pictures. (You are, however, limited to six.) The software also gives you control over "Ken Burns"-style pan and zoom effects; you can even customize motion and rotation.
Photos and your slideshow's soundtrack are both selected from the media browser, identical to what's found in Toast—you can drag and drop photos and music to create your slideshow, although as with Toast, Motion Pictures HD "grays out" any music that you've bought from the iTunes Music Store. An onscreen counter shows how many images you've selected, how long each slide lasts, and the duration of the whole show. The counter also displays the length of time of your soundtrack. (You can fit the show to match the length of music in the preferences.)
Audio enhancements
Toast 7 Titanium lets you create audio DVDs, which can store more than 50 hours of music on a single DVD, using the default settings for audio quality. Pop them into your DVD player, and you can have a music mix for your next house party. The software also lets you create an onscreen menu, so you can see what you're listening to. You can also create playlists and shuffle your selections.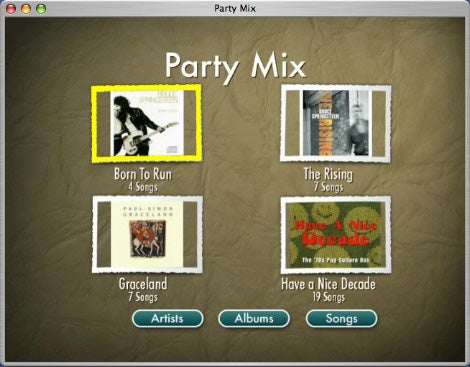 You have control over how your content is displayed—you can select from several different menu styles to give your audio DVD a customized look. You can even add album art if you like. One thing you can't do is crossfades for your music tracks—that's the domain of Jam, an application that Roxio makes available separately for Toast users.
Audio DVDs can be encoded in Dolby Digital format, but audiophiles who want the best quality can select a 96 kHz/24 bit PCM option—the highest quality possible. Toast 7 Titanium supports any non-protected QuickTime supported audio file (sorry, iTunes Music Store users), as well as formats that QuickTime doesn't support—AC-3, for example, Ogg Vorbis and FLAC.
Tiger users get the new CD Spin Doctor Recorder Widget. The Dashboard widget lets you record audio streams from your microphone input—useful for podcasters, for example, or if you want to grab a track from a cassette or turntable that you've got hooked up to your Mac.
Pricing and upgrades
At $100, Toast 7 Titanium isn't as cheap as some simpler CD and DVD burning software for Mac OS X, but nothing comes close in terms of features and integration. The upgrade path may leave some users cold, however, because there really is none. There's a $20 rebate coupon that you can mail in for in the box, but only if you're in the United States or Canada.
Even in light of the many new features of Toast, an $80 upgrade fee seems steep, especially since rebates are often more trouble than they're worth. Here's hoping that Roxio figures out a less annoying and expensive way of upgrading loyal customers.
The new features have bumped up Toast 7 Titanium's system requirements to at least a Power Mac G4 running Mac OS X v10.3.9 or later, and QuickTime 7 or later. That's up from a G3-based machine and older operating system versions which were supported by Toast 6. Roxio makes the system requirements clear, but you should be aware that your Mac's ability to run Toast 6 well may not make it suitable for this latest version.
Macworld will publish a full review of Toast 7 Titanium in the coming weeks.