At a Glance
Expert's Rating
Pros
Decent range
Sound quality equal to an iPod
Support for multiple playlists
Cons
Reversed stereo channels
Poky interface
Dead-slow syncing
Artificial track limit
Our Verdict
Mobile phone with iTunes built-in
If you've picked up any technology journal in the last three years that features the word Convergence splashed across the cover, you know that the hunt is on for the do-it-all gadget—a device that makes and takes calls, surfs the web, manages email, sends and receives text messages, plays music, captures and displays pictures and video, controls your home AV system, and provides three minutes of compressed air for those occasions when your main tank runs out at 15 fathoms. Somehow this responsibility has fallen upon the lowly mobile phone.
Recently the phone has taken the next step toward becoming that end-all-and-be-all convergence device as Apple and Motorola, in partnership with Cingular, finally released the first iTunes-compatible phone, the Motorola ROKR. The $249 phone (with a two-year service commitment) is exclusive to the Cingular service and holds up to 100 audio tracks. While I'm pleased that the phone finally saw the light of day, my pleasure just about ends there. As a phone, it's hardly cutting edge. And as a music player, it's a poor substitute for an iPod.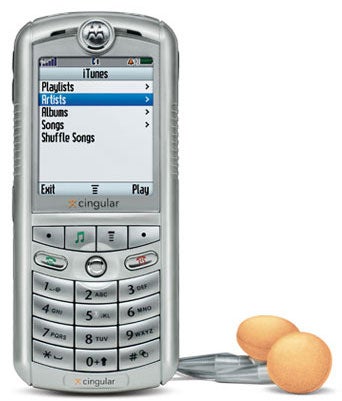 In and Out of the Box
The ROKR is a candy bar-style, tri-band global GSM, Class 10 GPRS phone. Bearing a 176 x 220 pixel color TFT display, a camera for capturing stills and video, built-in "surround sound" speakers, and Bluetooth, the ROKR offers most of the functionality you'd expect from a modern mobile phone—including address book, calendar, and alarms along with such phone and data features as caller ID, call-forwarding, email messaging, MMS (Multimedia Message Service), hands-free operation, call timer, Airplane mode (for accessing phone features with transmitter off), customizable ringtones, and Instant Messaging. In other words, your typical mobile phone.
Included in the box are the phone, the 512MB flash memory card (which may be pre-installed by Cingular) for storing music, a set of earbuds (with a pair of foam covers) that includes a microphone module hanging from the right cable, the phone's battery, an adapter cable for using a standard set of headphones (the phone's headphone supports a jack smaller than a standard miniplug), and a software disc for Windows users.
The one item worthy of comment here is the earbuds. They're the same size as Apple's earbuds and therefore may be too large for some ear canals. Also, the microphone module on the right earbud cable is heavy enough that it could cause the right earbud to pop out of your ear if you swing your head around too quickly.
Crooning for iTunes
Interesting as the phone features may be, what mainly concerns me is the feature not found on other mobiles—iTunes support. The ROKR's flash memory card has the potential to store as much music as the smallest iPod shuffle, yet the ROKR can store only 100 tracks. This 100 track limit is part of a digital rights management (DRM) scheme between iTunes and the phone. Once you've loaded those 100 tracks (which can be music as well as podcasts), the phone won't accept more tracks even if there's room to store them. And those tracks can be played only by the phone's iTunes client—wonderful as it might be to use your iTunes tracks as ringtones, it's not part of the feature set.
The ROKR supports MP3, WAV, and AAC audio file formats—like the iPod shuffle the phone can't handle AIFF or Apple Lossless files. And like the shuffle, iTunes will convert, on the fly, higher bit-rate AAC files to 128kbps to save space on the phone. Unlike the iPod shuffle, the ROKR lets you load multiple playlists.
With the push of a single button on the face of the phone, you're transported to an iTunes screen similar to what you find on a color iPod. On this screen you find Playlists, Artists, Albums, Songs, Shuffle Songs, and Now Playing entries. To navigate through these commands you use a small, 4-position joystick (joy-button is more like it) in the middle of the phone. When a track is playing you adjust volume by pushing the joystick up or down—left and right joystick pushes act like an iPod's Previous and Next buttons. Push the joystick in while a track is playing to cycle through the Playing, Album Artwork (if it exists), Scrub, and Ratings screens. You can also activate Play, Pause, Exit, and Back commands with the phone's soft keys.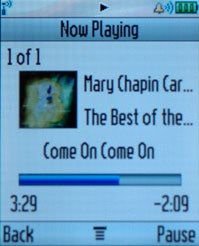 A ROKY Beginning
Despite appearing to have most of the right pieces in place, the phone doesn't perform well with its most conspicuous feature—music. The ROKR syncs with iTunes over only a USB connection (Bluetooth music syncing is not supported), and at USB 1.1 speeds. On my 1.25GHz PowerBook G4 it took the ROKR 44 minutes and 37 seconds to load 87 tracks from my iTunes library. In comparison, a 512MB iPod shuffle was updated with this same collection of tracks in just 4 minutes and 52 seconds.
The interface is slow as well. When you press a button to move to a different screen, there's a delay of a second or more (the animation of the phone's interface on Motorola's website is faster than the real thing). This is particularly irritating when adjusting volume—by the time the phone seems to understand that you want to increase the volume, it's louder than you want. And on more than one occasion I found myself mashing a soft key twice because it seemed like the first mash didn't take.
While similar to the iPod's interface, the ROKR lacks some of its refinements. There's no On-the-Go playlist feature like you find on the iPod and while long entries (titles, artists, and albums, for example) will scroll in their respective screens, they don't scroll in the Now Playing screen. The ROKR does, however, remember podcast bookmarks. And any ratings you've entered on the phone will transfer to iTunes when you next sync the two.
Through a good pair of headphones, the ROKR sounds perfectly fine—almost exactly like you'd expect an iPod to sound. The difference is that, unlike any iPod model, the ROKR reverses the stereo channels—left is right and right is left. The built-in speakers are remarkable largely because, for their size, they don't sound awful. Putting out sound equivalent to a clock radio, you wouldn't want to listen to music through these speakers on a regular basis, but it's not a bad way to catch up on podcasts.
Oh, and it's a Phone Too
When you're not listening to music on the ROKR, you can use it as a phone. Although my intention is to look at the ROKR as an iTunes extension rather than to compare it to every phone on the market, it's worth a brief overview of how it functions as a telecommunications device.
I live in a valley in the boonies and have terrible reception—it's impossible to make a call with my Sony Ericsson T616 on the Cingular network. The ROKR was able to pick up the Cingular Extend network with my T616 SIM card and make a fairly spotty call. I called my answering machine and although I couldn't hear its recording, I was able to leave a discernible message. I understand this is hardly a testament to the ROKR, but it does indicate it has better range than my Sony Ericsson phone.
In comparison to that Sony Ericsson phone, I found the ROKR's interface ungainly. While I can get to the T616's Datebook in a couple of clicks, the ROKR's Datebook is buried inside a Tools area within the Settings menu (you can assign keyboard shortcuts to get to buried functions more easily, however). And I found the ROKR's graphics either indistinct or unattractive. For such a supposedly hip phone, its graphics are pretty lumpy.
I also found the keypad keys too close together. Those with large thumbs may find themselves resorting to slimmer digits when dialing the phone.
Though some have reported having difficulties getting the ROKR to sync via Bluetooth, I had no problems. After switching Bluetooth on in the ROKR's Connection menu and clicking the phone's Find Me command, Mac OS X 10.4's Bluetooth Setup Assistant was able to pair with the ROKR with no difficulties. iSync then automatically launched and offered to add the phone. Once added, iSync was able to sync my Address Book and iCal contacts and calendars. Unfortunately, after the phone was synced, individual contacts within Address Book that bore multiple phone numbers were duplicated, with each iteration of the contact bearing a different phone number.
The Lowdown
As should be apparent, I'm not wowed by the ROKR. It's not a terrible phone or music player, but it's not the kind of impressive first effort you expect from a product associated with Apple. With its slow syncing and response, artificial 100 track limit, audio glitches (reversed stereo channels), and occasionally ungainly interface, many who are accustomed to an iPod's elegance will be disappointed with this phone.