At a Glance
Expert's Rating
Cons
May not be fully supported by all Web sites
Integrated RSS reader may not satisfy hard-core news hounds
Our Verdict
Conversations about Web browsers are like conversations about religion or politics: if you join one, you'll probably hear some strong opinions. But you might also hear questions like "You mean that thing I look at the Web with?"
Perhaps you use a certain browser simply because it came with your Mac, not because it provides you with the best Web-browsing experience. And your Web browser may not be doing all it can for you—in other words, it may not allow you to efficiently access all the Web has to offer.
This review highlights five browsers that have excellent reputations, have recently been updated, and are widely available: Apple's Safari 2.0, Mozilla's Camino 0.8.4 and Firefox 1.0.6, The Omni Group's OmniWeb 5.1.1, and Opera Software's Opera 8.0.2. Alexander Clauss's iCab isn't included here because its most recent update, version 3.0, is currently a beta. And Netscape's Navigator hasn't been updated since our last Web-browser review. Also, Microsoft's Internet Explorer isn't included here because its days are numbered—it's no longer being developed for the Mac. ( Click here to see our previous review of Web browsers.)
[ EDITOR'S NOTE: 10/7/05 – At press time, the Opera Software began offering the Opera Web browser for free. Click here for our updated review. ]
Must-have features
A Web browser is simply a vehicle that helps you get around the Web, and a good Web browser is one that's unobtrusive. All the browsers in this review have common features—ways to manage bookmarks, cookies, and security options; tabbed browsing; and autofill capabilities for Web-based forms. Each browser also loads Web pages at about the same speed. The only noticeable speed difference used to be Firefox's very long program-launch time, which seems to be resolved in version 1.0.6.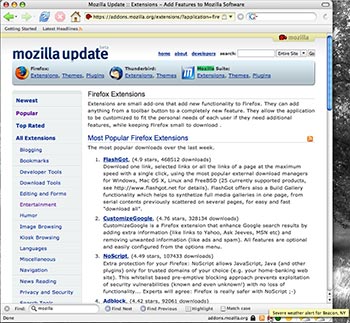 Plug Me In, Soup Me Up Installing plug-ins in Firefox and Camino is as easy as downloading them from the Mozilla.org Web site. The plug-ins installed in Firefox are listed at the bottom of the browser window, on the right. (Click image to open full screenshot)
While each of these programs implements standard features in a slightly different fashion, the principles tend to be the same across all five browsers, or at least similar enough that you'll quickly get used to the differences. (Only OmniWeb posed a bit of a problem—the program's default home-page setting was called Start Page and took us several minutes to locate.) These browsers differ most in the extra features they offer and in the ease with which they let you navigate the Web.
Firefox extends the experience
Mozilla's Firefox and Camino are the most versatile and extensible browsers in this review. They are based on the Mozilla engine, which is compatible with most Web sites. And they are designed to accept third-party plug-ins, or extensions, which can add features, functionality, and different looks (or skins) to the program. But there are many more plug-ins available for Firefox than for Camino.
In fact, these extensions are what make Firefox so great. For example, Forecastfox displays a weather forecast at the bottom of your browser window. And my personal favorite, FoxyTunes, lets you control iTunes. There are so many extensions for Firefox that you can have nearly as much fun tricking out the program as you can browsing the Web.
Firefox also includes several less obvious but equally cool tools. It has the best Find tool of the browsers in this review. While most browsers lay a Find window right on top of the Web page you're trying to search, Firefox simply brings up a little Find box at the bottom of the page. Then it highlights the results on the Web page; options for how your results are displayed are easily accessible. This feature is nothing short of brilliant.
And Firefox has a killer pop-up blocker that you can enhance with extensions such as Adblock, which also allows you to block other types of ads on Web sites. Unlike Safari, Firefox doesn't have a built-in RSS reader; instead, it includes Live Bookmarks, which monitor Web pages that have RSS feeds and then alert you when the sites are updated.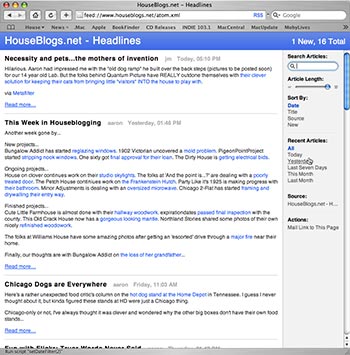 Newsworthy Safari now includes the ability to aggregate and display RSS news feeds. (Click image to open full screenshot)
Aside from the fact that it's built on Mozilla's stellar foundation, Camino is a little immature. It lacks many features—such as text autofill (except for passwords) and RSS-feed recognition—that are standard in all the other browsers. You'll want to choose a different browser for day-to-day use.
All the news that's fit to read
Safari's most touted new feature is its built-in RSS news reader and aggregator. Many sites on the Web—such as Weblogs and news sites (including Apple.com and Macworld.com)—use RSS feeds to notify site visitors that the Web site has changed. You used to need specialized software to monitor and alert you to these changes (see our March 2005 review of RSS- and Atom-feed readers). But now most Web browsers include some RSS-feed-monitoring capabilities.
Each browser, except Camino, monitors sites that have RSS feeds and alerts you when a site has been updated. Safari also lets you read all the latest headlines without having to leave the comfort of your browser. But Safari's news reader is a little awkward. Short of creating a folder for all your favorite news sites, there's no easy way to organize and view all your favorite feeds. So hard-core Weblog readers or news junkies who are used to using a dedicated program may not find Safari's RSS feature useful. But if you're new to the blog- and news-reading game, Safari is certainly a good place to start.
Safari also has a leg up on the competition if you have a .Mac account. Using iSync with .Mac, you can synchronize your bookmarks across several Macs.
Part 2: What a browser costs
Opera is the only browser reviewed here that comes in both a free and a for-pay version ($39). (OmniWeb costs $30 up front and has no free version.) The free version of Opera sports little, slightly annoying advertisements at the top of the browser. When you pay for Opera, the only thing that changes is that the ad banner at the top of the application disappears; paying for Opera doesn't gain you any features that the other browsers don't provide.
Opera has several strange interface quirks that kept me guessing. For example, pressing Command-T brings up a new tabbed window in the other browsers, but in Opera the same key combination brings up a bookmark window. When you configure the program to block pop-up windows, it pops up its own little windows telling you when a pop-up has been blocked. Although you can turn off this preference, many such oddities that mar the browsing experience appear from time to time. On a positive note, Opera is highly configurable, even allowing you to create your own shortcuts for search sites. So typing
G
(the shortcut for Google) and
hogwash
in the address field will execute a Google search for
hogwash
and display your search results. That said, should you pay for a browser when many are available for free? When it comes to Opera, the answer is no.
OmniWeb also lets you create Workspaces, which are essentially collections of Web pages that you can open at the same time. Further, OmniWeb can save your current browsing state so all the windows open just as you had them when you closed the browser or shut down your computer.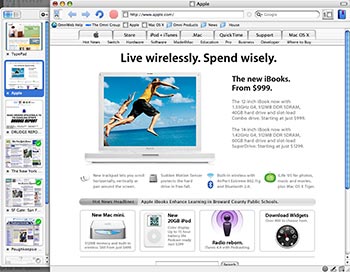 Love-Hate Relationship OmniWeb's tab view lets you see thumbnails of all your open tabs but does so at the expense of precious desktop space. (Click image to open full screenshot)
OmniWeb is our second-favorite browser of this bunch, providing a unique tabbed-window environment, as well as extensive options for customizing your browsing experience. Unlike the other four browsers, which place tabs at the top of the browser window, OmniWeb places a thumbnail image of each open window in a drawer on one side of the main browser window. The benefit of this thumbnail view is twofold: first, you can see each open Web page, which is a useful visual cue; second, OmniWeb constantly monitors the pages in the thumbnail view for changes, and if a change occurs, a small green check mark appears next to the thumbnail image. This approach is handy, but having several tabs open at a time requires that you scroll up and down in the drawer to see every site. And even if you change the thumbnail tabs to text, the drawer itself takes up quite a bit of space.
Dahling, you look mahvelous
Over the past several years, Web pages have moved from simple HTML that displayed text with a few images to sites that can be as beautiful and elegant as high-end magazines, and that display better animated graphics than you can see in Times Square on a Saturday night.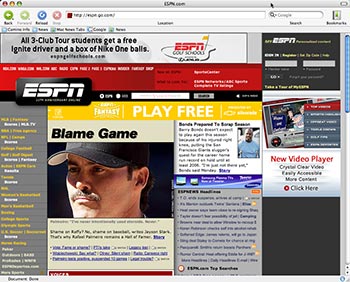 Austere but Able Camino lacks many of the features found in the other Web browsers, but it was able to handle complex sites such as ESPN.com. (Click image to open full screenshot)
To get that slick look, graphic artists and Web designers have come to rely on Cascading Style Sheets, or CSS. By using CSS, designers can be more creative with the graphical elements they use, change the organization of text on a page, and change typefaces, sizes, and styles.
The only problem with OmniWeb is that it may not be compatible with some Web sites because it's not based on the Mozilla or the Internet Explorer engine. This can be inconvenient.
Most of the sites you visit daily, such as newspaper or magazine sites, take advantage of basic forms of CSS but still rely on older, HTML-driven techniques such as tables and frames to provide a consistent look-and-feel. As expected, all the browsers handled the test sites without a problem. And surprisingly, all the browsers handled cutting-edge CSS technology well, too. So as Web designers take greater advantage of CSS, you'll be able to view the content on those pages without a problem and exactly as the designers intended, no matter which of these browsers you choose.
And the developers for each of these browsers are making a point of embracing powerful technologies, such as XMLHTTPRequest, that aren't currently ubiquitous on the Web but that are certain to shape its future.
Pop on Top Opera displays little pop-up windows (top right) to tell you that it has blocked pop-up windows.
Macworld's buying advice
Mozilla's Firefox 1.0.6 is our browser of choice because it's hugely customizable, compatible with the most Web sites and Web-based applications, and downright fun to use. Sure, Safari 2.0.1 is an excellent browser and has some nice new functionality with its integrated RSS news reader, but its usefulness doesn't outweigh Firefox's.
Are you willing to spend a few more bucks for a browser with better features than a free one can offer? The Omni Group's OmniWeb 5.1.1 offers a significant value for $30: thumbnail-based tabs, the ability to save groups of Web pages as Workspaces, and several small but useful features.
Part 3: What a difference a browser makes
Not all browsers let you take full advantage of every Web site. In fact, some Web sites hobble themselves if you're not using a certain browser. I learned this lesson while using Six Apart's Web-based application TypePad. TypePad lets you create and remotely host a Weblog without having to install any software on your computer, and it makes entering text, adding images and hyperlinks, and styling text easy.
I first discovered a problem while I was using Safari to write a blog about a house I was building. At the time, Six Apart had announced some new TypePad features that I didn't seem to have access to. Six Apart's tech support prompted me to give the application a go in Netscape 7.0; sure enough, I suddenly had access to all of the site's features.
The reason? The site has been developed for use with Microsoft Internet Explorer and Mozilla-based browsers such as Camino, Netscape, and Firefox. Browsers such as Safari can probably handle the JavaScript that gives these pages their application-like features, but when you load the page, the site receives your browser information, sees that you're not using IE or a Mozilla-based browser, and won't load the JavaScript. In many cases, this has nothing to do with your browser's actual ability to fully load the Web site.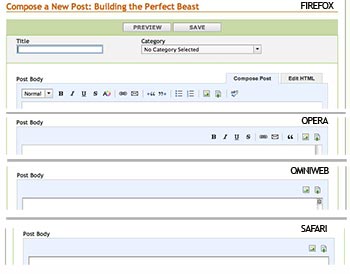 Less Is More? Depending on which browser you use, you may not be getting all the features a Web site has to offer. For example, TypePad's formatting palette in Firefox shows all available options. But in Opera, OmniWeb, and Safari, various features are disabled. (Click image to open full screenshot)
So if you find that some Web sites are missing features that you think they should have, try using a Mozilla-based browser such as Netscape or Firefox. That simple change may give you access to everything you need. Alternatively, some browsers, such as Opera, allow you to imitate another browser, effectively identifying your browser as either IE or Mozilla. You can also do this in Safari, with Gordon Byrnes's Safari Enhancer (free), which gives you the option of enabling Safari's Debug menu. Via the Debug menu, you can select the browser you'd like to imitate.
Sidebar: How we tested
We selected ten different Web sites that represented what users might encounter in a typical day of browsing. We visited these sites to see whether the browsers met several criteria. We also ran a test of common JavaScript actions in each browser. To assess overall user experience, we visited Web sites for the New York Times , Newsweek , and the San Francisco Chronicle , and a banking Web site called M&T Bank. We considered how consistently each browser displayed the pages, making sure that a site's functionality was the same across browsers. To look at CSS implementation, we checked out the W3C-validated Vivabit and CSS Zen Garden. For our discussion of XMLHTTPRequest, a technology that could be challenging for many browsers, we went to the sites discussed in "Ready for the Revolution." We ran JavaScript Speed Test 4.0, from Andrew Hedges, to determine not only how each browser handled the widespread JavaScript language, but also how fast each one completed common JavaScript actions. We also looked at various features on these sites, and used a Web-based Weblog-creation application called TypePad. (See "What a difference a browser makes.")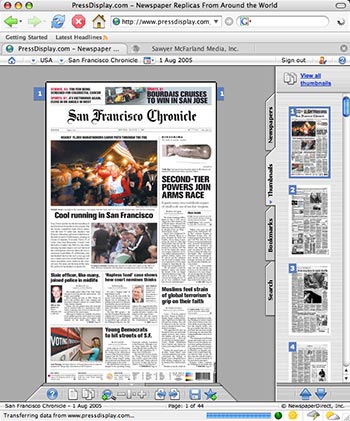 View New Tech Each browser we tested easily handled sites such as PressDisplay, which uses XMLHTTPRequest technology.
Ready for the revolution
A number of Web sites are beginning to make use of a new technology called XMLHTTPRequest. Developed by Microsoft and supported by most browsers, XMLHTTPRequest allows a Web page to communicate with a server and retrieve data. Combined with a little JavaScript programming—a technique known as Asynchronous JavaScript and XML (AJAX)—this technology can dynamically change information on a Web page without reloading it. According to David Sawyer McFarland of Sawyer McFarland Media—the person behind Macworld' s browser tests and a frequent contributor to the magazine—this technology is now driving sites such as Google Maps, Google Suggest, and PressDisplay. McFarland states that this technology is, "hot, hot, hot" and that "many Web sites are jumping on the bandwagon."
All the browsers reviewed here stack up evenly when it comes to loading this not-yet-standard code. They all handled these sites without a problem, which means that no matter which browser you use, you'll be ready for the revolution.
[ Jeffery Battersby is a frequent contributor to Macworld.]