The first Macworld Expo I attended as a cub reporter was in Boston. Summer air blasted off the harbor as sweaty show-goers loaded onto busses to shuttle back and forth between two full halls. The chatter was about the fastest Mac ever made, clone-maker Power Computing's 225 MHz PowerTower Pro; a strange drawing program called Kai's Power Goo; and the wacky buttons Iomega was distributing to promote the ubiquitous Zip drive. It was 1996 and even though the Mac platform was in one of its periodic beleaguered phases, spirits were high. Power Computing's popular t-shirts summed up the atmosphere: "We're Fighting Back for the Mac" and—ironically, these days—"Let's Kick Intel's Butt!"
Expo has always been the place where you could get a feel for the Mac community's mood. Twice a year, you could see who was snapping up shirts, geeking out at the booths, running through the halls, and hitting the wild parties.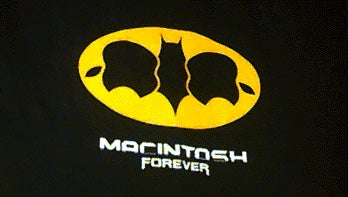 A t-shirt from the '95 Boston Expo riffs on the just-released Batman Forever.
That year, people muttered about the halls not being quite as big or as full as they used to be. (The first quarter of 1996 Apple announced a $740 million loss.) But who could feel blue when catching a glimpse of the 155-foot
bungee jumping tower
Power Computing had erected above the Boston harbor?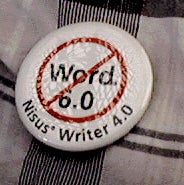 Promoting Nisus Writer 4.0 at the expense of Microsoft's Word 6.
If you could make it to Expo, you knew you'd be witness to the community's seismic changes—not just the biggest hardware and software releases. As I was getting ready to fly East for my second Boston Expo, Ziff Davis and IDG announced the merger of MacUser magazine (where I worked) and Macworld . What's more, we arrived to a keynote featuring Bill Gates. That was the final Boston Expo (not counting the ill-fated return two years ago without Apple.)
To me, the end of the East Coast expos marks the end of an era. With Apple's big product rollouts now relegated to invitation-only events and the parties few and far between, our community has truly moved online. If you can't make it to San Francisco in January, you meet your fellows in the forums. And a scattering of archives, personal Web sites and Wikipedia entries memorialize old expos, companies, and magazines.
If you've got pictures or stories from old Expos, share them here. (The photos in this entry come courtesy of Jason Snell and his collection of images from the 1995 Macworld Expo in Boston.) So long, Boston, and thanks for the memories!