Apple rolled out iTunes 5.0.1 yesterday, an update to iTunes 5, which was released earlier this month. The new release adds stability to the upgrade and, hopefully, solves some of the many problems users have been reporting with version 5. With the more stable release out, it seems like an apt time to take a look at what's new.
The Brush-Off
The most obvious difference in the new version of iTunes is an entirely new look. The familiar brushed-metal interface is gone. In its place is another metallic tone that appears almost top-lit. Brushed Metal, which has been scorned by plenty of detractors over its time, seems to be on the way out. Although it still shows up in Safari, QuickTime Player, and the Mac OS Finder, among other places, we would not be surprised to see more and more applications taking on the look of the new iTunes.
Even more noticeable, the window has gone borderless. Like the latest revision of Apple's Mail application, the new version of iTunes 5 eschews a border around its side edges in favor of more screen real-estate. Although it doesn't add a tremendous amount of space, for users who like to max out the columns of information viewed in the library window, every pixel counts and this will be a welcome change.
Smarter Searches
This version of iTunes has beefed up how it handles searches, with a new search bar that appears when you enter a query that lets you define what types of media you want to search for—videos, music, podcasts, audiobooks, and booklets—as well as allowing you to search based on artist, album, and track name.

Searching my library for Hella , for example, displays four results: two tracks by the band of the same name, one track by the band Shellac, and another track by the band Gravy Train called " Hella Nervous," the track that I'm ostensibly looking for. If I click on Name in the search bar, iTunes filters out the tracks by Hella and Shellac, and only displayes the song that I was looking for. Although I used a small sample size to illustrate this feature, it's highly useful for sorting through a long list of results, filtering out podcasts, and the like.
If you really like the search bar—and I do—you can even make it a fixture in your iTunes window. Under the Edit menu, click on Show Search Bar. This will keep the new smart search bar on display along the top of the library windowpane.
Podcasts
Apple made some fairly substantial changes to the way iTunes 5 handles Podcasts. Podcasts are now automatically added to and indexed in the library. Many users, however, found that their subscribed podcasts had disappeared when they upgraded to iTunes 5. If this happened to you, there's a remarkably easy fix thanks to the new search feature.
To restore your podcasts, first show the search bar, as described above. Click on Podcasts . What's left in your library list are all of your downloaded podcasts. Select all of these, and drag them over to the Podcasts listing in the Source windowpane. Click on this and you'll see that your list of podcasts has been restored, although you will likely need to resubscribe.
A potentially much bigger deal, video podcasts, are now fully supported. This is a major change that hasn't received enough attention. Not only does it mean that Video on Demand capabilities now comes built into one of the most commonly used applications on both Windows and Mac machines, but it also brings Apple one step closer to being the default video content provider.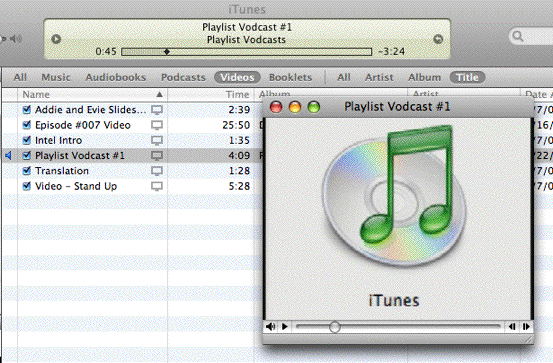 If we look at the pieces, Apple can now deliver video in the form of vodcasts, music videos, and movie trailers directly to the desktop. The application that handles that video is built to sync seamlessly with the most popular media player in the world, the iPod. That same media player already has video capabilities (assuming you hack it). By supporting video podcasting, iTunes is positioned to be the premeir Internet-based TiVo-type system that allows users to watch what they want, when they want it. More notably, they can take that video with them anywhere. Apple's protestations about immersive experiences notwithstanding, this seems like a major step along the road that leads to Apple dominating the Internet video delivery business as it does music delivery.
Smart Shuffle
Search isn't the only feature that got itself a tutor. Shuffle is smarter now as well. An adjustable slider allows users to set how likely iTunes is to play multiple songs in a row by the same artist or from the same album. Choose Less Likely and you're, well, less likely to hear a twofer from Toto again. You can also dictate whether you want shuffle to play individual tracks, complete albums or groupings (collections of the movements of a classical work). Choosing complete albums or groupings, will play songs in the same order they appear on the album or in the grouping.
Folders
Another big change is the ability to add folders to the source list. Folders can contain multiple playlists or other folders. How is this useful? Let's say you've got a lot of hip hop in your music collection. So much that you've got it organized into several playlists: 80s, 90s, 00s, West Coast, East Coast, Crunk, Dirty South, etc. But sometimes you want to listen to all of your hip hop tracks from every playlist. A folder will allow you to do that. Collapse the folder, and it will show you every track in each playlist in one large list. Expand it, and you can break it out into distinct playlists.
And a Few More
There are a few other features as well. iTunes also lets you add lyrics to a track's ID3 tag now. Select a track, choose File > Get Info, and click the Lyrics tab and you can add lyrics, which are viewable on the iPod nano (other iPod models don't currently support lyrics). Another addition is the ability to restrict access to podcasts, the music store, and shared music libraries via parental controls. Information may want to be free, but that doesn't always mean you want your six year-old to hear it.
Mathew Honan is a San Francisco-based writer and photographer. His work has also appeared in Macworld, Wired, Time, and Salon.