Jim Galbraith had a new batch of cameras to test in the Macworld lab, but he decided to put their batteries to the test as well.
A couple of the cameras I'm testing in the lab this week ship with AA batteries. Over the years, I have developed a preference for proprietary batteries, which seem to last longer while being less bulky. This bias dates back to my first digital camera roundup for Macworld , probably five years ago. I remember feeling lucky to get off a dozen shots before having to install new batteries. We must've used a drawer full of alkaline AAs before breaking down and buying a couple of sets of rechargeable batteries and a charger. Thankfully, those rechargeable batteries lasted longer, but I was still constantly swapping them in and out of the cameras to charge them.
That was a quite a while ago, and being the professional that I am, I started testing this new batch of cameras with an open mind.
I stopped at Radio Shack and thinking I was being thrifty, purchased an overnight charger with four Nickel Metal Hydride (NiMH) AAs for $20. It wasn't long before I regretted that decision. After charging the batteries for 13 hours, I found that they would only make it through a couple of days of very light use before needing a charge. Feeling like I'd been down this road before, I almost stopped right there. Luckily, I decided to go down to the local camera shop and see what batteries the employees there would recommend. And I'm glad I did.
The man behind the counter showed me his best—a $40, six-hour charger with high-capacity batteries. It turns out that rechargeable batteries have different capacities. Funny—the guy at Radio Shack didn't mention that. Anyway, the higher the mAH rating, the longer the batteries should last in "high drain" products like digital cameras. It turns out that the Radio Shack batteries were rated at 1800 mAH.
I decided to shop around and found that the Walgreen's down the block had quite a large selection. I picked up an Energizer 15-minute (yes, 15-minute!) charger complete with 4 NiMH, 2200MiAH batteries for $30. I also picked up a set of standard Duracell Coppertop alkalines ($3.49 for a 2-pack) as well as some disposable, photo lithium batteries ($7 for a 2-pack).
I decided to test them using the HP Photosmart M517, which came with two rechargeable Ni-MH batteries rated at 1700mAH (lower than the Radio Shack batteries). I set the camera to use the LCD to frame the shot, take a 3-megapixel shot using the flash and then display the picture on the LCD for two seconds. I used a 64MB SD card and then filled it with the 3-megapixel shots as quickly as the camera would let me; I then transferred the contents of the card to my laptop. Finally, I erased all pictures from the SD card and filled it up again and again until the batteries gave out.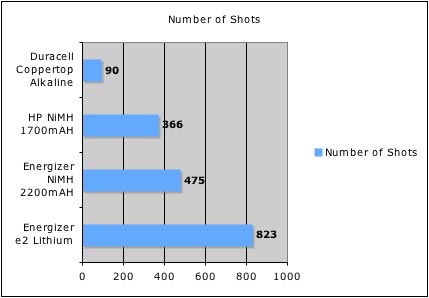 You can see what I found in the screenshot at right.
Those photo lithium batteries are pretty impressive, huh? Energizer claims that they will last up to seven times longer than alkaline batteries, but they did even better than that in our limited testing. Plus, they aren't as sensitive to extreme temperatures as alkalines and NiMH batteries are which can lose power in very cold or hot conditions.
The 2200mAH NiMH batteries, though not as long lasting and initially more expensive than the lithium batteries, will prove to be more cost effective over time, but I'd be sure to keep a set of photo lithiums in my camera bag in case of emergency.
Based on the results of these tests, I will have no problem recommending a camera that uses AA batteries in the future. I will, of course, let folks know that alkalines should only be used as a last resort.
As for those Radio Shack batteries, I'll be returning those. Despite repeated attempts, I couldn't get them to capture more than 200 shots per charge—about half as many as the HP batteries with a lower milliamp hour rating.