iPod white—it's the most distinguishing characteristic of the world's best selling music player. It tells someone from across a room or across the street that you've got the real thing, not an iPod wannabe. But as cool as it is to be part of the iPod crowd, you still like to express your individuality now and then. If you'd rather deck out your iPod with something a bit more interesting than a case, the ultimate facelift is a snazzy surface treatment. Check out these skin-deep solutions for standing out from the crowd.
ColorWare Painted iPods ( full-size, mini, and nano iPods ). Wish Apple offered its current iPods in colors, as it did the iPod mini? ColorWare's got you—and your iPod—covered. The company sells full-size and nano iPods painted in your choice of 20 colors, from steel to carbon and every vivid hue in between, for $65 more than the color-free versions. If you've already got an iPod, the company will colorize it for $64, or apply a color combination—body in one color, Click Wheel in another—for $84. You can even submit a custom color for $99 more. ColorWare will also color-match your current dock or iTrip FM transmitter for $19 and your earbuds for $10.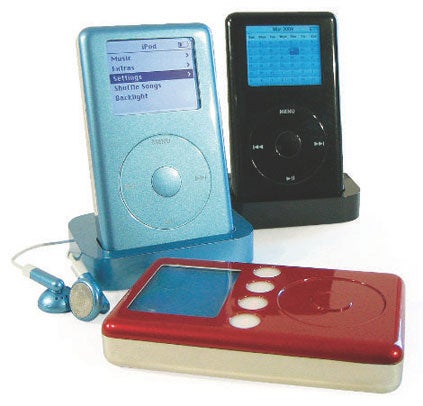 ColorWare's iPod painting service.
HP Tattoos ( full-size iPods ). Just as fake tattoos let you decorate your body for a short time, HP's removable stickers let you temporarily personalize your 'Pod (whether you got it from Apple or HP). Those who buy an HP-branded iPod from certain stores get a free, preprinted musical-artist Tattoo (with a Gwen Stefani or Maroon 5 design, for example), but the company also sells printable versions in packs of ten for $15. You can download Tattoo designs from HP or create your own, and then print them at home on your ink-jet printer. Each Tattoo should last about one month before the adhesive begins to dissolve (although you can remove them anytime without leaving residual goo). Note: HP has officially pulled out of the iPod market, so finding HP Tattoos is getting more difficult.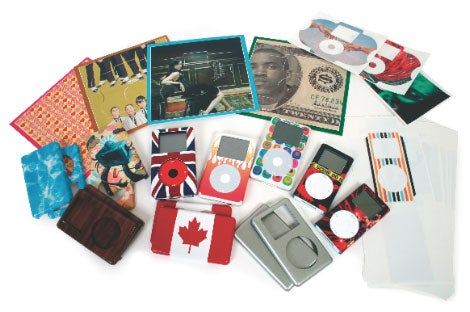 Clockwise from upper left: HP's Tattoos (4), DecalGirl's 4G Skins (3), iStyle skins (2), DecalGirl's mini Skins (2), Graphic Collective's Graphic Cling (flame patter), MacSkinz' PodSkins (6).
PodSkinz ( full-size iPods ). Want something a bit sturdier—and longer-lasting—than a sticker? MacSkinz's PodSkinz are thin, hard-plastic shells that cover and protect your iPod's front white surface and rear chrome section. Designs range from basic solids to animal prints to flags and florals for $30, with limited-edition designs from commercial artists available for $50.
Graphic Cling ( full-size iPods ). Much like HP's Tattoos, Graphic Collective's Graphic Cling wraps around the sides of your iPod to add some panache (and limited scratch protection); however, the Cling uses, well, static cling rather than adhesive to stick to the surface. Available in eight designs, the Cling comes in packs of two different designs for $10.
PopTunes ( mini, nano, and shuffle iPods ). Similar to HP's Tattoos for the standard iPod, TuneWear's PopTunes are removable, wraparound stickers for the iPod mini, nano, and shuffle. PopTunes for the iPod mini are $9 each and available in eight campy designs such as leopard and heartbeats. PopTunes for the iPod nano and shuffle come in a package of 12 different designs. The shuffle package is available now for $20; the nano version will be available in October with pricing to be determined.


TuneWear's PopTunes shuffle (top) and nano (bottom).
iPod Skins ( 3G, 4G, color/photo, mini, nano, and shuffle iPods ). DecalGirl provides what is by far the widest variety of removable-sticker designs—over 110 for the iPod mini alone!—and for the widest variety of iPod models. Prices range from $3 (for iPod shuffle skins) to $7 (for full-size and mini skins), with patterns ranging from the subtle to the strange. All stickers are made of adhesive-backed vinyl and remove easily. (My absolute favorite is the gumstick-replica Shufflemint and Juicy Tunes for the iPod shuffle, which are also available personalized with your own name for $6 each.) DecalGirl will even make custom skins based on your own designs.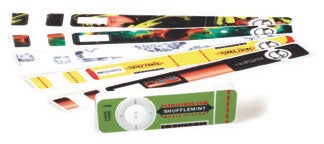 DecalGirl's iPod shuffle Skins
iPodJewelry ( iPod shuffle ). Since you can wear your shuffle as a necklace, it was only a matter of time before somebody thought of actually turning it into jewelry. iPodJewelry creates textured accents and complete covers for your iPod shuffle, ranging in material from cloth and yarn overlays to beads, pearls, coral, and quartz. Prices range from $15 to $50, and you can even get matching earrings and bracelets to complete your fashion statement.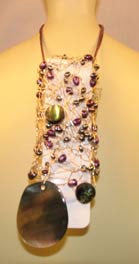 An iPodJewelry iPod shuffle accouterment.
For more on iPod accessories, see the Playlist Product Guide .