At a Glance
Expert's Rating
Pros
Automatically reduces iPod volume to avoid distortion
Less "mechanical" noise than many other adapters
Lets you control compatible iPods with your car stereo's controls
Auto-play/pause with compatible iPods
Good sound quality
Cons
Not compatible with all iPods
Not compatible with all car stereos
Skipping tracks is significantly slower than using iPod's own controls
Skip/scan modes either/or
Our Verdict
Way back in January, Playlist broke the news from CES that Griffin Technology was working on a cassette adapter for the iPod that would let you control the iPod via your car stereo:
Oh, and one more thing… Griffin also let us in on a little secret that will be music to the ears of cassette-deck-stereo, car-driving, iPod-lovers everywhere: The SmartDeck. Like any run-of-the-mill cassette adapter, the SmartDeck will allow you to listen to your iPod through your car's cassette deck. What pushes the SmartDeck over the super-cool line is that it lets you control your iPod using the cassette deck's controls. You read right: The SmartDeck actually plugs into the remote/headphone jack on 3G and later iPods; you can then use your car stereo's controls to play, pause, skip forward, and skip back. All for the surprisingly low (estimated) price of $25. No estimated ship date was given.
Many months have come and gone since then, but the good news is that Griffin is now shipping the SmartDeck at a price of $30. Does it live up to its CES hype? Yes, but in ways other than we expected.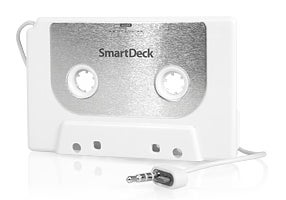 Cassette adapters, rewound
Cassette adapters serve a simple but useful purpose: To allow you to listen to an audio source (such as an iPod) via your car stereo's cassette adapter. You simply plug the adapter's headphone plug into the headphone jack (or line-out jack, if possible) of your source, insert the cassette adapter into your tape player, and then switch your car stereo to Tape mode. The only tricky part, assuming you've connected the adapter to your source's headphone jack, is adjusting the source's volume—you want it loud enough so that your music plays back at about the same volume level as a CD, but not so loud that you hear distortion.
Although cassette adapters don't sound as good as a direct connection between your iPod and your car stereo (such as one provided via an auxiliary input jack or an integrated iPod input), most cars still don't have such connections, and adding one can be quite expensive. On the other hand, we've found that most cassette adapters provide significantly better sound quality than even the best FM transmitters, which broadcast your iPod's audio over an unused FM frequency—you tune your car radio to that frequency to receive the signal. (This assumes you can find a consistently clear frequency, which isn't always a sure bet.) In other words, if your car has a cassette deck but no auxiliary input, a cassette adapter offers an inexpensive "next best thing" for listening on the road.
But here's the thing about cassette adapters: They haven't changed much in the past 15 years. Sure, some of the newer models, such as the AVB Cassette Adapter, can automatically reduce mild distortion, and we really like AVB's retractable cables, but overall, today's cassette adapters work very much like the ones we used with our DiscMan back in the late 80s and early 90s. Except for the SmartDeck, that is.
Cassette Control
Griffin's SmartDeck is the first cassette adapter we've seen that does more than just send audio to your car stereo. Designed specifically for recent iPods with a headphone/remote jack (3G, 4G, color/photo, and mini models), the SmartDeck provides two innovative features that set it apart from the rest of the cassette adapter crowd. The first feature, and the one that's received the most attention, is the SmartDeck's ability to actually control your iPod via your car stereo's controls. You don't get full control of your iPod—you can't change playlists or browse, for example—but you get the features available through most iPod remotes on the market: play/pause and skip tracks forward/back. (You also get the ability to scan forward and back, but as I'll explain in a bit, I suspect that few people will use this mode.) Even better, if your car has stereo controls on the steering wheel, like more and more cars do nowadays, those buttons can also be used to control your iPod.
How does this feature work? It's actually fairly simple in theory: The SmartDeck is basically a wired remote control—it plugs into your iPod's headphone/remote jack—that uses cassette spindle movements, instead of button presses, to register commands. More specifically, companies such as Griffin have long understood the circuitry of the remote control jack on these iPod models. And everyone knows how a cassette deck works: When you press Play, the deck turns the cassette's spindles to move the tape across the tape head at a standard speed; pressing forward or rewind turns the appropriate spindle to move the tape much faster in the that direction. Griffin figured out a way to link the two: When the SmartDeck's spindles move at a standard playback speed, a "play" signal is sent to your iPod. When the cassette detects "fast forward" or "rewind" mode, it sends a "forward" or "back" command, respectively, to your iPod. And when the cassette deck stops, the SmartDeck sends your iPod a "pause" command. Simple? Perhaps. But the fact that it took Griffin so long to actually ship the SmartDeck (and the fact that no one else beat them to the punch) indicates that it wasn't as easy to get the concept working as it was to come up with it.
That's how the SmartDeck works, but does it work well ? During my testing, when the SmartDeck was connected to my iPod, the iPod automatically started to play when the SmartDeck was inserted into my car's cassette deck; when I turned on the car (or the stereo); or when I switched the stereo to Tape mode. Similarly, my iPod was automatically paused whenever I ejected the SmartDeck; turned the car (or the stereo) off; switched to another mode (CD, radio, etc.); or pressed the Play/Pause button on the stereo. This feature alone is very cool—it works much like many of the more expensive iPod/car integration products. (Note that 3rd-generation iPods—those with four touch-sensitive buttons in a horizontal line above the scroll wheel—do not support this automatic Play/Pause feature.)
The skip forward/back feature also worked as advertised, with one caveat: In one of our test cars, pressing the forward or back button a single time caused the cassette deck to "scan" for a few seconds—you actually hear the cassette deck going through the stop/scan/play machinations—then resume playing, as if it was finding the "end" of the current track on the cassette; the iPod paused, skipped tracks (or went to the beginning of the current track, if applicable), then resumed playback in time. However, in another vehicle, pressing forward or back a single time simply put the cassette deck into "fast forward" or "fast rewind" mode, respectively; I had to press the button again (or press Play) to resume playback. The iPod still paused, skipped tracks, and then resumed playback as desired; it's just that it took two button presses instead of one. I suspect that this is a function of the cassette player, rather than the SmartDeck. In either case, the SmartDeck was easy to use and worked well; it just required a different method for actually skipping tracks, depending on the car.
You may be reading that paragraph, thinking, "If you actually hear your car stereo pausing, fast forwarding/rewinding, then resuming playback, it must take a long time to switch tracks!" Yes, it does take longer than simply pressing the same buttons on your iPod itself, since you're executing several commands (pause, forward/back, play) instead of just one. In our main test vehicle, skipping a track took approximately 4 seconds. However, this is a function of the cassette player being used; if your cassette deck is faster (or slower) at performing this sequence, the SmartDeck's "performance" will be faster (or slower) for you.
The SmartDeck also offers a "scan" mode, where holding down the fast forward or rewind button on your car stereo scans through the current track. (Griffin's documentation calls this "Scrub Search Mode.") However, there are three drawbacks to this mode. The first is that in order to use this mode, you have to eject the SmartDeck from your car stereo, switch from Skip to Scan mode, reinsert the SmartDeck, then resume playback (after which you're no longer able to skip tracks via your car stereo's controls). This limits the mode's usefulness to those times when you know ahead of time that you'll be wanting to scan instead of skip—for example, when listening to audiobooks or podcasts. The second issue is that the cassette controls on some car stereos aren't very responsive, so it can be difficult to scan effectively. Finally, like the skip forward/rewind feature, the scan feature's performance appears to be dependent on your car stereo's particular tape "scan" functionality. Our test vehicle that automatically stopped and resumed playback couldn't scan for more than a few seconds at a time; it kept stopping as if it had "found" the end of the current track. The one that required me to resume playback manually worked fine. Overall, I doubt many people will actually use this feature, but if it's one of the reasons you're considering the SmartDeck, be sure to buy the product from a retailer with a good return policy so you can try it in your own car.
On the level
The SmartDeck's other innovative feature, which I actually appreciated just as much as its remote control functionality, is its ability to automatically adjust your iPod's volume to reduce distortion. With most accessories that get their audio via the iPod's headphone jack, you have to fiddle with the iPod's volume control to get just the right level—too little and you end up with a poor signal and background noise; too much and you get distortion. With the SmartDeck, you simply crank your iPod's volume to the maximum and the SmartDeck automatically lowers it to the appropriate level via the same remote connection. This feature first debuted in Griffin's iTrip LCD and it's a welcome addition to the Smart Deck. On only a few occasions did I experience any distortion with the SmartDeck, and that was when playing a track with levels that were temporarily significantly louder than the rest of the track—the same can't be said for any other cassette adapter we've tested. The only drawback to this feature is that it can only adjust the volume down , so if the volume is too low, the SmartDeck won't automatically increase it to the optimum level.
Thanks in part to this automatic volume feature, the SmartDeck is one of the best sounding cassette adapters we've tested. In fact, the overall sound quality provided by the SmartDeck is among the best of the non-direct connections we've tested—significantly better than FM transmitters, and better than most other cassette adapters. And the SmartDeck's auto-volume feature gives it an additional advantage over other adapters because you don't have to spend time fiddling with volume levels to get the right match for your car stereo.
One other audio-related area where the SmartDeck fared well is in mechanical noise. Since cassette adapters work by emulating an actual cassette, they have moving parts—for example, the cassette spindles actually turn as your car's cassette deck "plays." On some adapters, the sound of these parts moving is actually loud enough to be distracting. The SmartDeck is one of the quietest we've tested.
The Lowdown
The SmartDeck is a unique and clever product that we're glad to see finally hit the street. Although it's not going to be the perfect solution for everyone, it's definitely worth considering if you're in the market for a cassette adapter. Is it worth the $10 to $20 price premium over other cassette adapters? That depends on what you're looking for in an adapter. The SmartDeck's ability to control your iPod via your car stereo's controls is very cool, but it's not as responsive as you might expect; this feature is likely to be most useful for those who like to keep their iPod in a glove compartment or console—somewhere where you wouldn't be tempted to use your iPod's own controls instead. It's also a good option if your car's layout makes it easier (or safer!) for you to use your car's controls; for example, if you've got such buttons on the steering wheel. But even if you never use your car stereo's buttons to control your iPod, the SmartDeck has advantages over the competition: Its auto-volume feature (which makes setting the right volume level much easier than with other adapters) and its auto-play/pause capability can't be found in any other cassette adapter and might alone make the SmartDeck worth the price premium.
On the other hand, the SmartDeck doesn't work with all iPod models, so if you've got more than one iPod, make sure they're all compatible or else you'll have to buy a second accessory, as well. And the standard cassette adapter caveat applies: We have yet to find one that works with every car stereo. In fact, up until now, that's been one of the major differences between most cassette adapters: The bad ones have problems with many cars, the better ones only a few. In the case of the SmartDeck, which depends on even tighter interaction with your car stereo to provide iPod-control functionality, compatibility may be even more of a issue. For example, in my testing, the SmartDeck worked in both test cars, but its behavior differed slightly depending on the car. Performance—the time it takes the SmartDeck to change tracks on your iPod—may also differ. So, as I mentioned earlier, if you're considering the SmartDeck, buy it from a retailer with a good return policy so you can give it a test run in your own vehicle.
UPDATE, DECEMBER 2005: Based on feedback from a few readers, it appears that the above Lowdown on the SmartDeck wasn't as clear as I had intended it to be. To clarify: Like most cassette adapters, the SmartDeck may not work in every car, and works differently in different cars due to differences in cassette players. And even if the SmartDeck works in your car, you may find its control features to be clever-but-klunky. However, the SmartDeck is the best-sounding cassette adapter we've tested thanks to its auto-volume feature (which also makes it the easiest to use, since you don't have to worry about matching volume levels)—it's worth considering for this feature alone, even if you never use its "control your iPod with your car stereo" features. I do recommend that you buy it—or any cassette adapter, for that matter—from a retailer with a good return policy so you can make sure it works in your vehicle.