Mozilla Firefox is rapidly catching on with Mac users, and for good reason: It's free, fast, and flexible, and it does an outstanding job of displaying most Web pages. (This cross-platform browser is also increasingly popular among Windows users, largely because of its excellent pop-up-blocking features). And beneath Firefox's simple interface are some surprisingly powerful features. The following tips will help you maximize this up-and-comer's potential. (All these tips were tested in Firefox 1.0.6 but should also work in newer versions.)
Take advantage of tabs
Like most modern browsers, Firefox lets you open multiple Web pages as tabs within a single window. But it sports some handy tab-navigation tools you may not know about:
• To move to the next tab, press control-page down or control-tab. To move to the previous tab, press control-page up or control-shift-tab.
• To save the addresses of all open tabs at once (so you can easily return to the same set), choose Bookmarks: Bookmark This Page (or press Command-D). Select the Bookmark All Tabs In A Folder option, enter a name, and click on Add. Firefox will create a bookmark folder with the name you selected. To reopen that set of tabs, navigate to that folder in your Bookmarks menu and choose Open In Tabs.
• You can set up Firefox so it opens multiple Web sites (each in its own tab) when you click on the Home button. Just go to the sites you want it to open, choose Firefox: Preferences, click on the General icon, and click on Use Current Pages (under Home Page).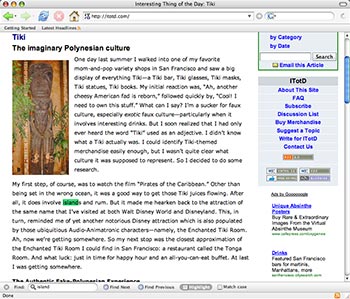 Fast Finds After a simple preference change, you can type any text into Firefox's search bar to see matching text highlighted instantly.
(Click image to open full screenshot)
Find as you type
To find text within the current Web page, press Command-F (as in most Mac apps) or the / (slash) key. Instead of opening up a separate Find window, Firefox opens a search bar at the bottom of the window (see "Fast Finds"). As soon as it finds a match, it highlights the found text. To make searching even faster and easier, turn on Firefox's Find As You Type feature. To do so, choose Firefox: Preferences, click on the Advanced icon, and select the Begin Finding When You Begin Typing option (it's located in the Accessibility section). Now the search bar will appear and Firefox will start searching as soon as you type any character—no Command-F or / required.
Assign keywords to bookmarks
If you have a lot of bookmarks, finding the one you want can be tedious—especially if you've organized them into a bunch of nested folders. You can avoid this tedium by assigning keywords to bookmarks that you use often. That way, you can zip to that site with just a few keystrokes. For example, to assign a keyword to www.apple.com, choose Bookmarks: Manage Bookmarks, select the bookmark for that site, and click on the Properties button in the toolbar. (Or you can control-click [or right-click] on the bookmark and select Properties from the contextual menu.) Enter a short text string (such as
ap
) in the Keyword field and click on OK. The next time you want to visit Apple's Web site, type
ap
in the Address field and press return.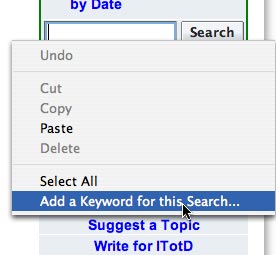 Keys to the Search After you assign a keyword to a search box on nearly any Web site, you can type that keyword and your search term in Firefox's Location bar to find what you're looking for.
Assign keywords to searches
You can also use keywords to make searching easier. Go to a Web page that has a search box. Control-click (or right-click) on that box and choose Add A Keyword For This Search from the pop-up menu (see "Keys to the Search"). In the resulting dialog box, enter a name in the Name field and a short keyword in the Keyword field, and click on Add. Then, to search that site, type the keyword followed by your search term in Firefox's Location bar (not the search box). For example, if I assigned it to my own Interesting Thing of the Day site, I could then type
it cheese
in the Location bar to search for cheese-related articles on that site. By the way, Firefox has a built-in smart keyword for looking up defini-tions at Dictionary.com: just go to the Location bar, enter
dict
followed by a space and the word you want to look up, and press return.
Change your theme
While extensions change Firefox's capabilities, themes change its look-and-feel—its icons, fonts, colors, button shapes, and other interface elements (but not the Web pages themselves). To add a theme, choose Tools: Themes and click on the Get More Themes link at the bottom of the window. You install themes the same way you add extensions. To activate a theme, click on the third icon from the left at the bottom of the Themes win-dow (its name and appearance change, depending on the theme you're using), and then restart Firefox.
Master the keyboard
If you like to keep your fingers on the keyboard, you'll like Firefox's extensive keyboard shortcuts—many of which do not appear in its menus. ( Click here for an extensive list.) My favorites:
• Turn caret browsing on/off: press F7. This feature puts an insertion point on screen, letting you select Web text using the keyboard.
• Select the next or previous search engine: press control-up arrow or control-down arrow when the insertion point is in the search box.
Note: When you purchase something after clicking links in our articles, we may earn a small commission. Read our affiliate link policy for more details.