In my 11 years of reporting on Mac games, I've never seen a Windows-based game generate as much interest from Mac users as Rollercoaster Tycoon. So I'm happy to report that, thanks to Aspyr Media, Mac gamers will soon be able to get their hands on the game—or at least the lastest incarnation of it: Rollercoaster Tycoon 3. I've been playing with a pre-release version of the game and I have to say I've had a blast.
Rollercoaster Tycoon 3 puts you in every kid's dream job—creating and managing an amusement park. But don't fool yourself. It's hard work. You'll have to use your management skills and your creative juices to create the most popular—and most profitable—park you can.
Almost every aspect of your amusement park needs looking after, from staffing (you'll hire janitors, mechanics, grounds people, and more) to promotional methods (should you spend the money advertising the park in a parenting magazine?) to real estate (you can buy easements on adjoining property if you're thinking about expanding your park).
Many of the rides and amusements are pre-built and self-contained—you simply pick a plot of land, drop them in place, create entrance and exit lines, test the rides, and then open them to the public. But if the fancy strikes, you can also build and layout many parts of your park yourself. This is particularly fun (and challenging) when it comes to building coasters.
The game's basic Career mode puts you in scenarios where you have to meet objectives to unlock new parks and rides. Goals are divided into three categories: Apprentice, Entrepreneur, and Tycoon. An Apprentice goal might be to keep the park clean and make specific revenue or attendance goals, for example. At Tycoon level, on the other hand, you might need to build coasters of specific lengths or excitement levels, all while hitting monthly income targets.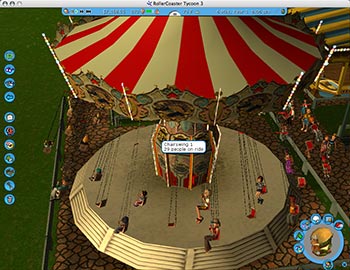 Click image to open full screenshot
Despite its name, Rollercoaster Tycoon 3 isn't just about roller coasters. The game includes thrill rides such as spinners and swings, bumper cars, circus tents, and more. You should also populate your park with refreshment stands, souvenir stands, and restaurants, to help keep your patrons happy and comfortable. You can also create amusements such as fireworks displays, choreographing the show yourself.
The game includes five different theme parks, including a spooky park full of haunted attractions, a space-age themed park, and a Wild West park. Each park features its own rides and amusements.
Thanks it the game's 3-D engine, you can choose to view your park from a bird's eye perspective or zoom down to individual park patrons (Peeps, they're called). You can even ride on the attractions you've created or purchased for your park—a particular treat.
If you don't want to bother with goals and scenarios, you can focus instead on building things with the game's sandbox mode. You start out with an empty plot of land and an unlimited money supply to come up with the park of your dreams.
Graphics in Rollercoaster Tycoon 3 offers a great deal of detail, except in the case of Peeps. As a result of this detail, big parks can really slow down the game. After all, it's not just animating and drawing rides, it's also modeling the individual thoughts and actions of the hundreds of people in your park. You can tweak a dizzying array of graphics settings to get the best performance on your machine. That said, you'll need a 1GHz or faster Mac to play.
The Windows version of Rollercoaster Tycoon 3 has been out for more than a year. Does that diminish or detract from the game? Not one iota, in my opinion. This game will be popular for a long time to come with Mac users, I expect. not only do you get to test your skills as a businessperson, you'll also tap your creativity as you try to come up with truly wild and wonderful amusement park layouts and ride designs. Not many other simulations can offer that.
By the way, the game is rated for everyone, so it's safe for the whole family to enjoy.
The bottom line
Rollercoaster Tycoon3's arrival on the Mac is a marvelous thing. It's a fun game that's sure to appeal to strategy game fans and Mac users just looking to test their skills as amusement park designers.
Rollercoaster Tycoon 3 BETA TESTED PROS: Five different park themes; three levels of difficulty; detailed 3-D graphics; sandbox mode. CONS: Performance may suffer as parks get bigger. PRICE: $50 OS COMPATIBILITY: OS X 10.3, OS X 10.4 COMPANY: Aspyr Media, www.aspyr.com