I've just returned from the Apple music event where Steve Jobs unveiled, among other things, the first video iPod. What follows is anything but a comprehensive first look—no one could fairly judge the latest iPod by dinking with it for a few minutes and snapping a few pictures. I'll save that first look for when I actually have one in hand in the comfort of my office.
Instead, I'd like to offer a few first impressions—thoughts on what leapt out at me when I took those few minutes to play with the new iPod.
Viva video!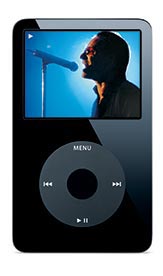 To begin with, given Steve Jobs' contention that a whole lot has changed in one day—specifically that with the introduction of this iPod the nascent portable video market has just taken a giant leap forward—it's remarkable how natural a progression that iPod seems when you hold one in your hand. Navigating through videos (and configuring the iPod to play those videos) is an experience very similar to working with music and photos on the last generation of full-sized iPods.
The main screen offers a Videos entry that works much like previous iPods' Music and Photos commands. Select it and click the center button and you're presented with a screen that offers Video Playlists, Movies, Music Videos, TV Shows, Video Podcasts, and Video Settings. Select one of these entries, click the center button again, and you can view a list of appropriate videos (music videos you purchase from the iTunes Music Store, for example, appear under Music Videos).
According to an Apple representative on-site at Wednesday's event, videos on the iPod are treated as entities separate from music tracks and can't be incorporated into a music playlist. You can't, for example, add a downloaded U2 music video to an On-The-Go playlist that contains music. And—at least when it comes to the black video iPod I tried—you can't rate videos (though you can in iTunes 6 ).
The Video Settings command is similar to what you find in the Photos area of a color iPod. Here you'll locate options for TV Out (as with the color iPod your choices are Off, Ask, and Off), format (NTSC or PAL), and a Widescreen option you can switch on or off (to choose between a letterbox view versus full-screen). As the TV Out command hints, you can use Apple's standard AV cable (helpful if you already own one from a previous iPod photo purchase) to project videos (at 320 x 240) to a television or compatible projector.
When I asked an Apple representative about battery life in regard to video playback, he quoted specs for onboard playback—two hours of playback on the 30GB model, and three hours on the 60GB iPod (the 60GB iPod appears to house a higher capacity battery). When I mentioned that playtime is cut by more than half when you connect a color iPod to a television to play slideshows and asked whether battery life would likewise be affected for video playback he didn't have an answer, though guessed that a battery charge will also be reduced when projecting video. We'll see for sure when I have one to test.
Screen seen
When you first gaze upon the iPod, it appears to be wider than previous full-sized iPods. This is an illusion brought about by the extra half-inch of display. Unlike with previous full-sized iPods, this one's display (2.5 inches, measured diagonally) extends out nearly to the right and left edges of the iPod.
One of the big question marks in my mind was how long it would take before the casual user's head explodes after watching video on such a small screen. The brightness of the display has, on first blush, allayed some of those fears. The screen is quite bright and very crisp—offering a dot-pitch (.156mm) smaller than the iPod nano (smaller dot-pitch translates into crisper video). It remains to be seen if sales of Advil increase exponentially when users routinely drop two-hour movies onto these babies, but my brief experience convinces me that watching a full-length movie and living to tell the tale is well within the realm of possibility.
Missing in action
The introduction of this iPod spells the end of Apple's remote port. Although the capabilities of that port are built into the iPod's proprietary dock connector, the port is gone with the wind. This isn't a huge surprise after the connector failed to appear on the iPod nano, but those with older accessories that depend on the remote port—microphones, FM transmitters, and remote controls, for example—may be disappointed that they will have to upgrade to accessories compatible with the new model.
Apple's iPod Camera Connector will work with the new iPod, I was told, but the Belkin camera device won't, as it depends on a FireWire capability missing on the newest full-sized iPod.
Speaking of FireWire, FireWire syncing has also gone the way of the dodo. Like the nano, this iPod can be charged via FireWire, but it won't sync over this kind of connection.
Finally, when Apple introduced the video iPod it discontinued another black iPod—the iPod Special Edition: U2. While Bono's visage appears on web pages devoted to the new iPod, the iPod named after his band has disappeared from the Apple Store.
Good at a glimpse
Again, I've had next to no time with the newest iPod. But I've liked what I've seen so far. Although the black model smudges as quickly as the black iPod nano, I find it very sexy and expect the dark iPod to sell well. The screen looks great, the controls are responsive, and Apple's incorporated video in a way that feels as natural as any other function on the iPod. I look forward to spending some quality time with this iPod. My guess is that you will too.