At a Glance
Expert's Rating
Pros
Visual XSLT authoring
Time-saving background FTP
Helpful interface improvements
Improved CSS rendering and editing
Cons
Server behaviors still don't solve common problems
JavaScript behaviors are old
Our Verdict
If Adobe's purchase of Macromedia proceeds as planned, Dreamweaver 8 is the last version of the program to be produced under the Macromedia banner. It is also the best version to date, providing a streamlined workflow, new tools, more stability, and faster performance.
Improved workflow and design tools
Dreamweaver 8 has a new tabbed document window, much like the tabbed browsing found in the Firefox and Safari Web browsers, so instead of hunting through a cascade of document windows, you switch to any open file by just clicking a tab. In addition, the new Workspace Layouts let you save any arrangement of floating panels. This helpful feature lets you set up the program to match different projects—for example, you can neatly arrange all the panels you need to work with database-driven Web sites—or, if you share a computer, you can save a layout of panels that matches your specific work style.
Designers will be pleased with two new features commonly found in design programs: Zoom and Guides. If your design requires pixel-level placement, you can zoom in on the document to make sure your graphics align correctly, or you can just use the Zoom to make it easier to work with small table cells. The new Guides feature lets you drag guidelines onto your page so you can more easily align elements and structure your page. The guides also let you measure, in pixels, the distance between items on a page. This is a great way to make sure you've placed a banner in an exact spot in a document.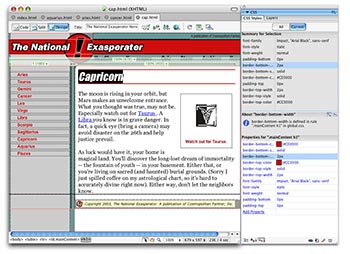 The new unified CSS panel (right) is the command and control center for creating and editing CSS styles and analyzing the complex interactions of styles on your pages. (Click image to open full screenshot)
Better CSS support
Dreamweaver 8 sports many enhancements to its Cascading Style Sheet support. It renders CSS more accurately than Dreamweaver MX 2004 ( , January 2004 ) and includes the ability to correctly display CSS pseudo elements like :first-line and :first-letter, styled form fields, and styles that use the CSS Overflow property.
To make working with styles easier, all of the disparate panels relating to CSS in MX 2004 have been collected into one unified pane (see screenshot at right). Now, you can more easily create and edit styles, quickly see which styles are available on a page, and determine how such styles affect the appearance of an element
One very useful addition is the ability to see all style properties that apply to a selected element. Since styles cascade—meaning properties from multiple styles can combine in different ways to impact the formatting of content—this lets you identify not only what properties a given element will finally have, but also see which styles those properties belong to (CSS experts will be pleased that Dreamweaver now can show a style's specificity simply by hovering over the style in the Rules pane.) Since CSS styles can be complex, this is a great tool for those new to the ins and outs of CSS as well as seasoned professionals who need to debug complex style sheets.
In addition, new visualization tools make it easier to troubleshoot intricate CSS layouts. When you select an item that has CSS padding or margins applied to it, Dreamweaver displays light-colored backgrounds indicating where and how large the margins and padding areas are. Dreamweaver outlines CSS block elements (for example a
<div>
tag used for displaying the banner area of a Web page), and can also highlight block-level elements with a variety of background colors to quickly identify their location and size.
A new Style Rendering toolbar also helps you visualize the effect of different media style sheets on a page. For example, you can turn off "screen styles"—styles that only display on a monitor—while turning on "printer styles" so you can preview what a page would look like when printed (Dreamweaver 8 also makes it easy to attach these media-specific style sheets to your document). Or you can temporarily turn off all styles to see the clean, unformatted HTML.
Improved stability and performance
Dreamweaver 8 is faster and more stable than MX 2004. For example, recreating a site cache, which requires reading every file in your site, is substantially faster in Dreamweaver 8.
And Dreamweaver 8 introduces a revamped FTP engine, which is a bit faster, but more importantly, adds a much-requested feature: background FTP. In MX 2004 and earlier versions, whenever Dreamweaver transferred files from your hard drive to your Web server, you had to wait until it was finished before you could do any other work. This meant you either had to take a coffee break or switch to another program. Now, you can keep working on your Web pages as Dreamweaver transfers files quietly in the background. Also, to help transfer files, a greatly improved file-synchronization command—it actually works reliably—ensures that your Web server has the most current versions of your Web documents.
Innovative features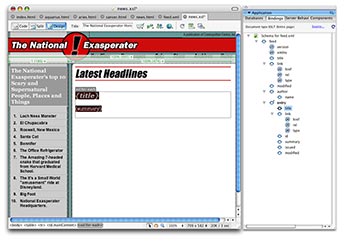 Dreamweaver 8's XSLT authoring features are an innovative approach to adding XML data to Web sites. (Click image to open full screenshot)
Continuing the tradition of adding innovative features with each version of the program, Dreamweaver 8 introduces a powerful approach to working with XML files: visual XSLT (Extensible Stylesheet Language Transformations) authoring (see screenshot at right). XSLT is a language for taking not-so-easy-to-read, tag-based XML files and turning them into a variety of useful formats, including HTML. With this feature, you can convert an XML file into a beautiful Web page, or add formatted XML information to a part of a dynamic page—a PHP, ASP, or ColdFusion page, for example.
Even if you're not working with XML files now, you can still take advantage of this feature. Imagine adding a "News from Around the World" box to your home page that includes headline news from CNN, The New York Times, and the BBC World Service. Since news feeds are comprised of XML data, Dreamweaver 8 makes it easy to add content from other sites directly to your own Web pages.
XSLT is much more complex than HTML, but Dreamweaver 8's visual-authoring approach makes using this very complicated technology as easy as creating a basic Web page.
A little old
Although Dreamweaver 8 offers many new benefits, it still might not answer all your Web development needs. Two areas in which the program was previously a pioneer are starting to seem antiquated. Dreamweaver Behaviors—JavaScript programs that add interactive effects to a Web page—haven't been significantly updated for several versions. With all current Web browsers offering excellent JavaScript support, and the public's new enthusiasm for JavaScript-driven Web sites such as Google Suggest and Google Maps, for example—this is an unfortunate oversight. It would be nice to see more sophisticated JavaScript form validation, better tools for dynamically changing the content of a Web page with JavaScript, and an improved drop-down menu behavior for creating navigation bars with submenus (the current behavior for this often doesn't display properly in a Web browser).
In addition, the tools for building dynamic database-driven Web sites, which wowed Web designers when they were introduced in Dreamweaver MX, haven't received the same love and attention as other areas of the program. With a few notable exceptions—the exciting new XSLT authoring tools, support for PHP 5, and updated support for ColdFusion MX 7—Dreamweaver's server-side features could use some fresh additions. For example, the program still lacks commands for solving common server-side problems such as e-mail form submissions, form validation, and complex database manipulations. Web designers who want to add more-advanced features still have to purchase third-party extensions.
Macworld's buying advice
Dreamweaver 8 is a solid upgrade with faster performance, more features, and greater stability than its predecessors. Developers will especially like its improved CSS rendering capabilities, new interface niceties, exciting new XSLT tools, and productivity-boosting background FTP. It is the best Dreamweaver version I've seen so far, and I highly recommend it.
[ David Sawyer McFarland is the author of Dreamweaver 8: The Missing Manual (O'Reilly, 2005). ]