Video may have killed the radio star, as the Buggles once sang, but Apple is expecting it to take iTunes to the next level. iTunes 6 puts video front-and-center of both the music jukebox application and the online music store.
But while iTunes 6's video capabilities highlight the new features, they aren't the only changes. Apple has also added new tools to the iTunes Music Store, available to only iTunes 6 users, aimed at giving shoppers more ways to find and share music that appeals to them.
Here's what to expect when you upgrade to iTunes 6, starting with the video-friendly features.
Get the picture?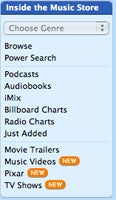 You'll notice the video addition before you even download a single episode of Desperate Housewives . Just as iTunes 4.9 marked podcasting's arrival by adding a purple Podcasts icon to the Source list on the left-hand side of the iTunes screen, version 6 adds a Videos icon. The interface of the iTunes Music Store changes slightly as well—the Inside the Music Store menu on the left-hand side adds links to Music Videos, Pixar, and TV Shows just below Movie Trailers (as shown on the right).
As anyone who's heard coverage of last week's Apple event doubtlessly knows by now, music videos (2,000 or so, according to Apple), half-a-dozen Pixar shorts, and TV shows can be bought at the iTunes Music Store for $1.99 each. Right now, the television content is limited to shows from ABC and the Disney Channel, though that figures to expand significantly in the coming months. TV show episodes appear on the iTunes Music Store the day after they air on television; the store also has the complete first seasons of both Lost and Desperate Housewives available for purchase. You can download Lost 's 25-episode first season for $34.99—about $15 less than you'd pay for the Season One DVD (though without the higher-quality video and extras you'd get on the DVD).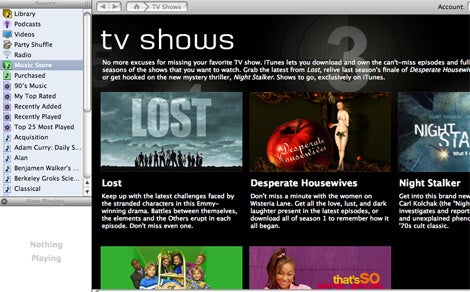 How big are these files? An hour-long episode of Desperate Housewives arrives off of iTunes as a 209 MB MPEG-4 file at 320-by-240-pixel resolution. That's good enough to play on your iPod, but only one-quarter the resolution of a standard-definition television program. In other words, you'll notice the lower quality picture if you watch your iTunes-bought TV episodes on a TV-sized display. As with music bought off the store, videos can play on an unlimited number of iPods but only up to five machines. You can't burn video files to DVD, though you can put them on CD-R for backup purposes.
The iTunes Music Store does offer a few free videos, in the form of video podcasts—there were 16 available for download the last time we checked. Just like regular podcasts, you can add them by clicking on the Advanced menu, selecting Subscribe to Podcast, and adding the video podcast's RSS feed.
Video download times are not speedy. It took us about three minutes to grab Fatboy Slim's "Weapon of Choice" and another 40 minutes to download a single Desperate Housewives episode. That compares to about 35 seconds or so for a single music track.
Videos appear alongside your music tracks and podcasts in the iTunes library. They're distinguished from other files at a glance by a small, gray video icon that appears after the title.
As with the iTunes 4.8 update that introduced video playback features, version 6 lets you choose among playing videos in the main window, a separate window (pictured on the right), or across the full screen. However, that feature is now in the Playback preference pane instead of Advanced preferences.
The addition of for-sale videos adds a new wrinkle to iTunes Music Store searches. After you've typed a term into the search bar and hit the Return key, you're taken to a results page that shows all the search hits regardless of genre. However, you're able to drill down further on this page by clicking Music, Audiobooks, Podcasts, and Video to limit your results to a specific format.
One quirk with this search feature: TV shows don't appear in the search results. A search for "Lost" produced numerous song titles, audiobooks, and podcasts, but not any links to the actual ABC television show. Searching by episode title also comes blank.
The gift that keeps on giving
Practically from the time the iTunes Music Store first opened its virtual doors, users have clamored for a way to give iTunes downloads as gifts. To some extent, that feature was available in previous versions of the store, via gift certificates or allowances. Now, in iTunes 6, you can purchase actual downloads on behalf of other users.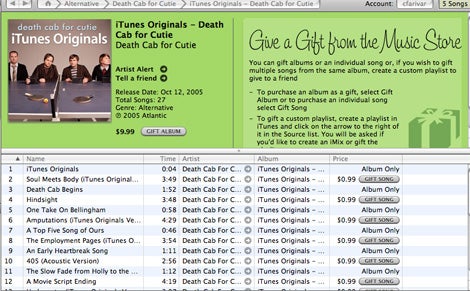 Here's how it works. On album pages, iTunes adds a Gift This Music command just above the Artist Alerts line. Clicking on that command gives you the option of giving the entire album or individual tracks. You also have the option of giving videos and even playlists as gifts—to give the latter, just use Command-N to create a playlist and drag tracks onto it. When you're done, click the arrow to the right of the playlist in the Source list—you'll have the option of giving the playlist as a gift in addition to creating an iMix.
When you buy the gift, you jump to a screen where you enter your name, the e-mail address of your recipient (you enter this twice), and a message. You can send out the same gift to multiple people—just type in multiple address in the recipient field separated by a comma. (You're billed by the number of addresses you enter.)
Gift recipients receive an e-mail from the iTunes Music Store, notifying them that they have a gift waiting; they redeem it just like they would any other credit. But there's a small catch—recipients have to use iTunes 6 to collect any gift. We sent the latest Hard 'N Firm album to an iTunes 5 user; when she launched iTunes to collect her gift, she was told she needed to upgrade to version 6.
Upon further review…
The iTunes Music Store takes a page out of Amazon.com's book by adding a customer reviews feature to version 6. Note that this feature only extends to albums and not TV shows, trailers, or any other video content, so don't expect to be able to post your take on the "Everybody Hates Hurley" episode of Lost last week.
To post a review, just click on the Write a Review command. If no one else has written a review yet, the store will invite you to "Be;the first to write a review." (As reviews are a recent addition, expect to see this invitation a lot .) Once you click on the command and provide a screen name, you'll be asked to supply a star rating (one to five), a review title, some text (not to exceed 6,000 characters, though iTunes recommends you keep your review to 200 words or less).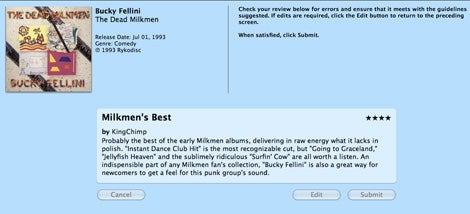 Once you submit a review, it won't appear right away. Instead, the review is vetted first to make sure that it's appropriate. On the reviews page, the iTunes Music Store lists some guidelines—chief among them are to avoid profanity or obscene language and to "praise music on its own terms, not at the expense of other artists, their music or the audience of particular genres."
How long will it take for your review to appear on the Music Store, should it pass muster? It's hard to say. We submitted a (fairly glowing) review of The Dead Milkmen's "Bucky Fellini" at 7 p.m. on a Sunday night. Two hours later, it was live on the iTunes Music Store for other customers to admire our musical savvy.
You can turn the tables on reviewers by reviewing their work. Just click on the reviewer's name under a particular review—you'll be asked if you found that review helpful (shown on the right), and you can click "yes" or "no."
Picks to click
The Amazon.com similarities continue—just as the online bookseller greets shoppers with a host of recommendations, the latest version of iTunes adds a recommended items tool of its own. Still in beta form, iTunes' Just for You feature bases its recommendations on your previous downloads. (If you're the shy, retiring type who would just as soon not have the iTunes Music Store combing your previous purchases for recommendation hints, you can always turn off the Just for You feature by clicking a button at the bottom of the store's home page.)

Just for You may not appear right away. We downloaded iTunes 6 last week, and the recommendations feature didn't manifest itself until after we had purchased some tracks over the weekend. When it does appear, Just for You recommendations will show up just above the Store Exclusives pane on the home page interface. You'll get a list of 10 recommended tracks and four album covers, plus a See All link that will take you to a longer list of selections.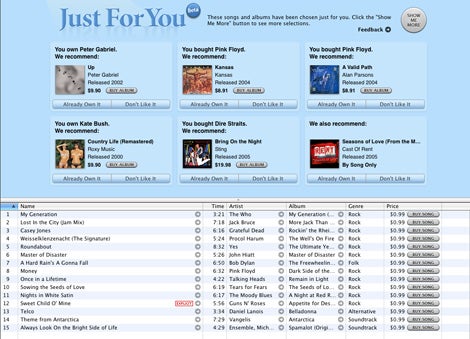 The Just for You main page displays six albums and lists the previous purchase that inspired the iTunes Music Store to make these picks. And those recommendations go back a long way—because we bought a Pink Floyd album back when the iTunes Music Store first launched, Just for You thought we would want to buy The Grateful Dead's "American Beauty." You have the option of buying the album, telling iTunes that you don't like the selection, or stating that you already own the album. This feedback is fairly instantaneous—after rejecting Just For You's recommendation of "So" because we already owned the Peter Gabriel album, the tool immediately produced new recommendations based on our apparent love of all things Peter Gabriel.
Underneath the six recommended albums, Just for You displays 15 individual tracks. Don't like what you see? A Show Me More button refreshes both album and track choices.
The last word
Announced on the same day as the refurbished iMac and the video-capable iPod, it's easy to see how iTunes 6 might get lost in the shuffle—or why most talk about its new features begins and ends with video. The video playback features in iTunes are certainly significant, especially in light of the changes Apple made to its hardware last week. But there's more to this iTunes update than the ability to buy Lost episodes—people that use the iTunes Music Store for their music downloads will find a more fully featured shopping experience thanks to version 6.