At a Glance
Expert's Rating
Pros
Improved graphical effects, animation, and embedded video features
Enhanced scripting environment
Includes authoring for mobile devices
Cons
Video embedding works only with Flash's proprietary format
Improved vector graphics available only to viewers using Flash Player 8
Our Verdict
Flash Professional 8 constitutes a leap in the evolutionary chain for Macromedia's Web video and animation authoring program; it provides significant enhancements in scripting, graphical effects, Web-video display, and development of media destined for mobile devices. (Macromedia is also offering, for the first time, Flash Basic 8, a lower-priced version of the software that includes much of the program's core functionality, but which is targeted to designers who don't need high-end digital video or mobile phone authoring features.)
Flash Professional 8 is more stable and crashes less often than its predecessor, Flash MX 2004, and Mac users no longer have to go without useful features such as tabs (for toggling between multiple open documents) that were available only in the Windows version (see first screenshot).
The new Flash includes better text, scripting, and video features. Improved vector graphics support higher quality gradient fills, with Illustrator-like control over gradients of as many as 16 colors.
New graphical features
Previous versions of Flash included a set of vector drawing tools that were almost powerful enough for serious, professional graphic design. With Flash 8, those tools have improved. Designers now can do more complex illustrations right in Flash. For example, Flash 8's drawing tools let you design either in Flattened mode (the only mode available until this version), in which intersecting vectors form new objects, or in Layered mode, in which vector objects can now be on top of, or below other objects. Interestingly, Illustrator CS2's Live Paint mode is similar to the flattened Flash vector environment.

Flash 8 puts the Mac and PC versions on par with features like multiple document tabs.
Graphics filters (similar to Illustrator's vector filters or Photoshop's bitmap filters) work with major enhancements in Flash Player 8 so that viewers can see attributes like blurs, glows, and drop shadows. That allows designers to include sophisticated vector graphics effects without significantly increasing the file size. The downside: these effects are visible only in Flash Player 8, which users may have to download (see screenshot below).

The Drop Shadow and Glow effects are supported only in the Flash 8 Player.
Digital video package
Flash 8 features new tools for embedding video converted from popular digital video formats and compression systems. New plug-in tools allow digital video producers to encode to Flash's FLV (Flash Video) format directly from programs like Apple's Final Cut Pro ( , October 2005 ) or Autodesk's Cleaner ( , June 2003 ). Flash's video encoder is also available as a stand-alone program for batch video encoding. I was impressed by how quickly and cleanly the stand-alone encoder converted video files into FLV. For example, I ignored Flash's warning that converting digital video to a Flash SWF file may produce audio synchronization problems, and-in my experiment-the audio synchronization worked well. Flash 8 compressed QuickTime and AVI files substantially in converting them to FLV, with no major loss of audio or display quality. But you must encode video in Flash's proprietary FLV format.
Flash 8 also includes a new and impressive set of tools for authoring graphics and animation, including a preview-and-testing environment for mobile devices, and support for the MIDI audio format that many mobile devices use.
Friendlier scripting
Flash 8's Actions panel benefits from a new feature called Script Assist. This lets you create scripts without detailed knowledge of ActionScript. As a non-programmer who has hacked out enough ActionScripts to survive, I found the new scripting interface a significant improvement over the limited ActionScript help in MX 2004. Intelligent pop-up prompts make it easier to string together bug-free commands (see screenshot below).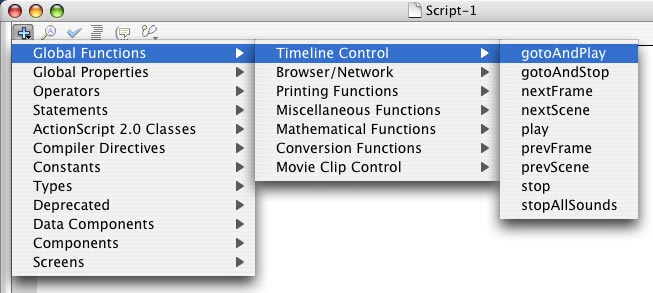 The new Script Assist feature makes generating ActionScripts easier for noncoders.
Professional or Basic version?
Budget conscious Flash users—particularly those who don't need video encoding capabilities, who aren't developing for mobile devices, and who can live without the groovy new vector effects—can still create powerful animations and access the full set of ActionScript commands with Flash Basic 8, which costs $300 less than the professional stand-alone version. But it may be hard to justify buying Flash Basic 8, even for its low price, if you already own a previous version of Flash. In that case, you can upgrade to the Professional version for $100 less than purchasing the stand-alone Basic version. Moreover, many of Flash 8's most exciting improvements in embedded video, graphic effects, and refinements in animation control are available only in the Professional edition.
Macworld's buying advice
Flash Professional 8 packs such a powerful and substantially enhanced set of tools for professional animation and interactive design that most professional developers will want to upgrade. But designers who were expecting a simpler, more accessible package should stick with their current installation.
EDITOR'S NOTE: FlashPaper 2, now part of Contribute 3, makes it easy to generate SWF (Flash) files from Microsoft Office documents. See our evaluation of both FlashPaper 2 and Contribute 3.
[ David Karlins is the author of the Complete Idiot's Guide to Flash 5 ( Alpha, 2000), and 20 other books on interactive Web design. He is also an instructor with San Francisco State University's Multimedia Studies and Digital Video Intensive Programs. ]