While Mac users now have several high-quality browsers to choose from, Safari is still their clear favorite. But even Safari 2.0—the new version recently released as part of OS X 10.4—isn't quite perfect. Here are a few ways to make the most of Safari 2.0, as well as some tips on taking advantage of its lesser-known new features.
Send Web pages
Before Tiger, Safari offered no simple way to send someone a link to a Web page. You had to copy the URL, switch to your e-mail program, create a new message, and paste the URL into it. (Sure, there were workarounds involving JavaScript bookmarklets—but for many users, these tricks were more hassle than they were worth.)
Safari 2.0 makes the process as simple as a keyboard shortcut: When you're viewing a Web page you want to send, just press Command-shift-I (or choose File: Mail Link To This Page). Your default e-mail app will open and create a new message that contains the URL and has the Web page's title in its subject field. Just fill in the recipient's address, add a note if you want, and click on Send.
If you use Apple's Mail, Safari also lets you send the contents of a Web page—to do so, you could use the Command-I keyboard shortcut (or File: Mail Contents Of This Page). But keep in mind that most people would rather receive just a URL than a huge e-mail message full of links and images. Practice restraint with the Command-I shortcut—stick to Command-shift-I instead.
Add Web images to iPhoto
Spot a nifty image while you're browsing your favorite blog and want to keep a copy of it in iPhoto? Control-click (or right-click) on it and choose Add Image To iPhoto Library. The image will be instantly imported into iPhoto.
Save it for later
In older versions of Safari, "saving" a Web page saved only its HTML source code; images and other embedded content were lost. Fortunately, Apple fixed this in Safari 2.0: the Save As command includes a Web Archive option, which saves nearly everything on the page, including images.
Search through history
Searching in Safari's Bookmarks view used to return results from both your bookmarks and your history. In Safari 2.0, you can search more selectively, choosing which of these collections you want to look through.
To search only your history, choose Bookmarks: Show All Bookmarks (or just click on the bookmark icon on the Bookmarks bar); then, in the Collections pane (on the left), click on History. Click on the magnifying-glass icon next to the search box at the bottom of the window, set the pop-up menu to In History, enter your search term, and press return. You can follow the same procedure to search only a specific bookmark collection.
Unfortunately, Safari can't search the actual content of the sites in your history; it looks for only the information in the two displayed columns—Bookmark and Address. If you want to search the contents of Web pages you've visited, check out St. Clair Software's $20 HistoryHound ( ).
Where Are You From? Wonder where a downloaded file originally came from? The Info window's Spotlight Comments field will tell you.
Discover a download's origins
To find out where you got a file you downloaded with Safari, select the file in the Finder and then choose File: Get Info (or press Command-I). The Info window's Spotlight Comments field will display the URL of the page you downloaded the file from (see screenshot).
Import bookmarks from other browsers
Want to import a bunch of bookmarks from The Omni Group's OmniWeb, Mozilla Firefox, or Microsoft Internet Explorer into Safari 2.0? Just choose File: Import Bookmarks, navigate to the other browser's bookmark file, and click on Import. When the import is finished, Safari will switch to its Bookmarks view, and you'll see a new bookmark collection—named Imported Date— that contains the imported bookmarks. You can then move those bookmarks into folders and/or Safari's Bookmarks bar, as you see fit.
The challenge is finding the bookmark file to import. If you use Internet Explorer, it's a file called Favorites.html, which is in / your user folder /Library/Preferences/ Explorer. For Firefox, look for the bookmarks.html file in / your user folder / Library/Application Support/Firefox/Profiles/ string. default (where string is a random string of characters that differs for every user). OmniWeb's bookmark file, Bookmarks.html, is in / your user folder / Library/Application Support/OmniWeb.
Combine RSS feeds
Safari's new RSS-viewing features are a handy way to track your favorite sites. But you may not realize that you can view multiple RSS feeds in one window. To do so, first create a folder in your Bookmarks bar (open the Bookmarks view, click on Bookmarks Bar in the Collections column, and then click on the plus-sign button [+] at the bottom of the Bookmark column; you can name the new folder anything you like). Then, one at a time, open the RSS feeds you want to add to the view. For each feed, add a bookmark to your new bookmark folder.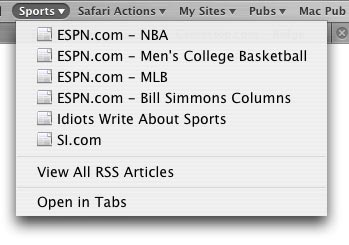 All the News To view multiple RSS feeds in one window, collect them all in a single folder and then choose View All RSS Articles.
After this one-time setup, simply click on the folder in the Bookmarks bar and choose View All RSS Articles from the resulting menu (see screenshot). All the articles from all the feeds in the folder will be displayed in a single window; the name of the source feed will be displayed next to each article's title.
Create a personalized clipping service
If you view an RSS feed (or group of feeds), you can use the Search Articles command to find articles that contain a particular word or phrase. Even better, you can bookmark the search results to create a live search feed. Safari will then keep an eye on the included feeds, watching for new articles containing your search terms, and it'll notify you when it finds something— voilà: a customized RSS feed.
Disable PDF viewing
If you click on a link to a PDF document in Safari 2.0, the browser automatically loads the PDF in its current window. If you'd rather view the PDF in Preview or Acrobat, or download it, you have to wait for it to load and then manually save it to your hard drive.
But you can make Safari 2.0 treat PDFs the way Safari 1.X did (that is, save them to your default download folder). Here's how: Quit Safari, launch Terminal, and type the following:
defaults write com.apple.Safari WebKitOmitPDFSupport -bool YES
Press return and then relaunch Safari. It will now download PDF documents to your hard drive. You can revert to Safari 2.0's default PDF behavior by entering this command with
NO
instead of
YES
.
Note: When you purchase something after clicking links in our articles, we may earn a small commission. Read our affiliate link policy for more details.