For some of us, too much bass is never enough. It's what makes the explosions, monstrous roars, and symphonic soundtracks in our favorite video games so lifelike. The fact is, bass affects your body in a way that no other audio does—you can feel it rumble and shake in your gut. It's also a nasty form of noise pollution; the long sound waves travel farther than other audio and can be quite disruptive, especially in cramped quarters such as dorm rooms.
The Guitammer Company—an expert in developing low frequency sound systems for home theaters—is hoping to help gamers get the most from the low end of their audio system while keeping the volume at a reasonable level. The result is the ButtKicker Gamer, a device that clamps to the center post of a standard office chair and connects to the audio for your computer (or video game, or entertainment system). The device's 100 watt amplifier rattles and rolls your seat in time with the bass.
The ButtKicker Gamer comes with a veritable rat's nest of cables, connectors and attachments—not all of which you'll need. The device, which is more than a foot long, attaches to just about any standard center-post office chair. A 13.5-foot cable connects the device to a hefty 100 watt amplifier equipped with low- and high-frequency filter switches as well as a high-frequency cutoff knob that can be set from 40Hz to 110Hz. The volume knob lets you control how much bass you feel in your backside. A red LED warns you if the signal is being clipped. Optional feet let you store the amp upright instead of flat. Velcro straps lets you tie the cable to your chair.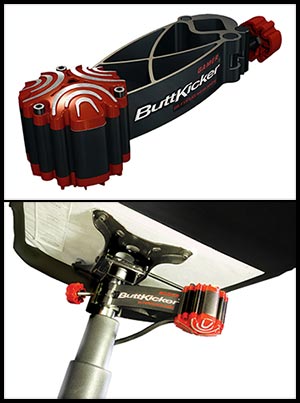 In addition to these items, the device also comes with a five-foot RCA cable, five-foot RCA-to-mini jack cable, as well as adapters for splitting the signal between multiple inputs (to send the audio to the chair and your stereo system, for example). There's also a ground loop isolator for eliminating buzz from ungrounded audio systems. Figuring out what everything does was a daunting process, even with the system's illustrated guide in hand.
If you've got a Power Mac G4 or G5 with a multi-channel surround card such as M-Audio's Revolution series, you can connect straight to the Center/Sub or Line Out jack those cards have. Otherwise you'll need to connect to your Mac's headphone jack, or if you've wired it through entertainment system, through your stereo. However you connect, you'll likely be left with an ungainly mess of wires—somewhat reducing the elegance of the Mac.
How well the system works depends on your setup. A pre-amplified signal such as the Line Out from a sound card will yield better results than using the headphone output. Unfortunately, the headphone jack is how most of us will hook this up. That limits one of the ButtKicker Gamer's big selling points—the ability to boost bass without affecting the stereo's volume—since the level of bass coming from the headphone jack is proportional to your Mac's volume.
If you have a strong enough signal, the rumble effect is remarkable. I tested it out with a few of my favorite movies, games, and audio tracks, and was please with the results. I could really feel the bass in a way unlike anything I'd experience before—imagine sitting naked on subwoofers.
One warning: the ButtKicker Gamer will rattle any loose plastic on your chair.
The Bottom Line The ButtKicker Gamer isn't for everyone; the installation is a bit unsightly thanks to a mess of cables. However, it works as advertised, making your booty shake without making your ears bleed— presuming you have the right hardware, that is.
ButtKicker Gamer RATING: PROS: Really kicks the bass up a notch without making your speakers annoying loud. CONS: Messy cable system; may cause chair to rattle. OS COMPATIBILITY: N/A PRICE AS RATED: $150 COMPANY: The Guitammer Company.