At a Glance
Expert's Rating
Pros
Good sound quality with no static
IPod itself makes a much better "remote" than any add-on
Automatic Bluetooth pairing
Includes multiple audio outputs and "universal" audio cable for easy setup
Cons
Bluetooth compression and lack of true line-level output may turn off audiophiles
Current version doesn't work with iPod nano or video
Doesn't provide video-output features of some other connection solutions
Drains iPod battery during use
Our Verdict
We've covered the topic of hooking up your iPod to your home stereo many times here at Playlist. At the minimum, you need to connect your iPod to your stereo via either a cable or a combination of a dock and cable. But unless you want to have to walk over to your stereo to switch tracks, you also need an iPod remote control.
There are a number of good iPod remotes on the market; we covered most of them earlier this year in our " iPod Remote Rundown " article. There are also a number of excellent "stereo docking" products available—such as DLO's HomeDock, Kensington's Stereo Dock and Apple's new Universal Dock —that combine a dock base, remote control, and AC charger in a single package. But even the best of these options have two problems. First, you get only basic control of playback: Most remotes offer only play/pause, forward/back, and volume up/down buttons, with a few providing extras such as the ability to skip between playlists and toggle shuffle and repeat modes. Second, unless you've got eagle eyes, you can't read the iPod's screen from across the room. In other words, when you use a remote to control your iPod, you lose the benefits of the iPod's elegant and intuitive interface.
Turn the beat around
Belkin's new $180 TuneStage turns the above scenario on its head by connecting a small transmitter to your iPod and then sending your audio wirelessly to a receiver connected to your stereo or speaker system. The TuneStage receiver becomes the audio "source" and the iPod becomes the remote control, famous interface and all. (The transmitter is compatible with mini, 3G, 4G, and color/photo iPods. Belkin has told Playlist that a dock-connector version, which will work with all dockable iPods including the new nano and video models, is scheduled to be available in January or February 2006.)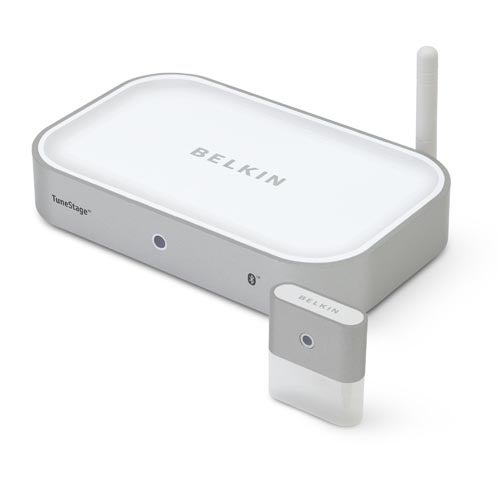 If this sounds a lot like using an FM transmitter to send your iPod's audio to your stereo, it is. In fact, the TuneStage's transmitter is a small (1.7″ by 1.5″ by 0.5″) accessory that plugs into the headphone/remote jack of dockable iPods—it's very similar in size and shape to XtremeMac's AirPlay FM Transmitter. However, instead of transmitting over FM frequencies, the TuneStage uses Bluetooth to send its audio from your iPod to the receiver. This has a couple significant advantages. The first is that the TuneStage doesn't have to compete with local radio stations for a "free" frequency. (Even in an environment filled with potential interference—four computers with Bluetooth enabled, two Bluetooth mice, a Bluetooth keyboard, a Bluetooth mobile phone, two cordless phones and a microwave, all of which Belkin warns might cause problems—I experienced no interference.) The second is that since Bluetooth is a digital protocol, it doesn't fade and drop out like most FM transmitters—for the most part, you either have a signal or you don't.
The TuneStage's receiver is much larger than the transmitter, at 6.5″ by 4.5″ by 1.2″. The unit can sit horizontally or can be mounted vertically on a wall via two holes in its base; a small Bluetooth antenna on the back can be positioned for best reception. Belkin has made it easy to connect the receiver to nearly any stereo or speaker system by providing both a stereo minijack output and left/right RCA outputs, as well as including a quality minijack-to-RCA (left/right) cable. You simply plug in whichever end of this 7-foot cable fits your stereo or speaker system, and then connect the other end to the appropriate output on the TuneStage receiver. Providing both kinds of outputs and the cable surely added to the manufacturing cost of the TuneStage, but it means that consumers won't have to worry about having the right cable or adapter. (Note that if you prefer to use your own stereo interconnect cables or mini-to-mini cable, you can do so.)
Once you've connected the receiver to your stereo or speakers and plugged the transmitter into your iPod, you simply press Play on the iPod; after a few seconds a Bluetooth connection—a "pairing" in Bluetooth lingo—is made and your iPod's audio is played through your speakers. (Indicator lights on both the transmitter and receiver confirm a good connection.) You can then use your iPod normally: browsing menus, skipping tracks, and so on—there's no delay between what your iPod is doing and what your speakers reproduce. You can even use the iPod's scan and scrub features without experiencing any dropouts or skips. You can also adjust the TuneStage receiver's output level via the iPod's volume control; this feature has both advantages and disadvantages, which I'll get to shortly.
A power switch on the rear of the TuneStage receiver lets you turn it off, but I preferred to leave it on all the time so that I could just plug the transmitter into my iPod and start playback. (The TuneStage made for a nice combination with Focal-JMlab's iCub, which automatically turns on when it detects an audio signal.)
Power sharing
The TuneStage's receiver gets its power from the included AC adapter. However, the transmitter contains no batteries of its own; it gets its power from your iPod's headphone/remote jack. This is convenient in that you never have to worry about charging the transmitter or changing batteries, but it has a minor downside, as well: When using the TuneStage, your iPod's battery doesn't last quite as long as it would otherwise. I tested the battery life of a 60GB iPod photo used with the TuneStage transmitter and got 9 hours and 17 minutes of playback time. In our original review of this iPod model, we got just over 16 hours of playback. Although the iPod's battery is not as new as it was when the original review was written, it's clear that the TuneStage sucks more than a little playback time out of its host iPod.
This additional battery drain also points to what could be the most significant drawback of the TuneStage compared to a traditional "dock and remote" setup: If you've got your iPod connected to an AC adapter or your computer while it's playing through your stereo, your iPod is charged during playback; when you're ready to leave the house, you grab your fully-charged iPod and go. With the TuneStage, your iPod is running off battery power whenever you listen through your stereo; when you're ready to go somewhere, your iPod's battery may not have much juice left. (It's possible to use a third-party battery pack or to plug your iPod into AC power across the room from your stereo, but such a setup is definitely less convenient than the truly wireless approach that makes the TuneStage such an attractive product.) That said, I personally found this battery issue to be a reasonable tradeoff for the ability to have an actual "iPod interface" to control my iPod.
Kind of Bluetooth
I mentioned earlier that Bluetooth avoids most of the limitations of FM transmitters because it doesn't have to compete for an open frequency and doesn't fade in and out. It has the same advantages when compared to radio-frequency (RF) products that send audio wirelessly. In fact, in several weeks of testing the TuneStage, the audio signal was always crystal clear—I never experienced static or drop-outs, provided I stayed within the system's range. And that range was quite good: Like most Bluetooth devices, the TuneStage is advertised as having a usable range (the maximum distance between the transmitter and receiver) of "up to 33 feet"; yet I was able to successfully transmit from over 35 feet away. The TuneStage also functioned well from over 20 feet away through an interior wall of a house, allowing me to "broadcast" from the next room. And unlike RF and FM transmitter setups, which start to exhibit static at distances much shorter than their maximum range, becoming unlistenable soon after, the TuneStage's audio was clear and static free until just before its limit was reached; at that point, I heard periodic dropouts, and moving a few feet farther away resulted simply in silence.
Besides the lack of interference and noise, the general audio quality provided by the TuneStage is also good—the typical iPod user will find the sound quality to be as good as the stereo/speaker system to which the TuneStage is connected. That said, if you're a more demanding listener with a higher-end stereo system, there are a couple audio-related caveats to keep in mind. The first is that, as explained above, your iPod's volume level affects the output level of the TuneStage's signal, so you don't get a true line-level output. Although this can be a very convenient feature in certain circumstances, audio buffs generally prefer the higher-quality audio provided by a line-level output over a variable-level signal (such as the one from the iPod's headphone jack). If this is a concern for you, you might consider waiting for the upcoming dock-connector version of the TuneStage mentioned above; the iPod's dock connector can provide a true line-level signal.
The second caveat is that Bluetooth requires that audio be compressed in order to be transmitted over the protocol's bandwidth. If most of your music is encoded at lower bitrates, you're unlikely to notice this compression. However, if you're an audio buff who has mainly high-bitrate, lossless, or uncompressed music files, it's possible that you'll be able to detect a loss in quality when using a Bluetooth accessory such as the TuneStage. If you think this may be a concern, I encourage you to purchase the TuneStage from a retailer with a decent return policy in case you're disappointed with your audition.
Those issues aside, the TuneStage provides clear, quality sound that is much better than any FM transmitter and, when listening to the types of audio files iPod owners will typically have on their players, as good as a direct connection.
The Lowdown
Belkin's TuneStage is a unique product that avoids the limitations of most iPod remote controls by making the iPod itself your remote. The system has a few drawbacks, such as the fact that it shortens your iPod's playback time when you're already likely to be using the iPod off its own battery, as well as the less-than-audiophile limitations of the Bluetooth protocol. The TuneStage is also significantly more expensive than any of the other solutions we've covered for connecting your iPod to your home stereo. But it provides crystal-clear, wireless audio that all but the most demanding listeners will enjoy—and once you've used your iPod itself to transmit and control your music, traditional iPod remotes seem clunky and limiting.
(Note that Logitech and Griffin Technology have both announced similar Bluetooth-transmitter products; however, neither has yet been released.)
For more reviews of iPod accessories, visit the Playlist Product Guide.