At the core of Chainz 2: Relinked, a new puzzle game by MacPlay, is a tried and true game design: match three or more links of the same color to make them disappear. Basic links can rotate left and right or up and down to connect with other links. Special four-way links can link in all directions at once. The more chains you link, the more points you rack up.
You can choose toplay in one of four game modes. In Classic mode, you can eliminate large groups of links with powerups such as bombs (which destroy any surrounding links), lightning bolts (which blast away entire columns or rows of links), and freezers (which prevent links from disappearing so you have time to build longer chains and rack up larger bonuses). Some links have letters embedded in them—spell out "CHAINZ" and you'll get additional bonus points. Arcade mode includes the same basic structure as Classic mode but adds a timed challenge. Both Arcade and Classic modes feature more than 200 levels.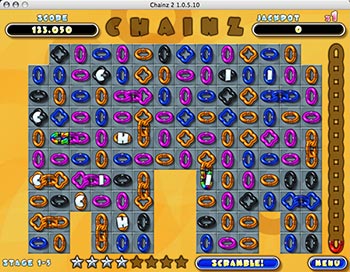 The gameincludes two modes that you won't find in the previous version of Chainz: Strategy and Puzzle. In Strategy mode the game adds three new links to the board with every turn. This means you'll have to strategically eliminate chains to keep the board from filling up. In Puzzle mode, you have to work your way through 50 screens of carefully constructed puzzles—each more difficult than the last. You'll need completely clear each puzzle in order to move on.
In its Classic and Arcade forms, Chainz 2: Relinked is just another puzzle game. Despite a pleasant soundtrack and some nice embellishments , such as individual player profiles, there's nothing particularly new. Where the game gets interesting is in the Strategy and Puzzle modes, which will work your brain and test your patience.
The game's system requirements are very modest. MacPlay recommends a 400MHz G3 or faster and Mac OS X 10.2.8 or later.
The Bottom Line
Chainz 2: Relinked takes an otherwise run-of-the-mill puzzle game and adds enough new embellishments to keep it interesting.
Chainz 2: Relinked RATING: PROS: Strategy and Puzzle modes heighten challenge. CONS: Classic and Arcade modes offer nothing new. PRICE AS RATED: $20 OS COMPATIBILITY: OS X 10.2, OS X 10.3, OS X 10.4 COMPANY: MacPlay