You're undoubtedly aware that the iPod has its small collection of built-in games. What you may not realize is that the latest version of iTunes has the makings of a game of its own. I'm writing, of course, about the new Just For You music-recommendation feature.
Currently in beta, Just For You manifests itself this way:
Halfway down the iTunes Music Store's main page you see the Just For You pane that includes the artwork for four albums you might like. To the right of the album covers are 10 track titles for songs that could float your boat. Click an album and you're taken to that album's page. Click a song title or the See All link in the upper right corner of the pane and you're whisked to the Just For You page. Here, The Store recommends albums based on albums that you've purchased or own. The Store has a record of what you've purchased and learns about the albums you own when you click an Already Own It button below a recommendation (you can also click Don't Like It below one of these recommendations). Below the album recommendations you'll see a list of 15 recommended tracks. You can generate a new list of album and track recommendations by clicking Show Me More.
After banging through Just For You a few times, telling it what I own and dislike in an attempt to hone its powers, it was time to start the game.
I dragged most of the iTunes window below the bottom edge of my monitor so I could see only the three titles listed at the top of the window—the top three "You Bought" and "You Own" entries. I then made a list of my own recommendations and then pulled the window up to see how iTunes's recommendations compared.
For the most part, I wasn't impressed, but I got a chuckle or two.
For example, Just For You told me that I'd purchased James Brown's 20 All Time Greatest Hits! (currently being sold for just $6!). Were I to recommend an album based on this funky collection, I'd suggest a work that was inspired by the Godfather of Soul— The Best of Parliament – Give Up the Funk, George Clinton's Dope Dogs, or maybe even Prince: The Hits 1.
iTunes told me that I'd be satisfied with Little Richard: All-Time Greatest Hits and The Beach Boys' Little Deuce Coupe/All Summer Long.
Okay, I kind of get Little Richard if Greatest Hits and Even Greater Screamer are your filters, but, listen iTunes, Brother James would never, ever risk his legendary coiffure by plunging into a thundering surf. Jimi may have said "You'll never hear surf music again," but James lived it.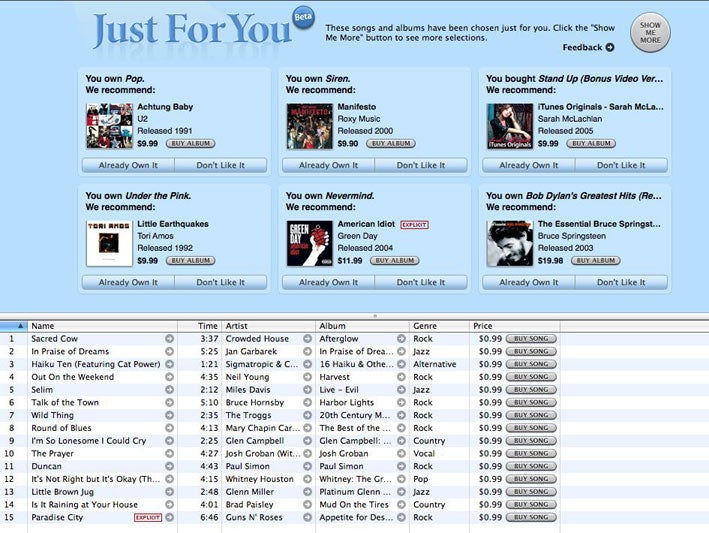 iTunes got a bit closer with my copy of Every Great Motown Hit of Marvin Gaye. For an edgier take on 60s soul I might have recommended an Atlantic artist or The Very Best of Otis Redding. Or leaning toward Marvin's spiritual side, I could have suggested 30 Greatest Hits – Sam Cooke Portrait of a Legend. iTunes chose a safer route by recommending greatest hits collections from The Stylistics and Commodores.
Speaking of safe, Just For You is big on recommending albums by artists whose work you already own. Dollars to doughnuts, if you own one U2 album, Just For You is going to recommend another. Before Just For You leaves beta, I'd love to see an "I own the entire catalog, enough already!" option so we could all move on a little more quickly.
I understand that my characterization of the feature makes it sound like Just For You provides little more than a sense of smug superiority to music enthusiasts. Granted, its recommendations are a little broad (and in the case of recommending other recordings by the same artist, obvious) but it's not entirely brain dead. For example, I've recently purchased everything from Rosie Thomas' catalog (I'm a sucker for " Pretty Dress " in particular) and Just For You directed me to a couple of artists I'd never heard from whose work (at least the 30 second snippets) intrigued me. Nothing inspired a purchase, but it demonstrated that Just For You has the potential to be helpful.
So for the time being, I'll likely stick with iTunes' Listeners Also Bought links, which have taken me to some wonderful places in the past, but keep an interested eye on what iTunes can do, Just For Me.