The iPod "with video" (which I'll heretofore refer to as iPod video because, well, it just sounds better) has generated a good amount of buzz since its announcement a few weeks ago, and with good reason—it's a significant upgrade over the previous iPod model. Adding a larger color screen, new software features, and the ability to play video, it really is a new generation in the iPod family tree.
Unfortunately, along with these changes in functionality come changes in hardware—physical and technological—that make the iPod video incompatible with a good number of accessories that work with previous iPods. We've spent a good amount of time with several iPod videos and here's our overview of what you should expect when adding add-ons.
Ports and connections
Like its predecessors, the iPod video includes Apple's proprietary dock connector port, which means that it should work with most dock-connector accessories that worked with previous iPods (more details on specific accessories below). The iPod video also includes a standard headphone minijack. However, it does not include the remote jack found on previous iPods.
Power/chargers
Power-related accessories, such as car chargers, external batteries, and Apple's USB charger—all of which connect to dockable iPods via the dock connector port—are in our testing fully compatible with the iPod video.
Speakers
We've used the iPod video with a good number of iPod speaker systems, and in our testing, speakers that get their audio from the dock connector—such as Bose's SoundDock, Logitech's mm50, JBL's On Stage, Altec Lansing's inMotion models, Klipsch's iFi, and iHome Audio's iH5 clock radio —work with the iPod video just as they do with other dockable iPods; audio is passed to the speakers as expected. In addition, on those systems with a wireless remote control, the remote also controls the iPod video's playback, just as it does with previous iPods.
The caveat here is that most of these speaker systems do not currently include a "dock cradle insert" specifically for the iPod video, which is significantly thinner than previous full-size iPods. We expect many vendors to provide such adapters soon; however those products that use Apple's new "universal" dock system—a base that accommodates the standardized dock inserts included with each new iPod—are already compatible. The first speaker system we've seen that uses this universal dock is Tivoli Audio's new iSongBook; using the dock adapter included with the iPod video, the iSongBook fits the new iPod perfectly.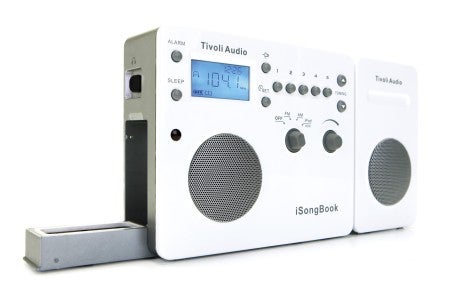 Tivoli Audio's iSongBook
Of course, any speaker system that connects via a standard headphone jack is also fully compatible with the iPod video.
Remote controls
As with the iPod nano, this is one of the most significant areas of accessory obsolescence with the release of the iPod video. Because the iPod video is missing the remote control jack found on previous full-size iPod models, accessories that rely on that jack are incompatible with the new iPod. This rules out all of the standalone remote control accessories currently on the market.
On the other hand, products that provide remote control functionality via the iPod's dock connector port—such as many of the iPod speaker systems mentioned above, as well as "combo" products such as DLO's HomeDock, Kensington's Stereo Dock, and Apple's own Universal Dock— do work with the iPod video. And when we covered accessories for the iPod nano, we predicted that it wouldn't be long before vendors started announcing dock-connector-based remote controls; the first appears to be Griffin Technology with the new version of their AirClick and iFM products.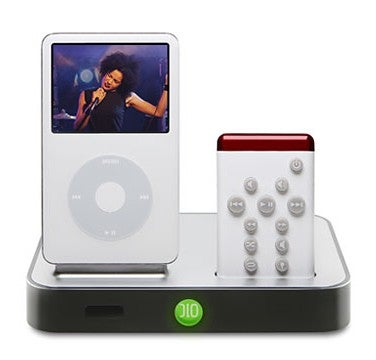 DLO's HomeDock with iPod video
FM transmitters
There are currently three types of FM transmitters for the iPod, differing mainly in how they connect to the player. Those that connect via a dock connector plug (such as Kensington's Digital FM Transmitter/Auto Charger, DLO's TransPod, and Griffin's RoadTrip ) or a standard headphone miniplug (such as Belkin's TuneCast II ) are, in our testing, fully compatible with the iPod video. On the other hand, those that connect to the headphone/remote jack found on previous iPods iPods (such as Griffin's iTrip LCD and Xtreme Mac's AirPlay ) are incompatible due to the lack of this jack.
A number of vendors have recently announced dock-based FM transmitters to work around this design change in the iPod; these include Griffin's new version of the iTrip and XtremeMac's AirPlay2.
Photo accessories
Like previous full-size iPods with color screens, the iPod video can upload photos from your digital camera, as well as store and display photos from your iPhoto Library. However, unlike previous models, which could connect to your digital camera or memory card via Apple's iPod Camera Connector and Belkin's Digital Camera Link and Media Reader, the iPod video currently works only with Apple's accessory. The reason for this is related to the new iPod's lack of support for FireWire data transfers; Belkin's current accessories are FireWire-based and thus incompatible.
Similarly, like the previous "color" and "photo" iPods, the iPod video supports presenting photos on a television via its headphone (actually audio-video) jack or dock connector. In fact, if you've got video files on your iPod video, you can display those on a television, as well. To do so, you need the right accessory, and all of those that worked with photo-capable iPods are compatible with the iPod video; these include Apple's own AV Cable and Universal Dock, DLO's HomeDock, Boxwave's iPod Photo AV miniSync, and Belkin's AV Cable.
Voice recorders
Because the iPod video doesn't feature the remote/headphone jack used by all voice recording accessories currently on the market, none of these products will work with the iPod video. However, one interesting tidbit we discovered while reviewing the new iPod is that unlike previous full-size iPods, which were limited to mono, low-resolution audio recording, the iPod video supports 44.1kHz stereo recording. We're looking forward to dock-connector-based audio recording accessories so we can test this feature out.
Headphones
The iPod video is identical to other iPods with respect to headphones: Any headphones that use a standard 1/8" stereo miniplug will work with the iPod nano. Those with 1/4" stereo plugs need a 1/8" adapter.
Cases
When it comes to compatibility with current iPod cases, the iPod video is hit-or-miss. The new iPod is exactly the same height and width as previous full-size iPods, so it fits inside most existing cases. However, it's significantly thinner than previous iPods, so many cases—especially hard-shell models and those made to fit the largest of the previous iPods—will actually be too big. Even more significant, the screen of the iPod video is much larger than that of previous models, so cases with a "cutout" or window for the screens of previous iPod models will not work well with the iPod video—much of the new iPod's screen will be obscured.
Fortunately, a good number of iPod video-compatible cases have been announced, and some have even started shipping. Speck and Tunewear have announced entire lines of cases for the iPod video, and other cases, such as ZCover's iSA silicone case and difusi's VideoValet, are on the way. Several vendors have also announced transparent surface treatments that product your iPod video's surfaces from scratches without adding bulk; these include iDiddy's Opticover, Protective Solutions's invisibleSHIELD, and Power Support's Film (Web site not yet updated).
Sync cables and other dock-connector accessories
The iPod video uses the same dock connector port as previous iPods, but like the iPod nano, its sync functionality differs from that of older iPods in one significant way: It does not support FireWire syncing. Although the new iPod can charge via both USB and FireWire, you can sync it with iTunes only via USB. This means that FireWire-based dock connector cables and other "docking" accessories that connect to your computer via FireWire will not be able to sync your iPod nano with iTunes. This change is particularly disappointing for owners of older Macintosh computers, many of which have FireWire ports but no USB 2.0 ports—their USB ports are of the slower 1.1 spec.
Other dock connector accessories should function as expected. For example, with the exception of FireWire syncing, SendStation's PocketDock adapters work as expected: Their USB ports charge and sync the new iPod, their FireWire ports charge it, and their audio line-out jacks indeed provide a line-level audio signal. And
As vendors release new accessories for the iPod video, we'll keep you informed—keep an eye out on the Playlist home page and the Playlist Product Guide for all the latest news and reviews.