The iTunes Music Store now offers upward of 15,000 podcasts in areas as diverse as technology, sports, politics, and health. And iTunes 5 makes it easy to find and subscribe to podcasts. But beyond that, details may get a little murky. Allow us to shed some light on the perplexing aspects of iTunes' podcasts, with these helpful tips and tricks.
Not the shuffle's type
iTunes does its best to cram as much music as it can onto an iPod shuffle. So a shuffle doesn't play AIFF files (which tend to take up a lot of space), and iTunes' Autofill feature won't add audio-books or podcasts (which can also be meaty) to a shuffle—even if you've gathered those podcasts into a playlist.
You can add podcasts to the shuffle by dragging them onto the shuffle icon in iTunes' Source list. But if you convert the podcasts (normally MP3 files) to a different format—AAC, for example—Autofill will have no objection to automatically pulling them over to the iPod (this causes iTunes to no longer see them as podcasts for the purposes of syncing).
To perform that conversion, choose the encoder you'd like to use in the Importing tab of iTunes' Advanced preference pane, and then select Convert Selection To encoder name from the Advanced menu. With the right configuration—with AAC Encoder and the Setting pop-up menu's Spoken podcast setting selected, for example—you can even create a file that's smaller than the original (see screenshot).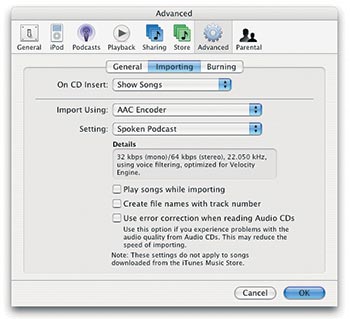 Be a Convert If you reencode podcasts, you will convince Autofill to put them on your shuffle.
Note that converting a file will remove both the chapter marks and the ability to bookmark the podcast. But you can easily regain bookmarking functionality by using Doug Adams's Make Bookmarkable AppleScript.
A library of their own
Speaking of bookmarks, you may discover that some of the podcasts you download from sources other than the iTunes Music Store are not bookmarkable—your iPod can't keep track of where you last stopped playing them. Fortunately, iTunes 5 includes a feature to fix this issue. Just select an uncooperative podcast, choose File: Get Info, click on the Options tab in the resulting information window, enable the Remember Playback Position option, and click on OK. iTunes and your iPod can now pick up interrupted podcasts from where you stopped them.
The podcast shuffle
Once you have podcasts on your iPod shuffle, be aware that those encoded as M4B files (that is, bookmarkable AAC files) won't play if you listen to your music player in shuffle mode. If you want to hear these podcasts on a shuffle, check that your shuffle's back toggle switch is set to the first position (Play In Order) rather than the second position (Shuffle).
iPod sync or swim
iTunes' podcasts preference pane gives you the option of keeping all unplayed podcast episodes. But if you've configured your iPod to update podcasts automatically, the iPod will treat a podcast as though you'd listened to it even if you've only played a portion of it. When you next sync your iPod, the podcast will vanish from both the iPod and iTunes.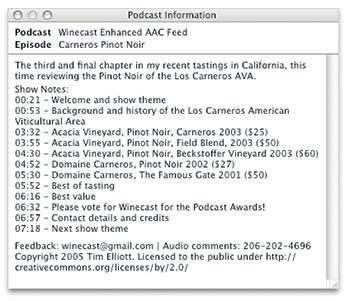 Go Deeper Use the Information icon or the Get Info command to find out more about a podcast.
If you tend to leave unfinished podcasts on your iPod—you listen to shows in multiple parts throughout the week, for example—it's a good idea to choose a setting that's likelier to maintain your partially played podcasts. Choosing Last 5 Episodes from the Keep pop-up menu, for instance, gives you plenty of opportunity to finish older podcasts without unexpectedly losing anything (see screenshot).
Spread the word
If you've come across a great new podcast and want to alert your friends, there's no need to send them to the iTunes Music Store. Just select podcasts in iTunes' Source list, choose the title of the show you want to share with your friends, and drag it to the desktop. You'll then find a tiny podcast subscription file (with a .pcast extension) that you can simply e-mail to anyone you want. All the recipient needs to do is drag the file into iTunes or double-click on it to subscribe to the podcast linked to that file.
Get (more) info
Before downloading a podcast (or even after listening to one), you may be interested in learning more about the subject, episode, or podcaster. If the podcast's creator has prepared its tags properly, you should be able to get more information by clicking on the Information icon—a small letter i to the right of the podcast's name in the iTunes Music Store or in your Mac's iTunes podcast window (see screenshot).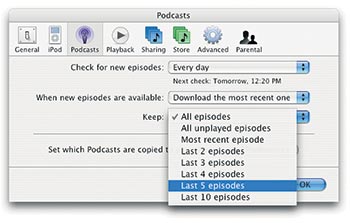 Lasting Relationship Save partly enjoyed podcasts from deletion by adjusting iTunes' Keep setting.
Another option is to visit the podcaster's Web site. To do so when browsing for a podcast on the main page of the iTunes Music Store, look underneath the podcast description and click on the link arrow to the right of the word Website. If you've already subscribed to a podcast, you'll find an identical arrow (without the helpful label) to the right of its name in iTunes' podcast window. Either one of these methods will open your Web browser and take you to the podcast's particular site.
Find what you seek
Searching for podcasts in iTunes can be tricky. If you've entered Leo Laporte time and again in the iTunes Music Store's Search field only to be frustrated at not finding his Laporte Report and TWIT (This Week in Tech) podcasts, don't despair: you're just looking in the wrong place. You can search for podcasts in two ways.
The first is to type your search term as usual in iTunes' Search field in the upper right corner of the iTunes window. When you see the message "Your search did not match any results," click on the podcasts button in iTunes 5's new Search bar (above the message). The second option is to click on the podcasts entry in the iTunes Music Store's main window, wait for the podcasts home page to appear, and enter your search term in the search field in the middle of the page's left column.
[ Senior Editor Christopher Breen is the author of Secrets of the iPod and iTunes, fifth edition (Peachpit Press, 2005). ]
Mixing it up
Numark has been making professional DJ equipment for more than 30 years, and now the company is tapping into the iPod phenomenon with its $399 iDJ, a two-channel mixer that lets mobile DJs use their iPods as playback devices.
The 4-pound iDJ features two docking stations that work with any dockable iPod (it even charges the iPods when they're docked), as well as all the buttons and knobs you could want. The iDJ includes a 1/4-inch microphone input with gain and tone controls and two stereo line inputs (one for each channel), as well as output jacks for master and record RCA, S-Video, and 1/4-inch and 1/8-inch headphones.
The iDJ, which should be available by the time you read this, also provides USB connectivity so you can connect to a computer and load music on the iPods without removing them from the docks—a whole lot easier than digging through crates of LPs. —Peter Cohen