Ever wonder what happened to the Incredibles after the end of the Disney Pixar movie ? THQ has endeavored to tell that tale with a new game called Rise of the Underminer .
If you've seen the The Incredibles , you may recall the Underminer from the final scene of the film—he emerges from a stadium parking lot and announces his presence. The game picks up where the movie leaves off. Mrs. Incredible takes Jack Jack, Violet and Dash to safety, while Mr. Incredible and his friend Frozone head off to battle the Underminer.
Soon Mr. Incredible and Frozone discover that the Underminer has hatched a sinister plan to pollute the Earth. He has also built legions of robotic soldiers—giant mechanized behemoths that resemble steam engines and boilers with big weapons welded to them—to do his bidding.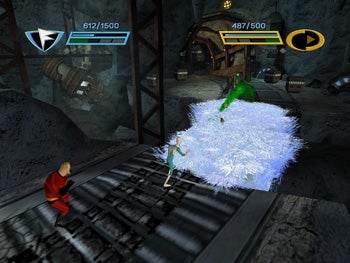 Like the original Incredibles game ( , March 2005 ), Rise of the Underminer is a third-person brawler. In single-player mode, you'll take turns being Frozone or Mr. Incredible as they make their way through the Underminer's subterranean tunnels to put and end to his evil plans. And there's no end of robotic bad guys to thwart you along the way. Luckily, you have superpowers. Mr. Incredible can use his strength to lift doors or slam apart weak floors, for example, while Frozone can freeze robots in place, build ice bridges, and skate through the air on ice slides. As you fight your way through the game, you'll earn points, which you can then use to upgrade your characters' powers. While there's a lot of action and mayhem, it's all pretty tame. The game is rated for anyone over the age of 10.
The game also offers a two-player cooperative mode. Each of you selects a character (either Mr. Incredible or Frozone) as you play side-by-side on the same computer. Thanks to the game's autosave feature, you won't have to worry about saving games mid-stream if you've got something else to do.
Although the game's execution is good overall, I did run into a few shortcomings. The game had significant problems when installed on a multimonitor system. Even in Mirrored mode the game froze up after just a few minutes. Reinstalling it on a different computer with only one screen solved the problem.
Support for game pads is also weak. The game wouldn't recognize either of the pads I normally use—bizarre, given that this game was also developed for consoles. While I recognize that Mac OS X's support for game pads isn't a broad as what you'll find on other platforms, plenty of Mac game developers get the support to work. And this game would have been better for it.
If you've played the first Incredibles game, you won't find a lot of surprises here—though the addition of Frozone as a playable character definitely adds to the enjoyment. At $20, Rise of The Underminer is a decent value, presuming the technical problems don't overwhelm you.
By the way, the disc also comes with bonus material, including a "making of" video, a trailer for Pixar's 2006 movie, Cars , and other Pixar-related content.
The Bottom Line
The Incredibles: Rise of the Underminer is an enjoyable continuation of the Incredibles storyline. Too bad it's limited by some technical shortcomings.
The Incredibles: Rise of the Underminer RATING: PROS: Cooperative multiplayer support; fun sequel; inexpensive. CONS: Poor support for multiscreen setups and game pads. PRICE AS RATED: $20 OS COMPATIBILITY: OS X 10.2 and higher COMPANY: THQ
The Incredibles: Rise of the Underminer
Note: When you purchase something after clicking links in our articles, we may earn a small commission. Read our affiliate link policy for more details.