At a Glance
Expert's Rating
Pros
Multiple styles of calendar events are handy
Easy data transfer from iCal and Address Book
Great for offices
Cross-platform
Calendars and contacts can be centralized on a server
Cons
Overkill for individual users
No integration with Apple's Spotlight and Mail
Can't edit events using a control-click
Some interface inconsistencies
Our Verdict
Now Up-to-Date & Contact 5.0.4 consists of two separate programs—Now Up-to-Date for calendars and scheduling and Now Contact for addresses—that are integrated and sold as a single package. While each can work independently, they work so well together that it's unlikely you'll notice that you're using two programs.
This software is conveniently cross-platform, very useful for multiple users in offices, flexible in letting you adjust layouts to show only the information you want to see, and one of the few programs in which you'll see the latest Windows version number lagging behind its Macintosh counterpart.
Up-to-Date
As a calendaring application, Now Up-to-Date provides a variety of ways to create and manage all the events in your life, including the typical banner, to-do list, and appointments, but it also lets you add sticky notes and even graphical events into which you can place images of your choice. Once created, your calendar can be printed in a variety of formats, including Day-Timer and FranklinCovey desktop and pocket formats.
If you're making the move from iCal to Now Up-to-Date & Contact, you're in luck, as the latter can easily import your iCal files. You can also use the program to subscribe to iCal calendars that are hosted online.
The calendar application does have some inconsistent interface quirks that Now Software says are design decisions. For example, creating any new event in the program typically brings up a window where you can enter information, such as start time, date, and duration. But, when you create a banner event, the program just drops the banner onto your calendar without letting you modify it. Only after you double-click the banner do you get the option to enter information. Also, while control-clicking anywhere on a calendar brings up a menu from which you create a new event, control-clicking an existing event doesn't give you the option of editing it. To edit the event, you have to double-click it. From a user perspective, more consistency would make better sense.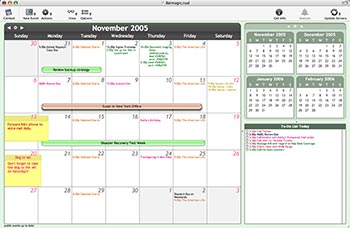 Now Up-to-Date & Contact gives you a multitude of options for creating and displaying calendar events. (Click image to open full screenshot)
Contact
There aren't many surprises in the new version of Now's Contact application, which isn't to say that it's not good—just that it's typical of many other contact managers. If you're currently using Apple's Address Book, Now Contact comes with a utility that syncs the data between the two programs, making it easy to move from Address Book to Now Contact. This feature is also important if you like the way Mail automatically fills in your contacts as you type an e-mail address, but currently there's no integration between Mail and Now Contact. Now Software plans to automate this syncing process in a future release.
Needs more sharing
As in the Calendar application, you can assign categories to all your contacts but, unfortunately, categories are not shared between the two applications. Also, you can't set up all your category information in one location for both programs. To create categories, you must first define the category and then, using a separate menu item, create the style—i.e. the color—for that category.
The company says that users want such separation, and that could be true, though I'd like to see at least an option to share categories between the apps, since it's redundant to recreate existing categories. In addition, Now's calendar items and contacts don't show up in Spotlight searches, another item the company plans to address in a future version.
Office management
Now Up-to-Date & Contact truly shines in larger office environments where employees need access to each other's calendars, want a centralized contact database, and need to schedule employees and resources (such as conference rooms and projectors) across entire organizations. The program allows you to create unique items called "resources" which can be scheduled for use at specific times. It also ships with a program called Server Manager which, according to Now Software, allows you to host unlimited users on a single Mac or PC. While the main database is hosted on a server, users are able to indicate which of their calendar items or contacts are available for other users to view on the network.
Not always in the office? Now Up-to-Date & Contact makes it simple for you to work offline—the software automatically syncs your data when you reconnect to your Now server.
Macworld's buying advice
Now Up-to-Date & Contact 5.0.4 is overkill for users whose needs don't extend beyond the basic contact management and calendaring available in Address Book and iCal, especially considering that those applications are free. But for small businesses—especially those that are cross-platform and expect to grow—and for businesses that need centralized calendaring, contact, and resource management, Now Up-to-Date & Contact is an excellent choice.
[ Jeffery Battersby is a frequent contributor to Macworld.]