If you browse through Playlist's Product Guide today, you'll notice that we've added a bunch of new product entries this week—about 30. And if you look closely at those product entries, which include everything from AKG K 26 P headphones to Miniot iWood iPod cases, you'll notice that some of the descriptions are prefaced with an interesting phrase: "From the Playlist book."
"A book?" you may be asking yourself. If so, then reassure yourself, "Yes, a book." A couple months ago, Peachpit Press approached Playlist about putting together a book of our favorite iPod accessories. After all, not everyone does their shopping on the Web, and even for those who do, it's tough to bring your computer to the mall to see if that gadget you're eyeing really is as good as it seems. So over the past couple months, we've been going through all of the stuff we've reviewed over the past year, as well as a number of new items we've been testing. We've chosen our favorites and organized them into a physical buying guide that's compact enough to fit in your jacket pocket. The publisher calls it Your iPod Life , but the subtitle is more descriptive: "A guide to the best iPod accessories from Playlist."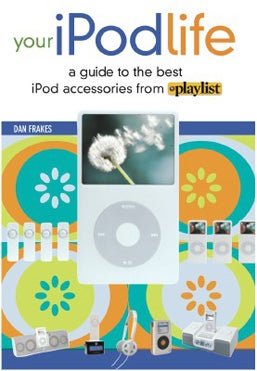 As the book's cover explains:
With thousands of products available for your iPod, just sorting through all the headphones and speakers and cases and all the rest is overwhelming—not to mention figuring out which ones are right for you and your player. This ultimate buyer's guide from Playlist does the work for you by picking the best products and highlighting which ones work with your iPod model. From docks for your full-size iPod to speakers for your shuffle, headphones for your mini to cases for your nano, this book tells you which products are the best of their class and which provide you the best value.
The sections of the book—cases, portable speakers, home speakers, headphones, car accessories, and general accessories—are color-coded and indexed to help you quickly find what you want. Each product page features a photo of the product, a description of what it does and why we like it, the product's price, and a URL for finding more information. We've also provided color-coded iPod compatibility icons on each product page—once you've found your iPod in the book's iPod model reference, you can quickly flip through pages, stopping only on those featuring an accessory that works with your iPod.
We've even included an index of Playlist URLs so book readers can easily find a product's page in Playlist's Product Guide. Finally, we've made the book inexpensive—$13 list, available online for under $10—so you can save your money for accessories.
If this sounds like your bag, you can pick up a copy of Your iPod Life at most major booksellers, as well as online stores such as Amazon.com, starting this week. We're pretty excited about the book and we hope readers will be, too.