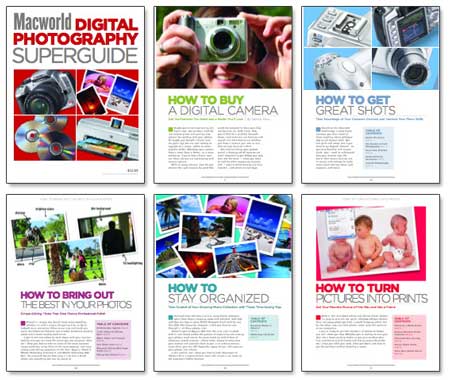 The Macworld Digital Photography Superguide is a 100-page e-book, direct from the editors of Macworld! This book, available either in downloadable PDF format or in print, will guide you through every step of the photography process, from buying the right camera to capturing the perfect shot to organizing, editing, and printing your photos. Each section is filled with hands-on experience and troubleshooting tips from the pros.
The regular price of the downloadable e-book is $12.95, but readers of Macworld can buy it for a special discounted price of $9.95. Click here to buy the downloadable e-book through our e-commerce partner, eSellerate. The book will appear at its regular price at first, but when you reach the final total page, your special $3 Macworld reader discount will appear.
If you'd prefer a printed copy of the book to an electronic one, we can help you there too. You can order the beautiful full-color printed book now for $24.99 via the Macworld back-issue store. It's a gorgeous full-color reproduction and quite a joy to behold. (Sorry, we can't offer the reader discount for the print version of the book. It's $24.99 for all takers.) We also offer the e-Book PDF on CD-ROM.
Want to try the book before you buy? Click here to download a 10-page sample (416K)! (Control-click on the link and download it to your Mac for viewing in Preview or Adobe/Acrobat Reader.)
Note: When you purchase something after clicking links in our articles, we may earn a small commission. Read our affiliate link policy for more details.