When I was a kid, my grandmother worked for a greeting card company. Her job was to go into the stores and make sure the cards were displayed correctly, up-to-date, and well-stocked. I got to accompany her on some of these trips. We'd spend what seemed like hours wandering through store aisles lined with every kind of paper wonder imaginable.
If I learned anything from these outings with my grandmother, it was that not all cards are created equal. And truly special sentiments, required a truly special card.
A couple of weeks ago I started looking around for thank you cards. Well, one thank you card in particular—something for my mother. She'd recently gone above and beyond the call of motherly duty by staying up until the wee hours of the morning for nearly a week to help us get ready for our wedding. But nothing I saw in the store really seemed to do justice to the overwhelming gratitude we felt.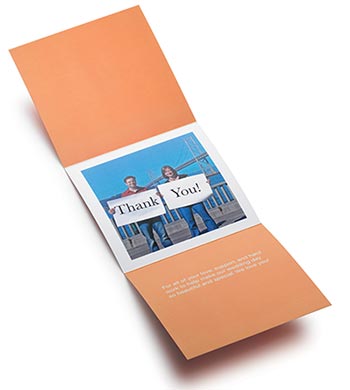 This customizable card from PhotoWorks, unveils your greeting over three fold-out panels and includes a photo.
Then, in the course of researching a story for the January 2006 issue of Macworld —which should be arriving the mailboxes of subscribers later this week—I came across the card selection at PhotoWorks. This online photo-sharing service offers some truly inspired photo cards. Sure, they have the standards, including those long 4-by-8-inch cards that appear in everyone's mail box around the holidays. But they also have more unique designs. Some fold up like a flower or offer cutouts to reveal an inner photo. Others feature an accordion fold with room for three different photos. My favorite, though, is called the Reveal —it's a bi-fold that opens up to reveal three different messages and a photo.
Admittedly, the cards aren't inexpensive. A single one can cost as much at $4, depending on the design you choose (there are volume discounts). And if you select a square card, you'll have to use additional postage when you mail it off. But the "wow" factor is huge.
For our thank you note, I set up my tripod and took a picture of my husband and myself holding large pieces of cardboard at the same spot we took our wedding photos. I then used Photoshop to add the words "Thank You" to the signs in our hands. I uploaded the file to PhotoWorks' Web site, wrote a personalized note that stretched over each of the three text panels, and then had the site mail the card to me so we could sign it before sending it off.
Sure, it was more work than walking into a store and picking a card off the shelf. But a couple of days after mailing it, I received a teary call from my mother who couldn't stop talking about the card. In fact, I hear she's taken to carrying it around with her to show to others. I can't think of the last time one of my cards got that kind of response.
My grandmother would be proud.