Digital photography is, by far, one of the most popular topics that we cover. Beyond the Mac itself, it's clearly the number-one topic of interest among Macworld readers in print and online. Every year we publish several large collections of photo-related advice, not to mention our monthly Digital Photo column.
When you add it all together, that's an avalanche of great information. But adding it all together — various articles spread across dozens of magazine issues, web stories, and the like — is an impossible process. And of course, by the time you've collected two years' worth of stories, the oldest ones are now two years out of date.
A few months ago, we decided to find a way to package up a huge amount of digital photography knowledge, and decided to create an electronic book, a PDF file bursting with advice about every aspect of digital photography. And so today I'm proud to announce the release of the Macworld Digital Photography Superguide , which features material from an all-star cast of writers, including Bruce Fraser, Derrick Story, Jim Heid, Ben Long, Joe Kissell, Ben Willmore, Rob Griffiths, Christopher Breen, and Dan Frakes.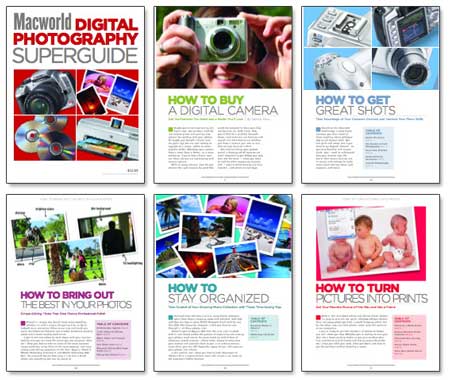 This is not some thrown-together collection of reprinted old articles you've seen in Macworld and on Macworld.com in the past. Over the past months, our senior editor and digital photo expert Kelly Turner has gathered all our digital-camera coverage, picked the very best material, and updated it so that the stories in the e-book are absolutely current. She identified holes in the coverage and commissioned new pieces to cover those areas. She also took great care to organize the information and present it in a series of sections covering all the major digital-photography topics.
The result is a 100-page book that covers it all, and all in one place. If you're shopping for a new camera this holiday season, you'll find useful advice about picking the right camera. (There's even a printable checklist to take with you when you go shopping!) Once you have a camera, the Macworld Digital Photography Superguide will help you take better pictures via a great collection of shooting tips and tricks. After the shooting is over, our e-Book will cover bringing out the best in photos by using programs such as iMovie, Photoshop, and Photoshop Elements. We've got tips to help you print your pictures yourself — as well as an overview of photo-printing services on the Web. We've even got sections to help you organize your photo libraries and back them up so that you don't ever lose precious images. We've even scoured our Mac Gems reviews archives for the best Mac photo utilities.
Whew! There's a lot of stuff in those 100 pages. And you can get it all for just $12.95. (If you're a Macworld magazine reader you can even get a $3 discount — check out my column in the January 2006 issue for details.)
If you don't want to read the book on-screen or print all 100 pages out on your printer, you can buy a printed copy of the book for $24.99 via LuLu.com, our print-on-demand partner. It's a gorgeous full-color reproduction, perfect bound and quite a joy to behold.
And if you want to see more before you pony up your hard-earned cash, I completely understand. So we've created a 416K 10-page downloadable sample from the book for you to check out, just to give you a taste. You might want to control-click on that link to save the PDF file to your desktop, then open it in Preview or Acrobat Reader. (And yes, the e-book itself is in an unencrypted PDF format which can be read with any PDF-reading applicaiton, including Apple's Preview or Adobe's Reader.)
We think this book is a great resource for every Mac user who loves their digital camera — or plans to love it once they've bought one! We look forward to your feedback, as well as suggestions for what e-books we should publish in the future. You can send both to ebooks (at) macworld dot com.
Click here to buy the book for $12.95 via our e-commerce partner, eSellerate.