I thought I'd follow up on my earlier first look at The Sims 2 with a final review of this sequel to the very popular Mac game. The Sims 2 follows the same ground rules as the original: you must guide simulated people called sims through their daily lives, helping them make decisions that will affect their careers, emotional well-being, and relationships.
Version 2 adds the concept of Aspirations—your sims now come with dreams and goals that you must try to fulfill. The game also has a genetics component that lets sims pass their own traits down to their kids. You can even create custom sims that look like you.
All told, The Sims 2 is a technically impressive game that adds many new features to an already proven formula. And believe it or not, The Sims 2 uses some of the most sophisticated and demanding 3-D graphics ever seen in a Mac game. A 1.2GHz or faster machine is absolutely mandatory. Owners of ATI graphics cards will want to update their cards with the latest drivers and firmware from ATI —this made a big difference with my X800 card.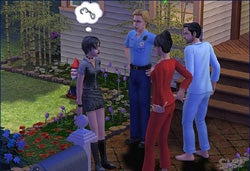 The bottom line
The Sims 2 provides many more challenges for ardent fans of this simulated life genre, provided your Mac has the horsepower to run it.
The Sims 2 RATING: PROS: New 3-D engine; support for genetics and aspirations adds to the challenge. CONS: Higher system demands than the original; old expansion packs aren't compatible. PRICE AS RATED: $50 OS COMPATIBILITY: OS X 10.3 and higher COMPANY: Aspyr Media